Art in Preston and the Surrounding Area
Preston has a wide range of art groups including many newer which we'll catch up with sometime. Art can encompass a wide range so here we limit to visual painted.
The Harris Museum & Art Gallery
Girl Reading by Harold Knight at the Harris, Preston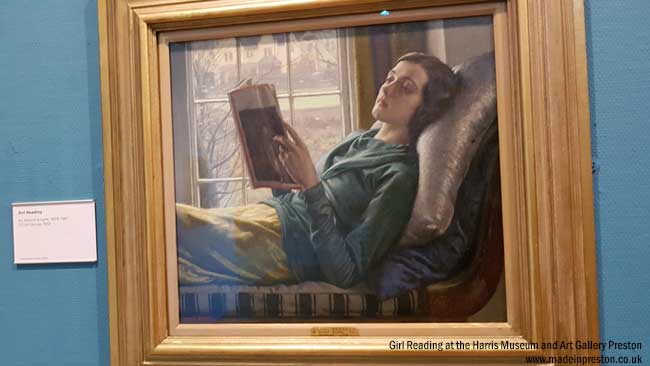 Preston's main art exhibition. It contains fine, modern and decorative art, sculpture, costume and textiles, history and photography. Modern and digital art.
It's free to enter and is open every day, please check the special exhibitions on the web-site.
Read more on our Harris Museum and Art Gallery Page.
Preston Arts Society
Preston Art Society was founded in 1960 to encourage the enjoyment, appreciation and practice of the visual arts and to develop acquaintance between amateur and professional artists.
Preston Arts Association
Visit their website. Good range of links to local art organisations.
University of Central Lancashire
UCLan prides itself on producing industry leaders and the impact of the School of Art, Design and Fashion and its students falls well beyond the campus limits. The high quality, professional work completed within the School is recognised by real-world businesses who regularly commission live projects from its courses.
http://www.uclan.ac.uk/schools/art-design-fashion/
Lancashire Arts and Crafts Guild
Visit their website. Recently visited their touring exhibition in Lytham and there is some good work.
Fylde Decorative and Fine Art Society
With 250 members. 'It is not just about painting. Weare interested in sculpture, architecture, jewellery, ceramics, glass, poster art, mosiacs, just about anything that involves good design. We are not practitioners at least most of us aren't, we do have some artists among us. We are mostly about learning, appreciating and understanding.'
Creative Lancashire
Support for Lancashire Art from Creative Lancashire a government funded group. Visit their website.
Lytham St Anne's Art Society
http://www.lythamstannesartsociety.co.uk/
The Fylde Gallery, Lytham
Located in Booths supermarket, the Fylde Gallery. Here displaying textile art September 2018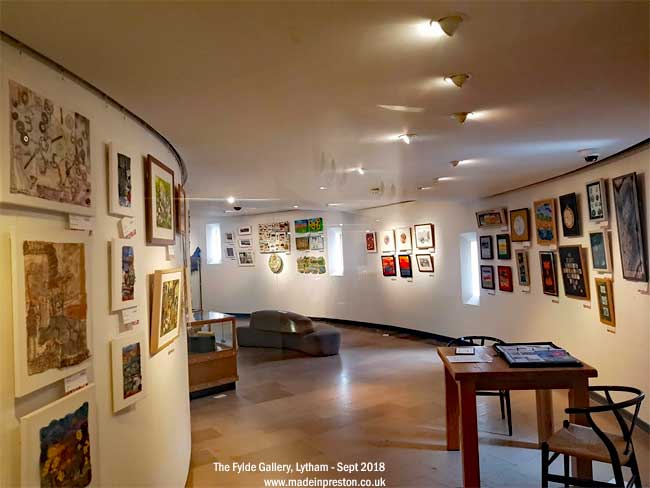 Lytham Heritage Group
Not particularly art related but most of the exhibitions at Lytham Heritage Centre, Henry Street, are artistic.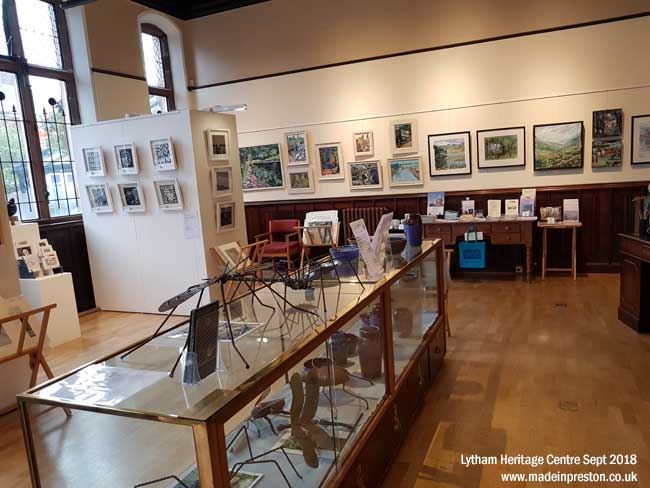 Garstang Art Society
Located in the Old Grammar School building on the main street, opposite High Street Car Park.
http://www.garstangartssociety.org.uk/
Blackpool Art Society
Located in Wilkinson Avenue next to Stanley Park, one of the oldest art societies.
Formed in 1884. http://www.blackpoolartsociety.co.uk/