CHURCH
An update to this page to include other religions is being prepared.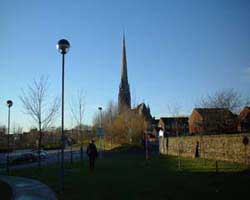 St Walburge's spire as seen from the University
Preston has three main Christian churches. St John's Minster, CofE. St Walburge's, RC, Central Methodist Church. Also a Friends Meeting House.
St Johns is a substantial building close to the city centre on Church Street and is locally known as the Parish Church. A church has been on this site since 670. The building is Grade II* listed and seats 400. There are CofE churches in Preston that seat more including St Andrews at Ashton which is a fine building and Emmanuel and All Saints which both seat around 800.
St John's on the Blackburn Diocesan Website
St Walburge's is one of Prestons jewels with its 300ft high steeple next to the railway line at Maudland and close to the university. Unfortunately it is suffering financial problems and closure has been threatened. Although it does seem unlikely that such a building with £2m of restoration work and one of the countries finest hammer beam roofs would be allowed to go to rot. The church was designed by Hansom of cab fame and opened in 1854.
On the 13th Sept 2008 the Times published a report on Catholic churches and said that a grant has been accepted that will keep the church open for seven years.
St Walburge's on the Diocese of Lancaster website
The Central Methodist Church is across from St Georges 'The Mall' on Lune Street. It has an imposing frontage containing a coffee shop.
The Central Methodist Church website
The Friends Meeting House, St Georges Road, is a simple early 20th Century school like building. There are 8 Quaker, Friends Meeting Houses in Lancashire. The area to the north of Preston (Kendal, Sedburgh, Ulverston) is where Quakerism first took form through the preaching of George Fox. It is called '1652 country' after the year in which George Fox visited many towns and villages with his ideas and spread the word. Kendal houses the Quaker Tapestry. The Quakers had a large meeting house on Friargate but it became too big and is now the Playhouse.
Link to the Lancashire Quakers website
Preston has a good mixture of churches some of which are Grade II listed. There is a larger than average RC population.
Link to Christian Network information about religion in Preston, scroll down the page.
Link to Save Britains Heritage Website
Link to The Times Newspaper article about Prestons threatened churches - 28th Jan 2008.
Link to the Churches Conservation Trust This trust protects churches no longer used for services.
Link to Historic Chapels Trust This trust holds in its care the Shrine of our Lady of Lourdes, Blackpool.
There are a number of churches still standing but no longer used in Preston:
The former Baptist Church on Fishergate, now Bistro Pierre: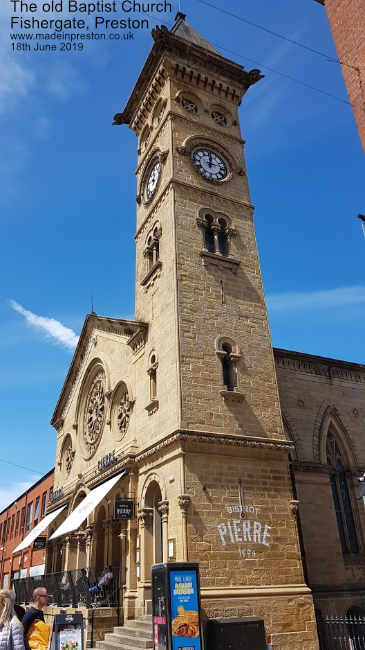 St Marks now apartments.
St Peter's now part of UCLan.