Courtaulds Rayon Spinning Factory
In September 2022 a mural was painted by a local artist in conjunction with schools depicting the history of Courtauld's Rayon Spinning Factory and placed on the construction site barrier fence during refurbishment of the Harris.
The mural is titled 'the links in the chain are of equal strength' and was painted by artist Gavin Renshaw and illustrator Toya Walker. It symbolises the diversity of the workforce.
Photo of the mural on the Harris Museum: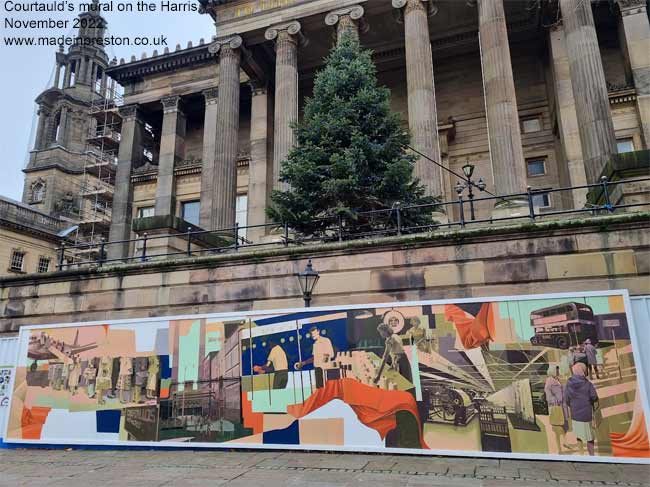 Courtaulds had a large factory called Red Scar Mill on the outskirts of Preston near the crematorium in the Ribbleton area. It was a relatively new factory built in 1939, and processed man-made fibres, i.e. viscose fibre spinning (rayon). This was mainly used in the tyre industry.
There were 2 large cooling towers, 385 feet high, which were close to the M6.
There is a website with some photos of the spinning machines at Preston, the photos are halfway down the page and it takes quite a while to download them.
http://www.nonwoven.co.uk/reports/rayon.html
In November 1979 Courtaulds announced closure of the mill with a loss of 2600 jobs. A fairly bleak time in Preston with the docks closure being announced as well.
In 1986 the mill at Red Scar was taken over by Horrockses when work was moved from a town centre factory that was closed. The factory has since been knocked down.
Courtaulds and Rayon
The man-made fibre industry was one that rapidly developed in the first half of the 20th century as development improved the strength of the product, more uses were found and in the war there were shortages of natural fibres (cotton). Courtaulds was a major player in this industry and had large factories in Coventry, Flint and Preston. It was also developing, licensing and buying processes as well as being involved in international consolidation and competition. In the 1990's Courtaulds split into chemicals and textiles, the former now owned by AkzoNobel of Holland and the latter by PD Industies of Hong Kong. AkzoNobel recently acquired ICI completing what can be said to be quite a coup in taking over two famous British names. Most of this paragraph is a summary from Wikipedia.
http://en.wikipedia.org/wiki/Courtaulds