Lancashire Records Office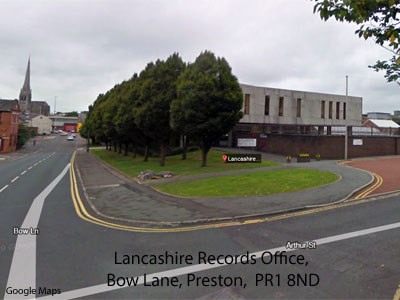 The Lancashire Records Office (LRO), or the Lancashire Archive, is located next to County Hall in Bow Lane just off Fishergate. It contains records of families such as births, marriages, deaths, wills, census returns. Also maps, deeds, industry, social information old and new and plenty of other material. It covers the whole of Lancashire including some areas within the old boundaries of Lancashire.
There is a group of 'friends' who contribute to new facilities and broadening the range of information available. This is an excellent facility for those interested in researching family or local history.
It is open on weekdays and some Saturdays. There is public access. Entry is behind the trees on the photo above and then up the stairs. There is a reception desk and you will need identification and registration to get through the security gate. Lockers are provided to store bags.
More information can be found on their website.
http://www.lancashire.gov.uk/education/record_office/
Friends of the Lancashire Archives 2017 Activities and Events
Lancashire Archives User Group
Tuesday 21 March 2017 at 2.00pm
Join us for a cup of tea. Meet some of the new staff and find out what's happening in Lancashire Archives. This is your chance to ask questions and to tell the Archives Manager what you think of the service.
The Lancashire Crew Lists Project Needs You!
Starting Tuesday 14 February 2017
Lancashire Archives, Bow Lane, Preston, PR1 2RE
Lancashire Family History & Heraldry Society in partnership with Lancashire Archives has been awarded
local project funding by the Federation of Family History Societies. Under the supervision of an archive support
officer, volunteers will create a name index to two important series of Lancashire Crew Lists held at Lancashire Archives.
These cover the period 1863 – 1914 and contain about 82,000 entries, which give details of the crew members
of ships registered in Lancashire – at the ports of Preston, Fleetwood and Lancaster.
Training for this volunteer role is essential and a 2-hour induction session will be held on Tuesday 7 February 2017 starting at 10.00am.
OUTing the Past: Preston
Saturday 25th February
Lancashire Archives, Bow Lane,
Preston PR1 2RE
10AM 'TIL 3PM
Join us for OUTing the Past: Preston 2017, and help us to celebrate LGBT History Month in Lancashire. As well as opportunities for creativity, there will be an information market place, exhibitions of historic records held at Lancashire Archives, and a range of presentations on LGBT History related topics.
For a grand finale we welcome back the Preston Musical Comedy Show Choir with a selection of favourite show songs.
Refreshments will also be available.

Tuesday 7 February 1.30-4.00pm £10
Anna Watson MBE: Workshop The Ecclesiastical Court Records of the Archdeaconry of Richmond

Friday 10 March 10.30am-12.30pm
Café Archive with family history surgery

Friday 24 March 7.00pm £12.50
Dr Hugh Doherty, lecturer in Mediaeval History at the University of East Anglia:
Stephen, count of Mortain, and the honour of Lancaster: Politics and salvation in the 1120s and 1130s, Followed by a cold buffet supper with wine.

Thursday 6 April 10.00am-3.00pm £20
Dr Alan Crosby, Day School on Quarter Sessions records Brennands Endowed School, founded 1717, from Chris Spencer with additions

Thursday 1 June 2.30pm-4.00pm £5
Dr Mike Derbyshire: An introduction to the earldom, duchy and palatinate of Lancaster and their records - to celebrate the 750th anniversary of the creation of the Earldom of Lancaster on 30 June 1267 (which in 1351 became the Duchy)- including tea and cake

Wednesday 21 June 1.30pm £10
Martin Purdy: Guided walk round Westfield War Memorial Village, Lancaster

Friday 7 July 10.30am-12.30pm
Café Archive with family history surgery

Saturday 15 July 1.00pm £10
Chris Spencer: Guided Walk by the Slaidburn School Lands to mark the 300th Anniversary of the founding of Brennand's Endowed School, Slaidburn

Saturday 9 September 11.00am-3.30pm
Café Archive - Heritage Open Day

Tuesday 12 September 7.00pm FREE
FLA Members' AGM and Dr Mike Winstanley; Getting Away from it all: seaside resorts and the Lakes - The growth of the day trip, seaside holiday and Lakeland tour

Monday 23 October 2.00-4.00pm FREE
Behind the Scenes event for FLA members only

Monday 27 November 10.30am-12.30pm
Café Archive - Lancashire Day

Friday 8 December 7.00pm £10
Dr Alan Crosby: Music in a Lancashire country house: Rufford Old Hall in the 1730s, followed by a cold buffet supper with wine
2016/7 Appeal for funds to make the Horrocks Collection more accessible to the public.
There are several ways to donate but please click on the link below to read more and donote on-line.
http://www.flarchives.co.uk/catalogue-horrockses.html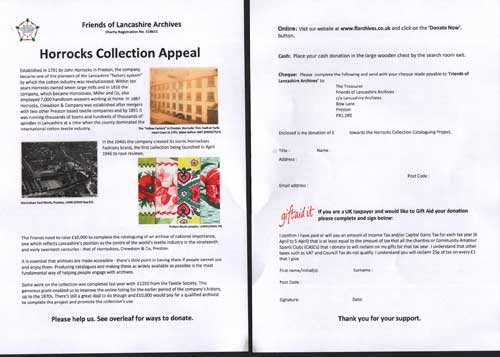 Lancashire Records Office is part of a nationwide network of records offices called CARN - County Archives Research Network.
The earliest map of the Battle of Preston, 1715 the last battle to be fought on English soil.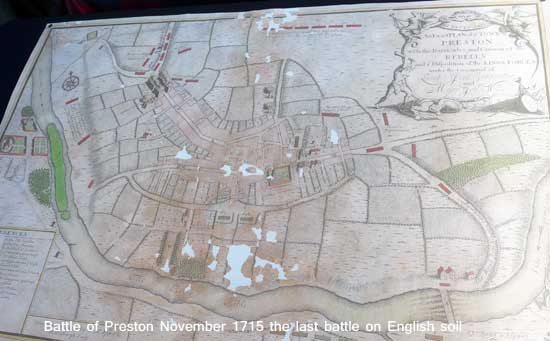 The Records Office with Preston Museums stall at the day of re-enacting the Battle of Preston.