Preston North End Football Club
Notes of a distant follower 2005/6 and 2006/7 season
6th May 2007 - End of season: 7th, 74pts
Just missed the play-offs after beating Birmingham 1-0 today. Needed 2 more points to get into the play-offs at 5th due to goal differences. Manager says 'bad apples' caused the poor run since Christmas. The Evening Post reported a comment by a player in November that I thought was a barb at the manager but I'd need to read it again.
Wouldn't like to predict next year, I have a bit of a theory that teams continue in the form since January so that would be about 55pts, about 18th based on this year. Fixing 'bad apples' and replacing Nugent will be a plus and a minus. The manager will improve his knowledge in the division. I think they'll do better than that and be mid-table.
Blackpool might be around as well as they just missed automatic promotion and seem to be improving, although Notts Forest might pip them.
Leeds went from play-offs to relegation despite taking PNE's strikers, Healy and Cresswell.
30th April 2007 - 8th, 71pts - One game to go - must win
4 defeats, 1 victory in April mainly losing to bottom of the table clubs.
A win next Saturday might get them back into the play-offs but it depends on other results. With the relegation battle settled there will be only the top teams with anything to fight for. Birmingham, next Saturdays opponents, are now promoted and a win will make them champions.
33 points from the last 25 games with the rate getting worse as the season progresses. The opportunity is almost lost. I think Mr Simpson will be a worried man.
Looks like David Nugent will be gone. Neil Mellor isn't playing in the team but he's the secret weapon for next season - the Alex Dawson of 2008. A human cannonball of a shot.
It has looked easy for PNE they only needed a few points more. It's not over yet though. Gulp.
31st March 2007 - 4th, 68pts - 8pts from the top with a game in hand.
Won 3 lost 2, both losses in Yorkshire. Gave away a poor goal in the last minute at bottom club Leeds, unfortunately David Healy, ex-PNE, and popular in the media for his Northern Ireland displays scored it so it's on TV making PNE look a bit fragile.
It's in their own hands now as theoretically there is only one very difficult game to play, Birmingham, and scrambles with QPR and Southend, the rest are in no-mans land. The play-off finals are at the new Wembley so that's another incentive. Looks like Derby are certs, Birmingham next, Sunderland looking good. Cardiff, Southampton and Wolverhampton are in the ring with Stoke less likely. WBA well positioned. PNE are in a good place and need 10 points from 7 games to almost guarantee a play-off place with 78points. 89points is the target. Goal difference of 14 isn't too good so all those strikers (Nugent, Ormerod, Ricketts, Mellor, Dichio) need to get their boots polished to make it at least 22 even with the injured ones.
David Nugent got his first cap and a goal for England against Albania. What a goal, had everyone smiling. First Preston player to be capped for England since Tom Finney. Although players who left the club have been capped.
28th February 2007 - 7th, 59pts - 4pts from the top.
Feb was an up and down month with a good away win followed by a home defeat and ending with a caning at Cardiff. They've been on TV a few times. If this is their hiccup they can still make it along with 8 other clubs though. Sunderland and West Brom are this months flavour, Leeds are bottom. In the cup a home defeat by Man City flattered City but as with Middlesbrough the higher teams don't need two chances.
31st January 2007 - 3rd
PNE are now 3rd. January had a couple of cup ties and they are now in the 5th round against Manchester City at home with a good chance to progress, although City are an unpredictable team and have some good players.
In 2007 PNE have 9 points out of 15, dropping 3 home points to Derby was fairly typical of what a PNE fan has to expect. Derby have been winning games 1-0 but got 2 goals against Preston. Then losing at Colchester 1-0 isn't too bad although with all the forwards at PNE's disposal at the moment a goal might have been expected. There are 4 league games in Feb so at least 9 points are needed to keep ahead.
Derby are now 6 points ahead and Birmingham 1 point but with 2 games in hand. A ruck of teams are close behind sniffing at PNE's tail. Feb will be a key month, bring them on, they're doing well. Billy Davies is also doing very well and is signing ex-PNE players like Macken and Mears. Will Derby keep up their pace, they seem to get late winners?
Nugent scored a great goal in the cup at Crystal Palace and is staying to try to win promotion. PNE now have, subject to availability: Nugent, Mellor, Ricketts who are all potentially great forwards. As well as Dichio, Ormerod and Agyemang who are also solid and great on occasion. They should score 5 every game! Two new signings in Jan.
31st December 2006 - End of Year
Preston are 2nd at year end and tomorrows match will be a cracker against Derby who are 3rd with the added bonus of ex-PNE manager Billy Davies returning to Deepdale for the day. Derby have had a bit of a stumble after their good run but are going very strong. Sounds like a 2-2 draw.
In December PNE beat Colchester, Sunderland and Plymouth but lost 3 games as well. Colchester are the current form team so that was a good result. Also winning away at Sunderland who are improving.
Nugent said he wants to stay and has scored a few this month. Saying he'll stay is usually a goodbye in football, can't win can they. There are still plenty of rumours surrounding him with prices up to £7m being quoted. Not many players who leave Preston do much it seems half the strikers in the Championship have been at Preston.
Neil Mellor still hasn't started and Agyemang who was having a good run is still injured.
The teams beneath PNE are getting closer and there is no room for slips.
Paul Simpson got an extended contract which on performance to date is fitting although the next 2 months usually sort out the early chargers from the long distance runners.
Surprise of the year is Leeds who are adrift at the foot of the table. Cardiff and Burnley have slipped down the table. Burnleys manager having falsley won Manager of the Month when Paul Simpson hasn't yet won it despite PNE being in the top 2 for longer than any team.
30th November 2006 - Will they stay top?
Finished the month in 1st place, 56yrs since they were top of the 2nd level, they say.
After the October goal rush there was not as much in November. Two home draws being the last 2 results and a bit of a disappointment. Nice to suppose what 4 extra points would do. Paul Simpson says the team were disappointed at drawing their last game but he said if someone had said they'd be top at the end of November he'd take it.
The gates are going up a bit.
Don't really understand the fuss about the 56yrs bit. That was 1950. Preston were in the old First Division in the 50's and runners up to Wolves in 1958.
The question is will they stay top? The championship is a roller coaster so they've time to go down a few and then come back. Hit the ground running, steady the ship, get ready for the final run. The last few years they've been up there and the platform they are on at the moment is the best to date.
People are watching Nugent, as they do. A lot are saying the price must be a joke. If massive prices for average foreigners are OK then Nugent must be worth whatever the board price him at. Perhaps he should be renamed Nugentio and it would add a few million onto his value.
Do you think the BBC will mind me showing a copy of their league table?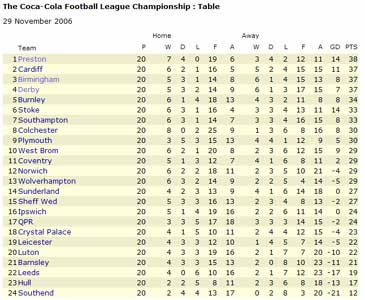 31st October 2006 - a dazzling October
Finished the month in 2nd place. Big scores and from a variety of players. Sunderland 4-1, Leeds 4-1 at Deepdale. Away Ipswich 3-2 and Burnley 2-3. Only got 2 against Hull.
Burnleys manager got manager of the month although Paul Simpson was the obvious choice.
A month ago PNE were winning and people were complaining about the quality. October has been a power month, Dichio has started scoring after a lean spell. Nugent has been making and scoring goals. Agyemang is back from injury.
The Neil Mellor story continues with an operation for another ailment.
The gates are still quite low. I don't know how much it costs on Deepdale but I was amazed at what people are paying to watch Premier league games.
30th September 2006 - proceeding well
Finished the month in 3rd place after drawing 1-1 at Stoke. Agyemang the scorer again. Fuller, former PNE player for a short period, scored for Stoke. Nugent has been called up for the Under 21 England team. A few of the injured players are making a come back now and Neil Mellor has played a bit in the reserves getting fit. I've got some hope about him but we'll see.
24th September 2006 - PNE climbed to 3rd position on Friday night by beating Barnsley 1-0 at home. They had been 5th and by Saturday night their true position was 4th with 16pts from 9 games. Excellent. Although from all accounts read they havn't been attacking with flair. Agyemang has been doing well while Nugent appears to have been quiet. Sometimes players get found out and other times they have off spells so lets hope its the latter.
The Barnsley match was televised on Sky and the Pavilion stand was given a goodbye.
Other snippets this month were that the Times newspaper runs a statistical analysis of performance over a prolonged period and based on that PNE will go up with Birmingham. However it was stated that the Championship has great excitement factor in the large number of clubs with a high statistical chance of being champions. Also PNE were one of 2 championship teams with a performance putting them in Premier league portion of the combined Premier and Championship teams using all competitions.
5th September 2006 - New Pavilion Stand given planning permission. Work to start this year and be ready for August 2007.
1st September 2006 - end of the transfer window
Have to agree with the PNE chairman that the window should finish before the season starts. All that will he, won't he, rumour, rumour - mainly about David Nugent. Anyway he's still here. North End signed Neill Mellor from Liverpool who has made 20 appearances for Liverpool but dogged by injuries. Also been on loan to Wigan and West Ham. So he sounds a good player. Some people are injury prone, lets hope he's not.
A strange story about trying to get Lucketti back from Sheff U after only a short time. A lot of players go to bigger clubs and sit on the bench or play in the reserves, what a waste.
The season is 5 games old and PNE have 6 points and only been beaten once. A genuinely middling start. Graham Alexander suspended for 3 games for what looked an innocuous challenge at the end of the Norwich game and a few injuries. Well they always start like that and if they can score more goals they might stop drawing and start winning. Two more points - another goal against QPR at home - and they'd be 8th not 16th.
No games this week due to internationals. Cardiff next week who are in strong form at the top. Then WBA and Derby. They all sound tough in the Championship.
Ex North Enders on the move - Ricardo Fuller to Stoke, Jon Macken to Ipswich. Kevin Kilbane to Wigan.
14th Oct will see Sunderland at Deepdale with their new manager Roy Keane. Roy was looking serene at his announcement. Roy watching will be as interesting as the team.
5th August 2006 - Football League Kick off day
First game; at home drawing 0-0 with Sheff Wed, crowd 15,000. Sounds like PNE should have got a few goals and Sheff W had a player sent off.
Another defender injured in pre-training, Mawane; out all season.
PNE odds are 17-1 to win the championship which puts them as 8th favourite. Birmingham are favourites at 6-1.
6th July 2006 - 30 days to the new season.
An eventful week. Full back Tyrone Mears signs for West Ham for about £1m plus appearance fees. David Kelly, Assistant Manager looks to be trying to leave and is on gardening leave. The Youth Academy trainer hands in his notice and then arrives at Derby. Four other coaching staff hand in their notices but havn't resurfaced yet.
The above throws a lot of problems onto PNE. It also throws open a number of questions about what employee relations are like at the club. If all these staff appear at Derby is it that Derby are trying to overcome any compensation payments, are the staff just following Billy Davies or is there some anger at PNE? It does appear from reading reports that the Chairman likes to do things by writing letters to the staff, even David Kelly appears to have been told about Paul Simpson by letter. It makes you feel second class not to be advised personally, especially if you think you have some status and are a contender for the job.
Although its normal for managers in all businesses to have their trusty staff, it seems a bit excessive if all 6 roll up at Derby. Also it seems a bit poor if there is no communication between Derby and Preston about it.
It's a real test for Paul Simpson and if he manages it well they'll be head-hunting him as well. Although the opposite is also possible.
It's Davies, Davis, Mears out. 6 backroom staff out. Simpson in, Pugh from Leeds in. Pugh sounds useful but he hasn't made a lot of appearances and as Leeds took 3 PNE forwards who do play regularly it puts a question mark over whether its a step down for PNE.
David Beckham stood down as England captain after 6 reasonable years when he single handedly pulled them through at times. In the WC England underperformed again, although I thought they were better than Portugal and as good as France but maybe not Italy on showings to date. England have the best players in the tournament but they played like they were in chains. This was the best chance of winning there has been for years as it is close to home, none of the South American teams are at their peak and the main European teams are either old or too young. That is so annoying!!! I'm not sure that the management at the FA are up to the job and there is a chance that the new team manager will not be any different.
Wayne Rooney has a similar characteristic to David Beckham in that he can't stop himself once roused, a bit like road rage. DB suffered it once during the Portugal game and he's 10 years older than Wayne so can we expect Wayne to sort it. Is it part of their greatness as players but a major flaw against wily opponents? It's easy to say now but throughout the Portugal game Wayne looked like he'd get frustrated but no-one did anything to help him. As to whether Ronaldo is especially at fault it does appear that he made unnecessary comment but probably not a sending off. The wink was the most troublesome part and it does give the impression that blowing Wayne's short fuse was part of Portugals tactics.
22nd June 2006
The fixtures for the 2006/7 season were published today. North End start at home to Sheff Wednesday on 5th August. They all look tough in the Championship; August has Norwich, Wolverhampton and Southampton who all could be in line for the top six next year. The visit to Derby on Sept 16 will be interesting and as the 8th match both managers could be settling a bit. Christmas brings a torrent of matches; 23rd, 26th, 30th and 1st Jan. The season ending at home to Birmingham. So what would you forecast? A direct promotion, play-offs, mid-table, lower? They've outperformed my expectations so I cant' find the courage to say they will again. They often start poorly so when can you judge?
Mears is looking for a move to Charlton. How many players are needed in the Premier league?
19th June 2006
Today, Paul Simpson, the Carlisle manager, was announced as PNE's new manager. He's done well at the lower level, lets hope he's a man capable of growth. Welcome and good luck. I thought the assistant manager, David Kelly, was in with a good shout and I can't see him staying long now as he's followed Billy Davies around.
Last week Claud Davis the PNE midfielder was transferred to newly promoted Sheffield United for £3m. Interesting that when people leave there are reports saying he's the best mid-fielder in the championship. That kind of money is more than any other PNE player has gone for so it must be right.
A floral tribute to Tom Finney was displayed in Miller Park. Unfortunately it was destroyed by a thing seemingly without a developed brain or purpose for existance.
During the last few weeks Billy Davies has tried to make some placatory remarks. It does seem that Derby aren't flush with cash, unless he's just saying that. So his reasons for going are less clear.
2nd June 2006
Derby announced Billy Davies as their new manager today. He must think they have more potential. Probably he thought that if a middling club like Charlton won't take him he should look to a club that has the trappings, experience and probably a willingness to spend money of the Premier league. Preston have done very well but are conservatively managed and won't risk buying outright any Premier League standard players for large sums. However they have had a lot of very good championship players in the last few years. For a 41 year old with ambition he's probably thinks he can build a team with greater freedom. It will be interesting to see how he fairs. If he'd left a bit more graciously it would be easier to wish him well.
Who will take the post? PNE are in a good position to get someone decent being 4th in the championship. Although Preston do give the perception of not wishing to push the boat out so the manager will need to be willing to make best without spending too much. The board have done well in appointing from within in the last few years. Both Moyes and Davies were risks when appointed. Is there someone from inside such as the trainer Dave Kelly? Craig Brown brought Davies in and he brought in Kelly.
It used to be said that Preston had an attraction for Scottish players and it has served well in the last few years for managerial staff also.
29th May 2006
Today's rumour is that Billy is going to set his lawyers on PNE for not letting him speak to Derby. The North End chairman says it wouldn't be right to let him walk away to a rival championship club. The BBC rumour site says he will be announced as Derby manager according to several newspapers.
If there's any truth in the lawyer story it doesn't sound very good. In all this I've not read any comment from Billy, he doesn't seem to be committing himself to Preston. It doesn't say much about his faith in the team he built but we havn't the full story.
25th May 2006
This afternoon Charlton announced they wouldn't be following up on Billy Davies. Prestons chairman made a strange announcement saying Davies will be staying. There are still quite a lot of clubs looking for managers though and it would have sounded better coming from Billy's mouth. Anyway that seems like some good news.
22nd May 2006
Todays gossip is that Ian Dowie has fallen out with his boss at Crystal Palace and is a hot candidate for everything including Charlton. So although wishing Billy luck, he's very welcome at Preston. The managerial merry go round will continue awhile yet though.
Preston have announced plans to renew the Pavilion stand, at last. It's restricted height due to the houses across the road. Lucky them, they should live next to Goodison. The new stand is to contain corporate boxes which will limit its capacity, some people don't like corporate boxes and don't like the lower capacity. Capacity gates of any size are always great. Harking back to the 1950's or a few games where larger crowds may attend isn't a high enough probability.
Watford beat Leeds 3-0 yesterday to take the promotion spot. A bit of needle has set into Preston - Leeds after stories of their rough-house tactics and trashing the Preston dressing rooms and so can't say sorry.
19th May 2006
The news today is that Billy Davies is going to talk to Charlton about their vacant managers slot. He's done a good job at Preston but is a couple of years enough for a premiership role. Maybe. It isn't clear who are the contenders as the favourite, Peter Taylor, suddenly backed out for what appear odd reasons, perhaps he knows something we don't.
Charlton aren't that big anyway so without Alan Curbishley and having sold one of their best players last season, may be struggling, so it might be a difficult job. Billy may see last season as a swan song and need to take his chances, although a 3rd good year at Preston would definitely put him in the higher bracket.
Arsenal lost the European Champions final but put on a good show. Thierry Henry has signed a new contract today which is good for the quality of Premier football and he is an interesting personality.
1st May 2006
46 games played: position: 4th, Points: 80, For: 59, Against: 30, Won: 20 , Drawn: 20, Lost: 6. Excellent performance from the team and manager. Two hurdles to the Premier League: Leeds on Friday and Monday. Then Crystal Palace or Watford. There's nothing between the teams except luck and occasion - Preston can do it. Nugent came on for a while against Leeds on Sunday after his metatarsal injury. Good result 2-0, but I wouldn't put much on it as a preview of the play-offs as Leeds played a much changed team and it will be more of a cup final. Leeds are hoping they are saving themselves but sometimes you can't just switch it back on.
Arsenal are in the Champions League final. If they go to their new stadium as European Champions it will be great for them. With Liverpool winning it last year and perhaps Chelsea next year it could be a hat-trick for the UK. Only Barcelona to beat, but they aren't unbeatable, unlike the Arsenal defence so far in Europe.
If Steve MacLaren goes to England will it cause a managerial reshuffle. I don't think Middlesbrough are so big they will pull anyone from the North West, but you never know. Wigan have done brilliantly although the second half of season hasn't been so good and hope they havn't been found out. Blackburn are doing well and Craig Bellamy is looking good.
Blackpool aren't safe yet although it will be bad luck if they go down. Accrington Stanley are back after 40 years.
3rd April 2006
41 games played and still 6th. 8 points clear of the 7th. After all the transfers and injuries it's hard to believe they are still there. They have to play Wolves, Leeds and Norwich which won't be easy games although Leeds won't have a lot to play for but they seem to be a jinx team for PNE. I think its the big club awe syndrome, as they say imagine they are dressed in scruffy underpants and give them some stick, easy to say. Cardiff and Wolves can pass PNE as can the following 3 teams. However if they win all their games PNE only need 7 points. Will they win all their games? I'm saying nowt more.
Saturdays win at Coventry was a good result as Coventry had gone 12 home games without defeat and there was a good crowd of 21000. They've kept plugging away and getting these away results.
Reading are already champions. Sheff U are in the play-offs at least, Watford, Leeds and Crystal Palace are almost certain of reaching the play-offs. Well if Reading and Sheff Utd go up, who will win the play-offs. I wouldn't like to bet on any of them, they've all done well. I think Watford and Crystal Palace will be favourites. There will be a lot of expectation on Leeds which could take them either way.
Who will be Newcastles manager and who will be England manager. Martin O'Neil seems to be favourite for both. Sam Allardyce is keeping cool. Ian Dowie has done well and maintained strength under fire. Stuart Pierce, well I think the Man City players are deliberately trying to keep him there and he is getting a good test at the moment. So that leaves Steve MacLaren. Don't know any foreign managers, who are overseas, so can't comment there. The top foreign premiership managers all appear well embedded in their teams and not ready for the part-time and diplomatic role of the national team manager, but you never know.
3rd January 2006
Had to come back as PNE won 3-0 at Norwich. Delia will have been shouting something. Goals looked good on Sky highlights. Downside being that the, as of today, former PNE player Etuhu broke the leg of Adam Nowland in what Billy Davies described as a horrendous tackle. Didn't do Norwich any good as North End scored 2 more after that. That's a bad New Year for Adam after scoring the opening goal, it's so annoying but without seeing it I'll refrain from venting an opinion.
December 2005
The 2005 year end report on Preston North End. Nine points from 5 games in December without defeat isn't a bad haul. They are now 7th with a away game in hand on the two teams above them, so they could be 5th theoretically. Especially with their away form being better than their home form, more away points(20 from 12) than home (18 from 14) from less games.
Players keep leaving. The on loan Manchester Utd player, David Jones, is off to Holland. Billy Davies is doing an amazing job to keep them where they are. Considering the points lost at home they could be much higher as well.
I wonder why their home games aren't as successful. Are they a break away team who can't score when they play a more attacking home tactic. Are the fans expecting too much and on the teams back? The gates at Deepdale are sort of middling; last weeks championship gates were, PNE 13,000 against Coventry. Burnley had 14,000, six games had over 20,000. Brighton and Crewe had 6000.
The next match against Norwich will be a test as they are an in form team looking for a late season revival.
Well below Preston are Ipswich, Southampton, and Leicester who are all clubs you'd expect to do better. When you look at the Championship there are a lot of clubs who could rightfully expect more. That makes Prestons performance even more impressive.
Reading are riding high, 18pts above 3rd making promotion look a cert, with 19 games to go can you say that? Leeds are doing better (3rd). It seems you can't depend on any team beating another and there is a lot of upping and downing in the league with a ruck between 3rd and 11th. It could be that Leeds will open up a gap in the next month but Sheff Utd are 9pts ahead in 2nd place. The seasons true positions will be formed in the next 2 months and crystalised at Easter. What would happen if the leagues were merged, the season didn't finish and you always played only against teams who are +/- 10 positions from you.
Wigan are maintaining their premier league performance with the exception of a surprise drubbing at home from Blackburn in their last game. It seems tiredness was the reason with the heavy Christmas fixture list and Blackburn not playing their mid-week game. However February is a month that tests your mettle, so we'll see. Everton are struggling to get away from the relegation area. Sunderland scrambled up last year could go a full season without winning a game. Everybody has a soft spot for the North East clubs, I think, I'm sure they don't want pity, and it would be great if they can make a fightback.
Liverpool are the team of the moment, moving up to 3rd with games in hand on Man U who are 2nd. Arsenal have hit a bad patch and are looking a shadow. Chelsea are running away with the league and I have mixed feelings about it as it will be good to see British teams doing well in Europe. But you know, if you have a computer game and are able to switch on limitless funds you usually win but it doesn't give you the same satisfaction.
November 2005
A fairly satisfactory couple of months with no defeats, October being a month of draws, keeping PNE well in touch with the play-offs and 10 points from relegation at 11th position. Etuhu has gone to Norwich on loan, although it is believed he will stay there. Strange that at the beginning of the season David Moyes was rumoured to want him but he didn't even get in the North End team much after that. Nugent is back from injury.
Reading are top and showing good form and Watford have done a spirited climb to 3rd. Sheffield United slipping back although still 9 points clear of Watford. Leeds are slowly moving up although are still in the ruck which can move you from 3rd to 11th with a few slips.
Looks from here as though Billy Davies is making quite a good show after losing key players and North End could still make the play-offs. What does it mean - last years promoted teams are 5th, 11th, 18th. Sunderland only have 5 points. West Ham made a good start. Wigan were flying but have had a run of games against all the top teams.
September 2005
Performances away from home look good, but home results letting the side down. Recent speculation of a rift between manager and board and a peace statement has been issued. Club lost nearly a £1m last year. The wage bill is £5m supposedly the lowest in the Championship.
A few injuries, e.g. Nugent got a bug. Loan player from Man U looked good but havn't heard him mentioned of late.
Usual shaky start to the season, but have they the players to pull out of it this time.
Cresswell ended up at Leeds joining Lewis, Healy and Gregan. He's out for 12 weeks with an injury. Leeds aren't setting the world alight but its early yet. Sheff U making the running, will they maintain it.
August 2005.
Starting season well with an away win but a draw at home to Derby wasn't brilliant. Losing at home to Reading 3-0 was a bad sign although Reading won 5-0 against Millwall in their next match.
Seems like half the team is being stalked. Everton want Etuhu and Nugent so the rumours say. Sheffield Ut d want Cresswell. Already lost Lewis to Leeds who joined Healy who left last season.
In my opinion its difficult for a young unproven player who is offered a place at a bigger club. Would you want to play in the reserves at Everton with a chance of the odd first team game and a distant prospect for the future or play full time in the Championship at Preston and move later. Nugent should get some more time under his belt. I don't know much about Etuhu. Richard Cresswell, if he wants to go to Sheffield it will be a shame as he's been a rock although going to Sheffield is as much of a gamble as staying.
May 2005.
Play-off's, 2nd time in 5 years. Beaten Derby and play West Ham at the Millenium Stadium. West Ham have had an inconsistent season but seem to be coming into some form. Preston lost and didn't play very well.
Wigan are going up as well, good for them. The north west now has Blackburn, Bolton and Wigan as well as the 4 big city clubs in the Premier League. If Preston, Burnley, Blackpool, Oldham, Bury, Stockport, Tranmere, Rochdale, Crewe can buck up there could be 16 north west teams in the Premier league.
........................................................................