Preston North End Football Club
Notes of a distant follower 2012/13 season
in the nPower League One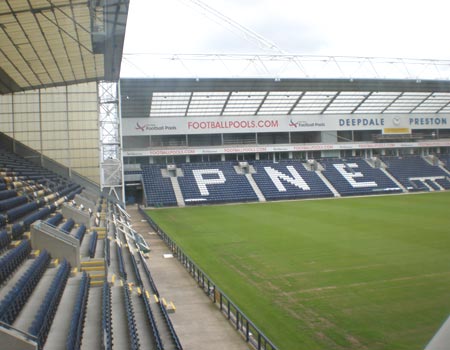 PNE's ground Deepdale, Bill Shankly Kop and Invincibles Stand from the ex-National Football Museum viewing point.
April 30th 2013 Retained List issued
Offered professional contracts: defender Ben Davies, midfielder Ryan Croasdale and goalkeeper Steve James.
Expected that Rudd will return on loan, Connolly will be a free agent at the end of his Leeds contract.
Bailey Wright has signed a new deal. Stuckman is in line for a new contract.
Alan Kelly will remain as goalkeeper coach.
Open to offers: Chris Beardsley, Andy Procter and Chris Robertson.
Released: centre-half Luke Foster.
Declan Rudd and Paul Connolly have returned to their clubs.
Ref Lancashire Evening Post.
April 27th 2013, End of Season
P46 W14 D17 L15 F54 A49 Pts 59 GD 5 Pos 14
Home: W8 D9 L6 F31 A22 GD 9 Pts 33
Away: W6 D8 L9 F23 A27 GD -4 Pts 26
One place better than last season. More optimism for next season although what odds on getting into the play offs. Wouldn't get too carried away.
Winning 8 at home is poor, converting the draws to wins and losses to draws will give another 24 points, automatic promotion. North End have drawn far too many games, 17.
Here is the Preston line up at Sheffield United on the last game of the season. Sheffield had a guaranteed play-off spot and ended 5th.
23 Rudd
04 Huntington
16 Buchanan
26 Wright (Foster - 46' )
02 Keane (Procter - 79' )
08 Wroe
11 Holmes
19 Welsh
21 Mousinho
22 King
24 Hayhurst (Monakana - 64' )

Substitutes
01 Stuckmann
27 Foster
13 Byrom
17 Monakana
18 Procter
09 Cummins
14 Garner
Scoring 54 goals is poor and something to improve goal scoring is needed.
Doncaster guaranteed promotion with the last kick of the game against Brentford who would have overtaken them with a win. Bournemouth join them.
Play-off teams: Brentford, Yeovil, Sheffield United, Swindon.
Relegated: Scunthorpe, Bury, Hartepool, Portsmouth.
Championship relegation battle goes on with 7 clubs still not decided. Bristol City are relegated. Wolves might scrape out.
Promoted from League 2: Gillinghamm Rotherham, Port Vale with the play-offs to be decided.
Local clubs in League 2: Accrington 3 points clear of relegation 18th, Morecambe 16th, Fleetwood 13th. Rochdale 12th.
March 31st 2013 Seems improved but not scoring
P39 W11 D15 L13 F47 A46 Pts 39 GD 1 Pos 16
There seems to be more confidence about since Simon Grayson took over. Yet the team haven't been scoring enough goals. There are some injuries though.
March saw D, W, W, L, D, D in 3 home and 3 away games with only 2 goals in the last 4 games.
PNE are still a bit close to the relegation spots with 7 games to go, 8 points from the 21st club, Oldham. Seems improbable they'll go down.
It would be unfortunate if Bury and Oldham go down, two north west clubs. Its not certain that Blackburn and Blackpool won't come down into League 1 also. Just a personal feeling that the north west is having a bad time and maybe it's something to do with government policy. Should you vote according to your teams position - doing well vote for the government, doing badly vote for change.
Yet Doncaster are up there on top with Tranmere bobbing in and out of the promotion play off spots. Fleetwood are doing quite well in League 2, although Accrington are looking a bit sick. It would be excellent for Fleetwood to be promoted.
February 28th 2013 Grayson in
P33 W9 D12 L12 F42 A43 Pts 39 GD -1 Pos 18
Simon Grayson appointed on the 18th February to replace Graham Westley who was sacked on the 13th February after defeat at Yeovil. The game after GW left the team played better and won at home under caretaker manager John Dreyer.
Always unfortunate when a manager is sacked and PNE have sacked a few.
January 31st 2013 Will Westley turn it round
P28 W8 D10 L10 F33 A31 Pts 35 GD1 Pos 16
We celebrate one year of Graham Westley as manager, possibly. After a year of forming, here's to norming and storming the last few months of the season into a play off place.
In the league in January; 1 win, 2 defeats, no change, slipping away from play-off hope and moving towards a possible relegation struggle. Couple of ins and outs during the transfer window, no-one heard of. Jury is still out, but a verdict is forming on where the club is heading.
Out of the Johnstone Cup and the FA Cup.
In summary; as ever life continues with hope of small mercies and Trevor Hemming's chequebook not closing. Easy to talk yourself down. Ever onwards and upwards or similar. (Having been hit by a bug the last few days this might be a bit depressed).
December 31st 2012 Westley will turn it round
P25 W7 D10 L8 F33 A31 Pts 31 GD2 Pos 15
A couple of poor results finished 2012. PNE 0 Doncaster 3, PNE 0 Bury 0. The latter made bad by Bury being 21st in the table. PNE 1 Carlisle 3 was a shock as well.
Some positives in the stats: PNE haven't lost of a lot of games, the goal difference is positive. They are still closer to the play-offs than to the drop zone. Also there are several injured players about to return. Home form seems to be a problem with no wins and scoring only 3 goals in the last 3 months, luckily they've more away games to go than home ones.
Injured players are: Holmes, Keane, Laird, Beavon, King and Wroe. Laird being out for some time after looking good.
There has been a complete change to the playing squad and the wage bill is said to be significantly reduced which was probably a top objective given to the manager. Having achieved that some consistency in the team selection and time playing as an established squad could still see a run up to the play-offs.
2013 has 21 league games plus the Football League Trophy and FA Cup. The next match is against Hartlepool, on Jan 1st, who are bottom and way behind while the other league games are against teams who are not in the play-offs so they're all highly winnable although Coventry are much improved. Here's to 15 points in January.
Portsmouth, Bury, Scunthorpe, Hartlepool in the drop zone 10 points behind PNE. The top of the table being Tranmere, Sheff U, Doncaster, Brentford, Bournemouth, Swindon 8 points away..
November 30th 2012 Played 20, W7, D7, Pts28, GD7, Pos 11
Another average month keeping PNE in the average place of 11th. Three home draws, a big away win at Stevenage, no doubt pleasing Graham Westley, and an away defeat. Gates have been going down a bit with the last game against Notts County watched by 8,000. Defender Scott Laird suffered a broken leg and has been replaced by a loan signing from Chelsea called Todd Kane, age 19. The Notts County manager said he knew the game wouldn't be pretty the way they play their football and PNE say that referees are prejudiced against them. If fortress Deepdale could be created they'd be doing a lot better, the away form is quite good.
October 31st 2012 Played 15, W6, D4, Pts22, GD6, Pos 10*
2 draws, 2 wins, 2 defeats in October isn't too bad. Converting draws into wins will make a big difference. The 3-1 defeat at Oldham was probably the worst result with Oldham stuck near the bottom and PNE scoring in the last minute. The fans are maintaining patience and there is enough inconsistency in the league to quietly push into the play-off zone. *Not sure of exact position, didn't note the table position in time.
September 30th 2012 Played 9, W4, D2, Pts14, GD6, Pos 9.
In September PNE reached the position of 5th and now almost 20% through the season are a reasonable 9th. Some good results with a 5-0 win against Hartlepool and 4-1 against Swindon. Crawley who are currently doing well beat PNE at Deepdale was disapointing. Losing to Walsall who weren't doing so well wasn't a good result if PNE are to be a top team. At the moment it seems their position of 9th could be classed as fair and maybe they can build on that to move a few more upwards. Gates around 8,000 are good for League 1.
A home defeat to Middlesbrough in the League Cup also showed how much further there is to go.
Tranmere are top and Bury bottom.
PNE team against Yeovil: Stuckmann, Keane, Huntington, Wright, Laird, Monakana (Amoo 80), Mousinho, Byrom, Hayhurst (Buchanan 70), Beardsley (King 78), Beavon. Unused subs: Cansdell-Sherriff, Wroe, Welsh, Simonsen.
August 31st 2012 Played 3, 2 draws, 1 defeat.
Not a very promising start in the league but better results in the League and Johnstones Cup. Beating Crystal Palace 4-1 in the League Cup may put them in better form.
August 18th: 2012 /13 Season Kicks Off
League One first game: PNE 0 Colchester 0. A home draw and no goals. Neither bode well but as they say, early days. Two points lost.
After a mixed performance in the pre-season friendlies PNE won their 1st round of the Capital One League Cup match against Huddersfield. They created a record by having 13 new players in their team, listed below.
Stuckmann, Keane, Laird, Huntington, Cansdell-Sheriff, Wroe (Amoo 80), Holmes (Buchanan 46), Mousinho (captain), Monakana (Welsh 69), King, Beardsley. Subs: Amoo, Cummins, Buchanan, Welsh, Procter, Wright, James (GK)
The 2nd round draw is Crystal Palace v PNE.
July 9th: Preston Pre-Season Friendlies
Friendly Sat. July 14th Southport away.
Friendly Sat. July 21st Morecambe away.
Friendly Sat. July 28th AEK Athens home.
Friendly Tues. July 31st Wimbledon away.
Friendly Sat. August 4th Leeds home.
Friendly Wed. August 8th Plymouth away.
League Cup: Monday August 13th Huddersfield home.
June 28th: Derek Shaw signs for Blackburn
A bit of a surprise that the former PNE Chairman has become the Managing Director at Blackburn Rovers who have just been relegated to the Championship. For the good of the North West and Lancashire hope he's successful although it isn't easy to see what Blackburn have, now they aren't able to spend. The Gray / Moyes partnership put PNE on the right tracks and ever since it hasn't seemed as convincing. Ridsdale / Westley is as yet a blank slate and will begin to be formed in the next few months.
June 18th 2012: release of next seasons fixtures
League games:
August 18th: Colchester at home.
August 21st: Shrewsbury away.
August 25th: Bournemouth away.
Plenty of movement on the player front although with so many changes it gets hard to recall who was where when, did what or would have been better if.
.......................................................................