PRESTON NORTH END
FOOTBALL CLUB
1964, a good season
Thanks to a mixture of sources;
Lancashire Evening Post, Various other books and memories
1964, a good season. 3rd in the old second division and cup-finalists. After being relegated from the first division only a couple of years earlier Preston thought they should be back in the top division. A good team had been built up with a couple of ex-Manchester United players playing key parts, Nobby Lawton and Alex Dawson. The Eire international goalkeeper Alan Kelly and Howard Kendall who later played for England and Everton were in the team. There was a good balance of brain and brawn.
The best matches were, Preston v Leeds, a night match with Leeds top and Preston winning. The cup semi-final; Preston v Swansea, with Alan Singleton scoring from the half way line in pouring rain to win the match. If my memory serves me right. What a goal!
Here's my ticket, thought lost and found inside a book in 2014.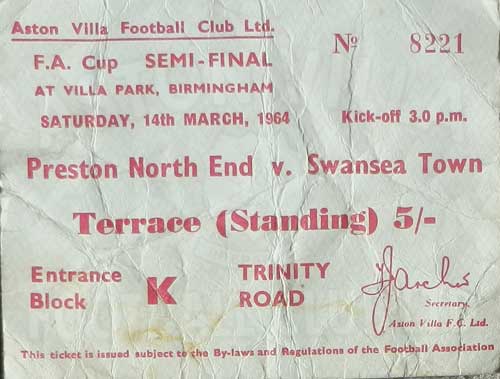 I went to Wembley, taken by an Aunt as I was a young lad, but can hardly remember anything but the nerves and that Preston were 2-1 up with not long to go, but lost.
The greatest player was Alex Dawson, what power. When he took a penalty, the net, the goalie and the posts went into the crowd. Although I think football wise Lawton was probably the best and most influential. Spavin was also a good reader of the game.
Table position; League Division 2. 3rd place. With Sunderland and Leeds just above.
Cup Finalists; Preston 2 West Ham 3.
Cup Final Team;
Kelly, Ross, Smith, Lawton, Singleton, Kendall, Wilson, Ashworth, Dawson, Spavin, Holden. (Donnelly, Davidson, Godfrey in the squad).
West Ham team; Standen, Bond, Burkett, Bovington, Brown, Moore, Brabrook, Boyce, Byrne, Hurst, Sissons.
Referee; Holland, Linesmen; Stoakes, Bricknell.
Post Script:
Nobby Lawton died on 22nd April 2006 in Manchester where he was born on the 25th March 1940. He played for Manchester United 1956-63, Preston North End 1963-67, Brighton and Hove Albion 1967-71, Lincoln City 1971-72. There were many long and gushing obituries including over half a page in each of The Times and The Independent. The Independent stated: West Ham United were captained by the illustrious Bobby Moore, while Preston North End were led out by the rather less renowned Nobby Lawton, but when the two clubs staged one of the most exhilarating of all Wembley FA Cup finals, in 1964, the unassuming Lancastrian was anything but upstaged by the recently appointed England skipper.
.........................................................................