The PNE Story: Preston North End Football Club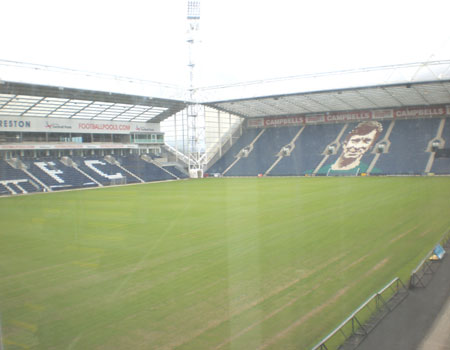 June 2009: the Alan Kelly stand. What a goalie!
Alan Kelly, Preston and Ireland goalkeeper, b1936 - d2009.
I was young when Alan took over from Fred Else, I read it was 1961 so I was just out of short trousers. I used to think Fred Else was an amazing goalkeeper and I had a spell at school when I was him. So Alan had a tough act to follow and he filled it well. My most lasting image of him is, maybe unfortunately, him looking round as the ball enters the net at Wembley in 1964. He's always looked upon with admiration and warmth. That's why there's a stand named after him with a big image of him. Well done!
Looking Back
1875: Acquire Deepdale
Over 130 years at Deepdale. Beat that.
1878: Kick off
After some to-ing and fro-ing the football team got off the ground and were beaten 1-0 by Eagley at Deepdale in the first match to association rules.
1880's: Professional v Amateur
In 1881 PNE were beaten 10-0 by Blackburn Rovers and the PNE chairman went to Scotland and recruited some skilful players. By 1886 PNE were a force to be reckoned with. Thanks to Major William Sudell a true innovator.
In 1884 PNE played London's Upton Park in the FA Cup. Upton Park complained to the FA that Preston was a professional, rather than an amateur team and the FA expelled them from the competition.
Major William Sudell, the secreteyary/manager of Preston North End admitted that he had improved the quality of the team by importing top players from other areas.
Preston North End joined forces with other clubs who were paying their players, such as Aston Villa and Sunderland. In October, 1884, these clubs threatened to form a break-away British Football Association. On 20th July, 1885, the FA announced that it was "in the interests of Association Football, to legalise the employment of professional football players, but only under certain restrictions".
This decision increased club's wage bills. It was therefore necessary to arrange more matches that could be played in front of large crowds. In March, 1888, William McGregor, a director of Aston Villa, circulated a letter suggesting that "ten or twelve of the most prominent clubs in England combine to arrange home and away fixtures each season." The following month the Football League was formed. It consisted of six clubs from Lancashire (Preston North End, Accrington, Blackburn Rovers, Burnley and Everton) and six from the Midlands (Aston Villa, Derby County, Notts County, Stoke, West Bromwich Albion and Wolverhampton Wanderers). The main reason Sunderland was excluded was because the other clubs in the league objected to the costs of travelling to the North-East.
1888-9 : The Invincibles. Double winners.
The first season of the Football League began in September, 1888. Preston North End won the first championship without losing a single match and acquired the name '"The Invincibles". Major William Sudell, had persuaded some of the best players in England, Scotland and Wales to join Preston: John Goodall, Jimmy Ross, David Russell, John Gordon, John Graham, Robert Mills-Roberts, James Trainer, Samuel Thompson and George Drummond. He also recruited some outstanding local players, including Bob Holmes, Robert Howarth and Fred Dewhurst. As well as paying them money for playing for the team, Sudell also found them highly paid work in Preston.
Champions: Played 22, Won 18, Draw 4, Lost 0, For 74, Against 15, Points 40
Runners up: Aston Villa, points 29.
Cup Final: PNE 3 Wolves 0. Played at Kennington Oval, 27,000.
1890-1: Champions
Played 22, Won 15, Draw 3, Lost 4, For 71, Against 30, Points 33
Runners up: Everton 31pts.
Cup Winners Blackburn Rovers.
1891-2: Runners Up
1892-3: Runners Up
1893-4: 14th out of 16
1921 FA Cup Finalists
1937 FA Cup Finalists
1938 FA Cup Winners
April 30th 1938.
Gate: 93,497.
PNE 1 Huddersfield Town 0. AET.
Goalscorer: Mutch (pen).
1946 Tom Finney era begins.
1954 FA Cup Finalists
1957 First Division - 3rd place
In 1956 Cliff Britton took over as manager and lasted till they went down in 1961.
1958 First Division Runners Up
1960's
1960 Tom Finney retires.
The 1960's was a decade of deterioration with one season, 1963-4, of brightness.
1960-1 Relegated to Division 2.
Jimmy Milne became manager and lasted until 1968.
1964 FA Cup Finalists - PNE 2 West Ham 3.
1963-4 3rd position in the 2nd Division.
After this season PNE had several very average years before going down.
1969-70 relegated to 3rd Division.
1970's
The 1970's was a decade ups and downs, winning in lower divisions can be enjoyable.
1970-1 season champions of Division 3.
Three poor seasons in the 2nd Division.
1973-4 relegated to Division 3.
A few reasonable seasons before being 3rd and....
1977-8 won play off and promoted to Division 2.
1980's
The 1980's plumbed new depths with PNE almost going out of the league.
1980-1 relegated to Division 3.
1984-5 relegated to Division 4.
1985-6 re-elected into league after finishing 23rd.
1986-7 Runners up of Division 4, promoted to Division 3.
1990's
The 1990's had an upward trend, what goes down can come up.
1992-3 relegated to 4th Division after a few poor years. John Beck took over in the relegation season and they had success in the division although Johns long ball football wasn't particularly liked at the time.
1993-4 play-offs. Wycombe promoted.
1994-5 play-offs. Chesterfield promoted. Gary Peters took over. Gary was a popular manager and I once watched him in a hotel the team were staying in near Maidstone. At the time he was deputy to John Beck. Gary went round the hotel restaurant and bar talking to children and others while John Beck stayed with his colleagues having a drink.
1995-6 champions of 4th Division - (now league 2).
During this period David Moyes took over from Gary Peters after a number of low mid-table seasons. David did well at Preston and moved to Everton. Gary took over the Centre of Excellence.
1998-9 play-offs in 3rd Division.
1999-00 champions of 3rd Division - (now league 1) - 7 points clear of the runners up, Burnley.
2000's
The 2000's have been the best spell for 40 years with several very good seasons, the ground being rebuilt and the training facilities improved.
PNE have played in the Championship (formerly 2nd Division or League 1) throughout the 21st century and have been in the Championship play-offs 3 times.
2000-1 4th position, play-off finalists. Bolton won. David Moyes moves to Everton.
A mid-table spell with Craig Brown before Billy Davies took over and had immediate impact.
2004-5 5th position, play-off finalists. West Ham won.
2005-6 4th position, play-offs. Watford promoted. Billy Davies moves to Derby and Paul Simpson takes over.
2006-7 top the table in November but throw away another play-off position with a very poor late season.
2007-8 start off badly and Paul Simpson leaves with Alan Irvine taking over and slowly hauling the team back off the cliff edge.
2008-9 come fly with me.
Managers
A number of well known figures had the managers job;
Alan Ball (senior) 1970 - 73: a flamboyant character made it seem exciting.
Bobby Charlton 1973 - 75:
Nobby Stiles 1977 - 81:
Tommy Docherty (ex-player at PNE) 1981:
David Moyes 1998 - 2002: hasn't he done well.
Billy Davies: 2004 - 2006: did a great job at PNE and for Derby in the first season and could yet do well elsewhere.
Nobby Stiles, John MacGrath, Gary Peters, David Moyes had the job around 4yrs each which is the longest spell.
Thanks to Wikipedia and the following for the information above.
Ref: http://www.pnefc.premiumtv.co.uk/