Sir Tom Finney Funeral 27th February 2014
Sir Tom Finney was given a splendid Civic Funeral by the Council and people of Preston and the football world. This was always going to be a huge day for Preston and so it was. Thousands lined the streets. Here is a view from outside the Bull & Royal:
Preston Councillors walking to the Minster.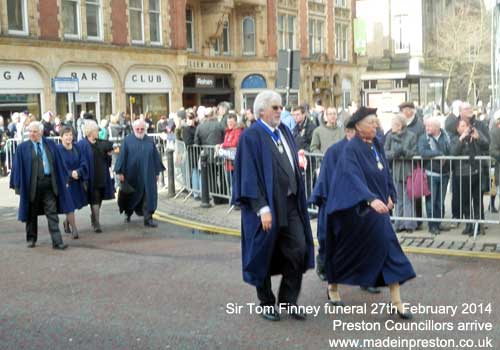 Coaches and limosines bring the funeral attendees to the Minster.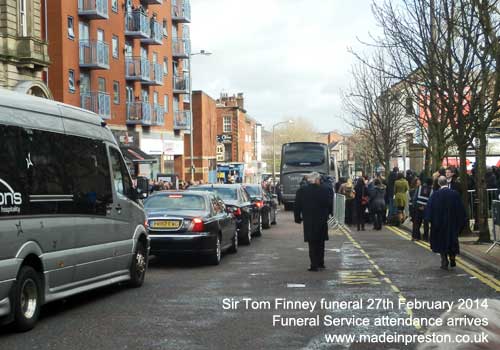 The Mayor of Preston arrives at the Minster.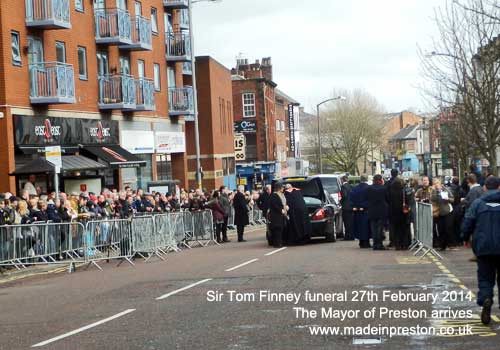 The funeral cortege led by mounted police and the hearse.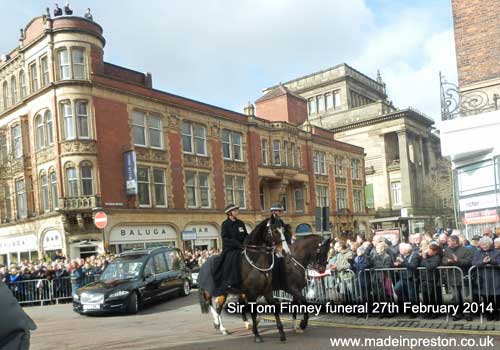 Sir Tom Finney, most loved Prestonian.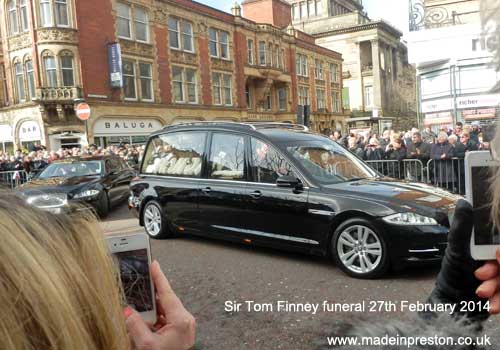 The coffin is borne into the Minster.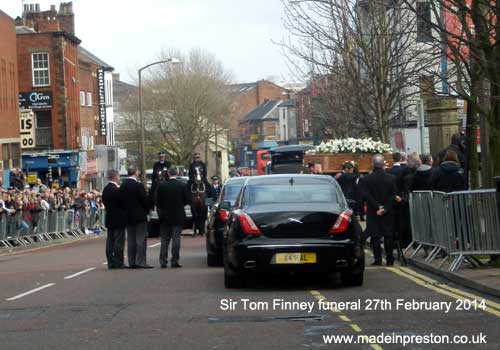 Preston Civic attire.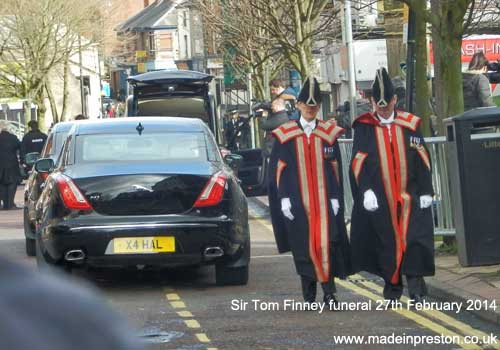 One of dozens of Books of Condolence that have been filled at the Harris Museum.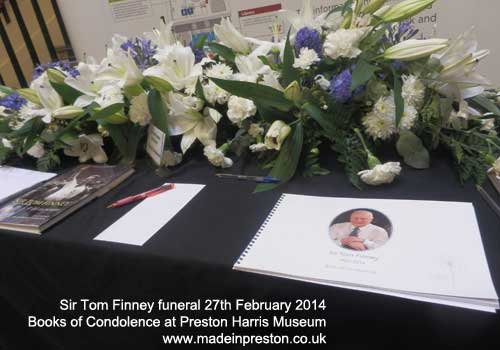 Written 2nd March 2014.
Sir Tom Finney
5th April 1922 to 14th February 2014.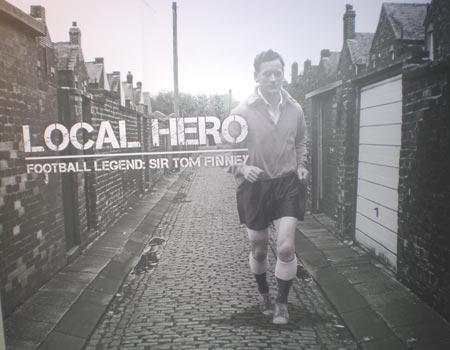 Photo from the previously Preston based National Football Museum in 2008 and text below from the same time.
I was a bit too young to fully appreciate Tom Finney but my dad hardly ever spoke of anyone else, yes it was a bit boring at times when everything is compared to one benchmark of skill, decency and loyalty.
If you see Sir Tom on television you are struck by his modesty, on the pitch he was a king who played for the team, not himself, so maybe that is a link to his personality. There don't seem to be many filmed accounts of his play but many players like Bill Shankly used him as their measure of a footballer. There are great photo's like the 'splash' photo and one of several Blackburn Rovers defenders unable to catch him.
He scored around 4 goals in every 10 games for Preston and for England in a total of over 500 games, quite a hit rate, especially when every defender was aware that he could be the difference between winning and losing and he was a winger. In those days defenders were not penalised for physical tackles. Even approaching 40yrs of age Tom Finney gave defenders something to be wary of. Can you imagine scoring all those goals and making so many more.
To quote Bill Shankly; 'Tom Finney would have been great in any team, in any match and in any age, even if he had been wearing an overcoat'.
To quote Bobby Moore from his autobiography on playing alongside Tom Finney when he made a brief comeback after retirement;
'That lovely, easy control of the ball, the appreciation of the game, the finishing, much of the change of pace, it just unfolded in front of me. I'd never played with a winger like that and I never would. I was amazed by Tom Finney.'
Born; April 5th, 1922 in Preston. Twice footballer of the year. 76 caps and 30 goals for England. Played right wing but could be played in any forward position with confidence. Played league debut in 1946 when the league resumed after the war and played till 1960 in the old Division 1.
There is plenty already written, including his own books.
This is a good link;
Tom Finney at Football England
Autobiography;
Finney, T (2004) Tom Finney Autobiography ISBN 075531106X
........................................................................