The Location and Key Statistics of Preston
53o 45' N, 2o 42' W
Preston is located mainly above the River Ribble flood plain in central Lancashire about halfway between London and Glasgow. In this area the tidal range is quite high with tides of 9 metres being frequent. The prevailing south-westerly wind drives mildish but wet Atlantic weather over the area and temperatures don't get excessively cold or hot. Being at a northerly latitude also means long summer daylight and short winter daylight. Surprisingly, although Preston is on the west coast it is east of Edinburgh. The 'centre' of Preston is very close to its southern border.
Map of Preston area.
15 miles east of Preston is the geographic centre of Britain. There are 2 ways to consider this; The first includes the 401 islands around the coast. At SD 64188.3 56541.43, which puts it seven kilometres north of Dunsop Bridge in the Ribble Valley The 2nd, SD 72321.72 36671.1 is the centre of mainland Britain without the islands; five and a half kilometres south west of Clitheroe, just to the west of Whalley.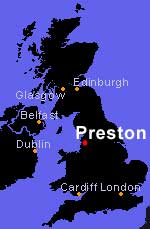 The towns around Preston, some interesting places. Drawn by myself.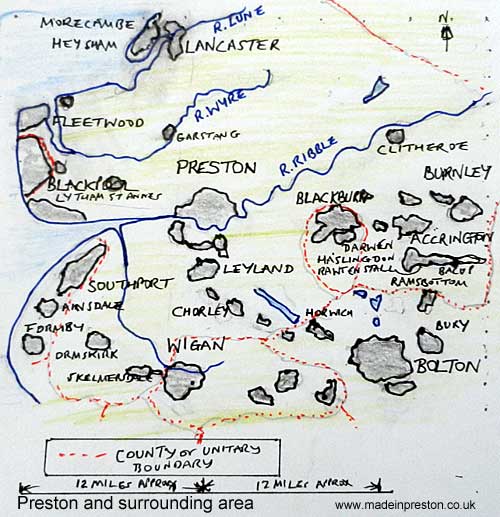 Preston, Lancashire. Population 2011 census; 140,200. More about populations.
200 miles north of London. 200 miles south of Glasgow.
53o 45' N, 2o 42' W.
Boundary revision for parliamentary elections, click
Election information, May 2005 and 2010, click
Lancashire County Councils page on Preston. click