Helmshore Mills Textile Museum
Visit: Friday September 14th, 2012
Helmshore Mill is an early 19th Century wool and cotton spinning mill that closed in the 1970s. It is now well preserved with working machinery demonstrations and a collection and educational display of cotton spinning machinery through the ages. The wool mill is part of the original 18th Century mill. There is a novel factory chimney on a nearby hill.
There is a cafe, small shop, good sized free car park and it's in a quiet countryish area with easy access to the motorway. The cafe is quite nice, well decorated and very reasonably priced.
Helmshore complements Queen Street Mill Textile Museum in Burnley which is a working weaving mill. Both mill museums are part of Lancashire County Council Museums and are well presented with very helpful guides.
From Preston turn off the M65 at Junction 5 and along the B6232 to the B6235, surprisingly quick.
Helmshore Mills Textile Museum
Holcombe Road, Helmshore, Rossendale, BB4 4NP.
Tel: (+44) 01706 226459
Fax: (+44) 01706 218554
The Richard Arkwright water-powered spinning frame could drive 96 spindles and the mills were designed the right size to fit them.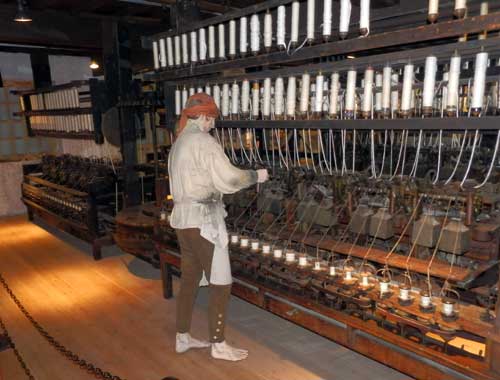 Richard Arkwright born in Preston experimented in Arkwright House, Preston with his machine before it was fitted in a mill.
Spinning demonstration and talk in the Carding and Spinning room using the various machines such as carders, the derby doubler and the spinning. It has a full language of its own if you can recall the names of the processes. Slivering? Photo of the excellent guide.
The layout of the Carding and Spinning Room, one of many such rooms in the museum. The Devillers room being the most ominous.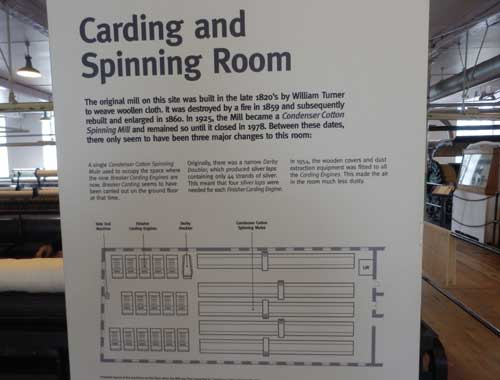 The Wool Mill exhibition has a waterwheel that drove machines to treat the woollen garments so that they were of various stiffness up to a tough felted material. There are several processes and the demonstrator provides an interesting talk from the knowledgeable guide..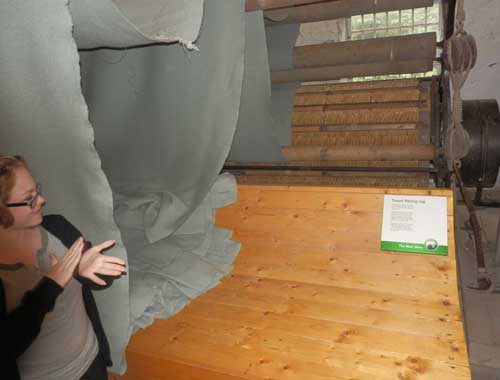 Helmshore Mills Textile Museum entrance.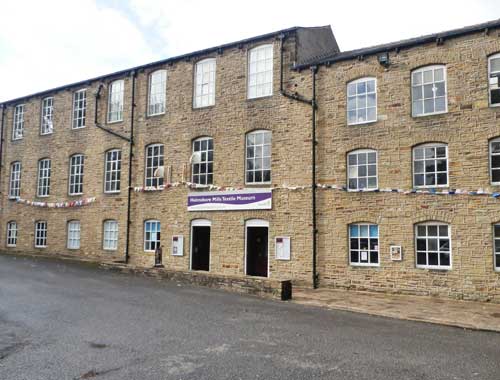 Check opening times and any special events on the Lancashire County Council Museums website:
Link to Helmshore Mills Textile Museum page on the Lancashire County Council Museum website.
'Bringing the spinning industry to life
Nestling side by side in the quiet village of Helmshore in the stunning Rossendale Valley are two original Lancashire textile mills, Higher Mill and Whitaker's Mill, together known as Helmshore Mills Textile Museum. Here you can...'
Link to Queen Street Mill Textile Museum page. Another museum that weaves the cotton produced at Helmshore.