COTTON IN PRESTON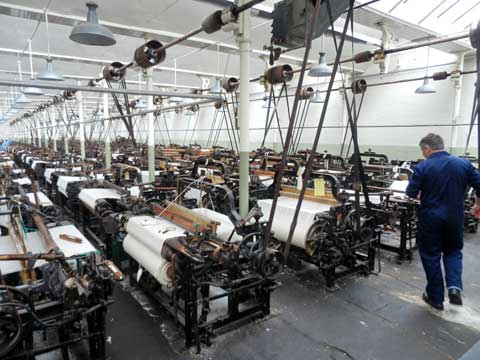 Photo of a typical weaving shed. Taken at Queen Street Mill Textile Museum, Burnley.
Cotton coupled with steam was the transformer of the north west of England that moved the balance of the population from the country to the town, introduced industrialisation and changed the social order. It eventually created a region of some wealth and amenity for the time with large trophy buildings like Blackpool Tower being said to be 'built on cotton', as could be said of many of Preston's most iconic buildings.
Cotton manufacturing became the largest employer in Preston in the 19th Century. It developed from the first mill in Preston in 1777 and by the middle of the 19th Century 80% of the population of Preston depended on it. Not just making cotton but making the buildings and machines.
Photo: cotton workers ragged clothes for the Channel 4 programme 'The Mill' on display at Quarry Bank Mill, Cheshire.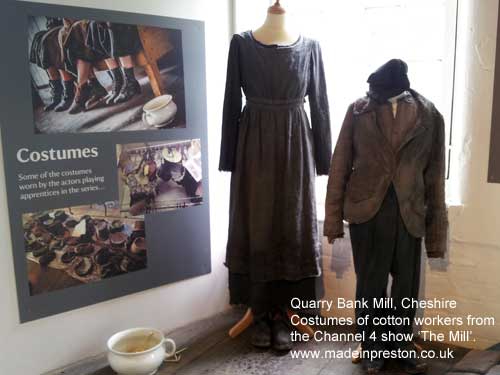 Prior to then there had been a significant spinning and weaving industry based on traditional home based methods. Spinning was the first element to become mechanised in factories. The factory owners putting work out to handloom workers in weavers cottages and bringing it into factories to be finished - bleached, dyed. Ultimately the weaving became mechanised and factory based.
After the Spinning Jenny was invented and enabled multi-spindle spinning it still had to be hand powered. Preston born Richard Arkwright developed the Water Frame in Preston that enabled it to be powered by a water mill which greatly expanded output.
Photo of Richard Arkwright, born in Preston and invented the water frame in Preston. Part of the display at Helmshore Textile Museum.
Richard Arkwright's water frame enabled power operation of looms such as this one, on display at Helmshore Textile Museum, well worth visiting.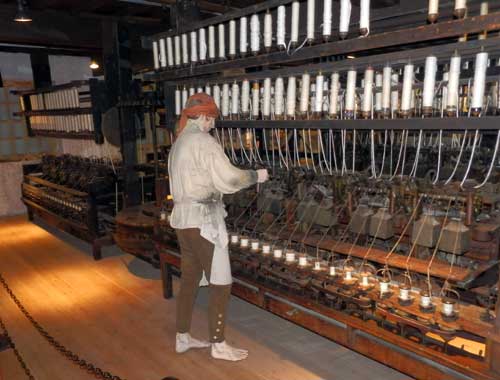 Sir Richard Arkwright moved from Preston to implement his ideas and set up the first factory system mills in remote Cromford, Derbyshire, see our visit to Cromford page.
As the cotton industry grew more people were sucked into the town and conditions were poor, Preston peaked quite early, around 1850. There were disputes about wages and unions were set up using the name 'association' and 'friendly society', encouraging members through paying funeral expenses in return for a weekly subscription. Each town had its own associations. There were attempts to amalgamate them. In reply the mill owners created their own associations. The first Amalgamation in 1853 being one of the biggest weavers groups, and the Cotton Spinners and Manufacturers Association (CSMA) the mill owners. Preston was not very unionised, only about 10% of weavers. (Ref A. The Lancashire Weavers Union by Andrew Bullen (web-authors comment: this reference could be biased but is a readable account)).
In 1853/4 Preston had a 9 month lock out. George Cowell was a leader and is featured in the Harris Museum. The workers demanded a pay increase after several cuts and the mill owners set up the Preston Millowners Association. Eventually the workers gave in. The Blackburn workers supported the Preston workers. It was Blackburn who set up the first formal weavers association and set what was known as the Blackburn Standard or standard rate of pay. Other towns factored this to compensate for other expenses and there was an informal agreement that disputes would occur in Blackburn as a proxy for other Lancashire towns. (Ref A as above).
Below map drawing of the Yard Works in Preston around 1900 showing the Yellow Factory which was small compared to later building. Also Golden Square where Horrocks lived for a while. See also the model in the Harris Museum that is photographed on the Harris Museum page.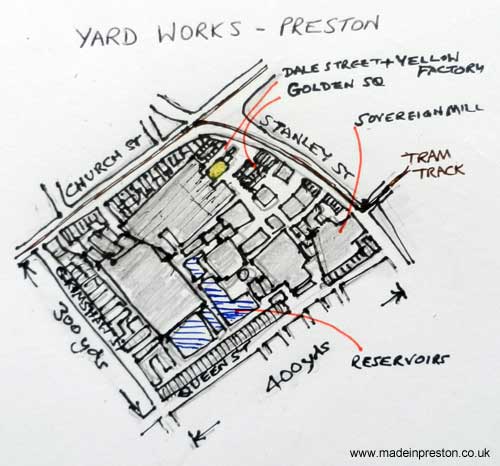 Business and trade were very competitive with mills competing, towns competing, and eventually countries competing, creating tariff bariers and developing their own industries. Meanwhile mill building continued. In addition cotton prices were affected by events like the American Civil War that created the Cotton Famine in 1861 that caused great hardship, and it sometimes became more lucrative to re-sell stocks of cotton than to make material. Before the cotton famine a weaver could earn 6/- (6 old shillings or 30p) a week per loom and on average cover 2.4 looms (some up to 6 with helpers), during the cotton famine it was as low as 2/- , especially if poor weaving Indian Surat cotton was substituted for American cotton. Sometimes wages could be forced up but sometimes, like 1877/8 they were forced down.(Ref A as above).
Mill building started in the late 18th century and stopped in the mid-19th century. It resumed from 1890 up to WW1 when a number of large mills were built such as Centenary Mill on New Hall Lane. After that Courtaulds built a rayon mill in 1939. Read more about mills and the development of Preston on our History page.
In 1946 Horrockses brought out their fashion range to use the high quality cotton from the Preston mills. This range of up-market female fashion clothing from Horrockses Fashions was very successful in the 50's and examples are in the Harris Museum.
In the 1950's the mills began to close and were used as retail or warehouse centres. In the 2000's mills continued to be demolished and some were converted into apartments. Preston council has cause to retain some mills due to their historic interest and has been seeking interested parties in their local plan 2004.
In 1981 Courtaulds closed their mill and Horrockses moved work from Centenary Mill to the Courtaulds site. In 1986 Centenary Mill was taken over for blue jean manufacture and 50% of UK jean manufacturing was done here employing 3000. A regeneration plan for Centenary Mill (a listed building) was made in 1996 involving restoration and setting up training courses for NVQ at Preston College. In 2005 it was decided the main building would be converted into apartments.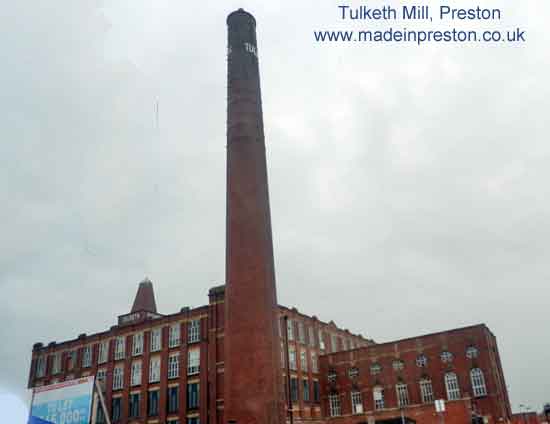 Problems
Not all went smoothly. The transformation from an administrative and market town to an industrial town brought many changes in social life including change from aristocratic power to industrialist power and the movement of the wealthy out of the town. The fast growth of population created many very poor areas for the incomers with very poor housing. The changes from home spinning and weaving to industrialised caused groups of 'Luddites' to attack the factories. Boom and bust, wars and shortages of cotton caused large fluctuations in wages, strikes, lock-outs, riots and shootings with 1842 and 1860 being notable times.
Link to an interesting website about Centenary Mill
Link to page about Queen Street Mill Textile Museum in Burnley
Link to page about Helmshore Mills Textile Museum in Rossendale
Link to our page on Horrockses Fashions
Link to our page on Preston Embroiderers Guild nice display of work.
Photo of a display at the Queen Street Mill Textile Museum: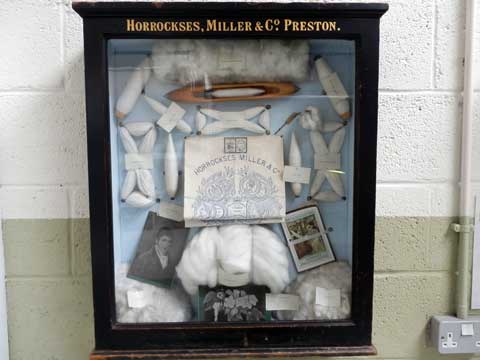 1732 Richard Arkwright (1732-92)
Richard Arkwright invented the Water Frame that enabled powered multi-spindled cotton spinning and took advantage of James Hargreaves Spinning Jenny. The new technology put home spinners out of business. This was coupled with the fast weaving enabled by John Kays Flying Shuttle putting home weavers out of work. Groups of workers, called Luddites, broke and burnt the new factories which were the beginning of the 'factory system' on the dawn of the Industrial Revolution.
Arkwright was born in Preston and trained as a barber and wig maker. He set up his first business in Bolton. In 1769 he rented a room at the house of the Headmaster of Preston Grammar School which is preserved as Arkwright House and is located at the end of Stoneygate next to the Minster. It is said that the first water frame was tested in the arch next to the entrance to the Red Lion pub on Church Street.
Arkwright patented the device in 1769 but the patent was later disputed and withdrawn. Arkwright moved to Derbyshire to use his device in a mill at Cromford that had good water supply and was isolated so less likely to be hit by Luddites. Later Arkwright had mills all over Britain and died a wealthy man after being knighted and made High Sheriff of Derbyshire.
The Harris Museum in conjunction with the National Portrait Gallery acquired a significant artwork of Richard Arkwright in 2009 and it will alternate between the two galleries.
Reference: The following information of the painting from the Harris Museum website:
Sir Richard Arkwright (1732-1792)
by Joseph Wright of Derby, ARA (1734-1797)
three-quarter length portrait
oil on canvas, circa  1783--1785
1260 x 1020 (49 5/8 x 40 1/8")
Inscribed on the reverse by C. M. Hurt, December 1852: 'His son, Richard Arkwright, and his daughter the late Mrs Charles Hurt always considered this the best portrait of their farther [sic]'.
Photo of Arkwright House, Preston. Jan 2013. Where the water frame was developed.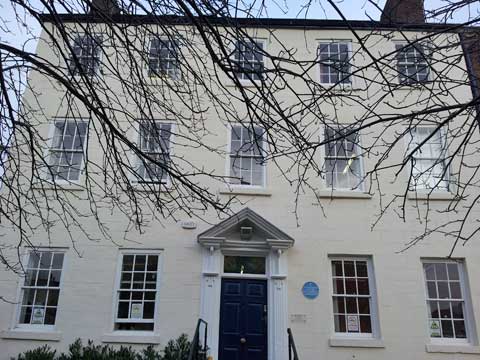 1768 John Horrocks (1768-1804)

John Horrocks is probably the most important person in the history of Preston's cotton industry. He set up the Horrockses company, which made cotton goods in Preston that were sold all over the world for over 150 years.

John Horrocks was born in Edgeworth, son of a Quaker, near Bolton in Lancashire in 1768. He was the youngest of two sons in a family of 5 surviving children, 16 children in total. His father John Horrocks owned a millstone quarry.
John worked as a carder in a mill in Edgworth but his intelligence was recognised by the owner who paid for him to be schooled.

Sometime during the 1780s John began buying cotton and producing yarn which he then took to Preston to sell to John Watson owner of the first cotton mill in Preston. After a disagreement with Watson, John was encouraged to set up on his own.

In 1791 John moved to Preston starting off carding cotton and weaving muslin in a building in Turks Head Court. Later, he built the Yellow Factory then a number of other mills followed built with the help of Richard Newsham and John Greaves.

Trade improved dramatically after the East India Company awarded Horrocks the right to become the sole manufacturer of cotton goods exported to India.

Outside his cotton interests John pursued family and political life. He married Mary Lomax of Edgworth in 1790. After renting several houses in Preston they built their first house in 1793 called Golden Square, near to the Yellow Factory and Yard Factory.
In 1798 there was a risk of French invasion and John became Captain of the newly formed 3rd Corps of the Royal Preston Volunteer Force.

In 1801 John Horrocks built himself a mansion in Lower Penwortham known as Penwortham Lodge or Hall. It was like his brother Samuel's house, built in the most up-to-date and fashionable style with all the rooms and facilities that a man with his money and status could afford.

John Horrocks became very rich and important in his own lifetime. He became MP for Preston in 1803 and an advisor on the cotton industry to the government. When he died in 1804 he was believed to have a personal fortune of £750,000. He also transformed Preston by building mills close to the centre. Preston having been regarded as a gentrified administrative and market town changed and the balance of power swang from the local aristocrats, the Derby's, Lord Stanley, a Whig, to the industrialist Horrocks, a Tory.

1766 Samuel Horrocks (1766-1842)

Samuel Horrocks was one of the most successful cotton manufacturers in Preston taking over from his brother John Horrocks, the founder of the Horrocks company.

Samuel Horrocks was born in Edgworth, near Bolton in 1766.

Samuel became a manager and partner in the cotton spinning and manufacturing business founded by his brother John Horrocks.

Samuel and his family then settled in Preston. In 1797 he built Lark Hill overlooking the River Ribble and close to the factories. This was a large house where he lived until his death in 1842. Lark Hill later became a convent school and is now part of Cardinal Newman College.

Samuel Horrocks became a very rich and important person in Preston. He became an Alderman and was Mayor from 1801-1802.

After the death of John Horrocks in 1804 Samuel became MP for Preston. He was MP for 22 years. Unfortunately he is remembered as 'the silent member for Preston'.
During the 1812 election rioters attacked Lark Hill causing damage and a bodyguard was posted.
In 1814 Samuel was involved with establishing St Wilfred's School in Fox St, the National School at Syke Hill and St Saviours parish school.
In 1823 he was attacked and suffered head injuries outside his house in Golden Square by Andrew Ryding who was found not guilty of attempted murder on account of insanity and detained at her majesty's pleasure.

Samuel Horrocks died aged 76 in 1842, the year his son Samuel was Guild Mayor. He was buried in St George's churchyard in Preston.
That same year 1842 was the year of striking and rioting in Preston due to wage reductions up to 25%. Five people were shot dead by the militia outside the Corn Exchange. Sam Horrocks, son of Samuel, tried to read the Riot Act but was struck by a stone. The Preston strike ended after the deaths but continued in much of the rest of Lancashire.

Thomas Miller 1767-1840*
Based in Bolton he was brought to Preston and invited to manage part of Horrocks business in 1801. He eventually became a major shareholder and board member of Horrocks, Whitehead & Miller. He was also Mayor of Preston in 1820, 1826 and 1836.
Thomas Miller 1811-1865*
Thomas Miller ran the Horrocks company after the death of Samuel Horrocks having inherited his fathers share. His wealth grew and from 1852 he developed Singleton Hall and the villages of Singleton and Thistleton, near Blackpool. Building school, church, pub (The Miller Arms) and housing and drained the local land. He owned some 4000 acres of land in the Fylde. He also bought fine art and maintained his town house in Winckley Square. He bequeathed the land on which the ornamental Miller Park is located.
On his death he was buried in Lytham. There is debate about whether the businesses were sold just before or after his death.
A point of interest being that one of his daughters married Alfred Percival whose second son was Lt-Gen AE Percival who surrendered Singapore in 1942.
His eldest son Thomas Horrocks Miller was born in 1846 and died in 1916. He lived the life of a squire. In 1946 the hall and 17,000 acres was sold to Lancashire County Council with certain provisions, but is now held as a charitable trust. The book asterisked below gives a fuller story.
Horrockses, Crewdson & Co Ltd
Following a merger with Hollins Brothers in 1885 there was another merger in 1887 with Crewdson.
Link to Courtaulds Rayon page.
Link to Vernon Carus Ltd - Surgical Lint and Penwortham Workhouse
*Have synchronised the text with a booklet called 'The Millers' Tale' by Jerry Park. This booklet is available from the Harris Museum shop and is well researched and a good read. Although a bit confusing in style and it only alludes that Thomas Miller was born in Cumberland.
Photo of Cotton Court off Church Street. Formerly on the huge site of Horrocks town centre mills.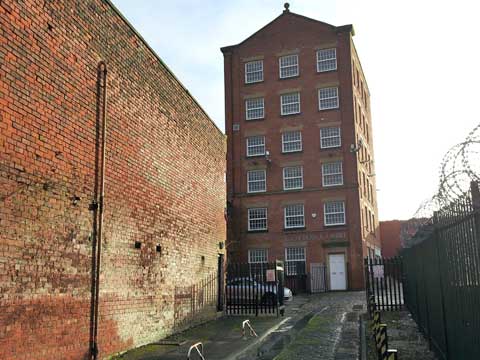 See also our account of Cotton in Bolton.