Horrockses Fashions
Off the peg style in the 40's and 50's
by Christine Boydell
Hardback ISBN 978 1 85177 601 6
V&A Publishing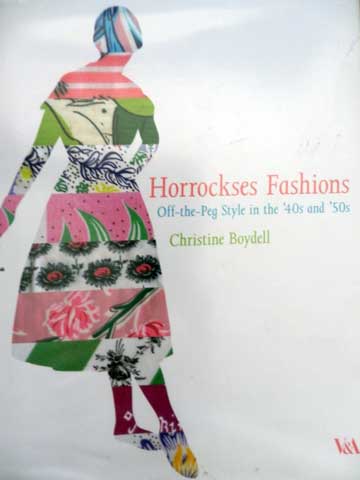 I stumbled on this book in Fleetwood Library. It is quite an eye opener as it seems a significant innovative piece of Preston related industry has almost passed me by. I've seen the dresses in the Harris Museum and thought they looked stylish and of that 50's era. But I didn't realise how highly regarded Horrocks Fashion was or the great effort made to create an up-market range and image.
Horrockses Fashions was created by Horrockses, Crewdson & Co Ltd to use the high quality cotton that the Preston factories had a reputation for. The strategy called for top class designers to create up-market 'exclusive off the peg' clothing that would be largely based on London and Paris couture styling. The range was launched in April 1946. Many of the clothes were designed in George Street, London, made primarily at Ivy Mill, Manchester and secondarily at Cliffe & Sons of Congleton using Preston cotton and sold at Hanover Square in London and later in shops the world over. Interestingly the designers had a manufacturing expert on their team to advise on the art of the possible in a factory which sounds almost a modern idea. Horrockses also had a fabric design team in Preston.
A photo in the book of Peggy Rimmer in Tarleton in her Horrocks dress reminded me of my aunt, there is a nostalgic feel. I'm sure my aunt had a wardrobe of Horrocks clothes and I must have some photos. This book is very well written with great illustration and data, and with the depth and knowledge you would expect of a book published by the V&A. Yet is very readable.
An example of the detail: 'Horrockses Fashions' garments were made from the parent company's high quality cotton sheeting. The most commonly used quality was known as 'DGS503', which was exclusive to Horrockses Fashions' label...... The sheeting was robust yet soft to the touch and draped well: it did not shrink and could withstand frequent washing.'
Horrocks Fashions was very successful and traded until 1983, although the book only covers to 1964.
Photo of Horrocks goods at the Preston Guild 2012 at the Vintage Weekend.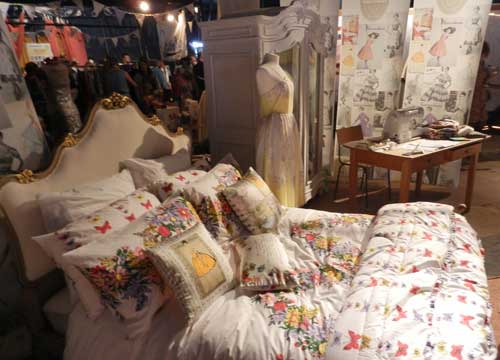 Preston Embroiderers Guild put on a display of miniature Horrockses based dresses for the Guild. It was on display at Barton Grange in September. See our photos.