Samlesbury Hall
Samlesbury Hall is about 3 miles east of Preston on the A677 road to Blackburn, near Junction 31 of the M6 and near the M65.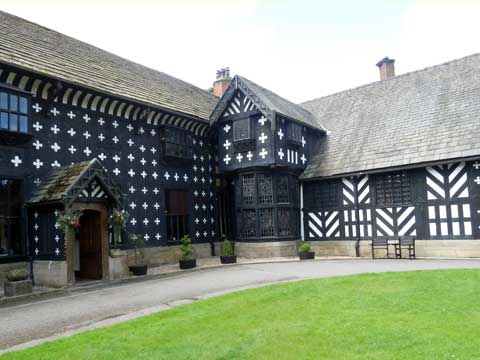 We haven't visited for some time and are advised in June 2019 a number of improvements have been made.
It is a timber framed black and white building. The hall was built in 1325 by Gilbert de Southwarth close to the site of an older hall that was sacked by Robert the Bruce in 1322. Through the years it has been further developed with a chapel in 1420. Sir Thomas Southwarth, hero of Flodden added refinements in the 16th Century. The Southwarths were staunch Catholics and were generally hounded. In 1617 the family were Protestants and granted honours but had to sell the house in 1679 to the wealthy Bradyll's from the north east who never lived in the house. It was owned by Joseph Harrison an iron maker in the 19th Century and in 1924 was purchased by public subscription.
The house is open to the public most days and is partly used for antique fairs. It also has a nicely appointed restaurant and bar. Read a lot more on their nice website:
http://www.samlesburyhall.co.uk/
Nearby is Brockholes Nature Reserve of the Lancashire Wildlife Trust.
Map courtesy of Google.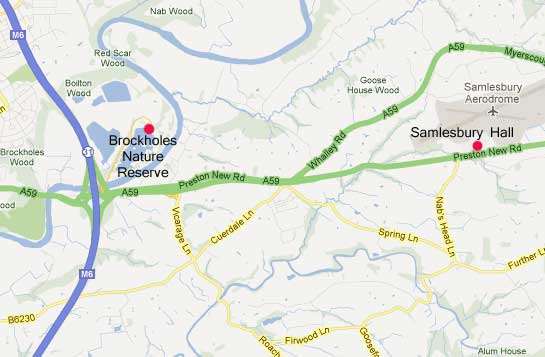 Ref. Famous Lancashire Homes, Kathleen Eyre. 1973.