Preston North End Football Club
Notes of a distant follower 2013/14 season
in the Sky Bet League One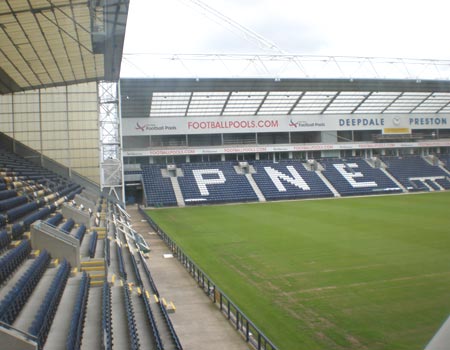 PNE's ground Deepdale, Bill Shankly Kop and Invincibles Stand from the ex-National Football Museum viewing point.
15th May 2014. Final Position: 5th, lost play off.
W23 D16 L7 G72/46 85pts
There was a feeling North End were building up to a good performance in the play-offs with a couple of big scoring games. Then in the home play-off against Rotherham Garner scored a great goal to equalise. Although it was telling that the Rotherham centre forward powered through the PNE defence to score a classic strong attackers goal. The return game didn't go too well and ended up with another season in Division 1 with Rotherham eventually also winning the play-off final on penalties. Leyton who had been in automatic promotion position for some time were ousted by the late run of Rotherham. Wolves did well with 103 points and goal difference of 58. Brentford having a comfortable 94 points.
Overall I doubt anyone would complain too much after two seasons in the bottom half of the table. The whole season has been in the play-off positions. Impressive what a new manager can do if the right one is chosen.
As a bonus PNE have another derby for next season with Fleetwood winning their play-off game. Hats off to Fleetwood.
Burnley tipped for relegation are promoted to the Premier League. Well done to them.
31st March 14: Pos 5th, W20, D15, L4, G56/38 75pts
Another good month in March sees PNE needing only 1 point to guarantee the play-offs and 6 points off automatic promotion. Beating Walsall who at the time were contenders and are still 8th and Peterborough and drawing with in-form Sheffield United. A 1-0 defeat at Swindon could have made a difference as they are 7th and theoretically could catch PNE..
Rotherham are the late runners, overtaking PNE. 6th position is still strongly contended.
Garner has now scored 18 goals and is the man being watched.
PNE have games against 3 teams in the bottom 5 in April. The Crawley manager said PNE seemed happy to stick at 1-0 so whether they'll fade now seems a bit unfair on relegation strugglers and sometimes it's hard to step back on the gas in the play-offs.
PNE gates of around 8,000 are good for League 1 but
28th Feb 14: Pos 4th, W16, D13, L4, G46/33 61pts
Won 3, Drawn 3, Lost 0 in February. Plus a defeat by Notts Forest at home in the cup. Could have been better if they'd beaten Rotherham after conceding a last minute goal in a 3-3 home match. Drawing at home with top placed Leyton Orient was also not the best result. With 13 games to go PNE are 14 points above 7th, Walsall who PNE play at Deepdale on March 1st, and 6 pts behind 2nd, not making headway towards the automatic positions.
February 14th Sir Tom Finney dies aged 91. Funeral on 27th February.
31st Jan 14: Pos 4th, W13, D10, L4, G36/27 49pts
Won 1, Drawn 2, Lost 1 in January. Plus beating Championship Ipswich in the cup and then drawing with Notts Forest away in round 4. Beaten away by high positioned Wolves, Coventry equalising in the last second.
In the transfer window defender Wiseman moved from Barnsley and midfielder Kilkenny made his loan from Bristol City permanent.
PNE are still placed 4th, well behind 3rd and with 4 clubs fairly close behind. Brentford, Leyton, Wolves are battling for automatic promotion and who-ever loses would seem to be a favourite to win the play off but there are 19 games to go and all to play for. Peterborough who were doing well are now 7th and Coventry who were docked 10pts have a long way to go but would be challenging without their penalty.
Six games in February plus a cup replay is quite a big month.
The difference money can make at a town club was demonstrated in the 1990s by Blackburn Rovers. Since then many others have been sponsored and moved up into the Premier League and many have moved back down, but few did as well as Blackburn. Although it could be said that Wigan who were a non-league club in a rugby town made a bigger climb and stayed longer than most expected.
End of 2013: Pos 4th, W12, D8, L3, G32/22 44pts
A great position at the year end and some would say it could be worse, could be better. A miraculous turn round from the last few seasons yet home form has been patchy. Many of the same faces are in the team so can it be that the manager has made so much difference. It seems so.
In the league Garner has scored 6, Brownhill 3, then 8 players scored 2 and 4 scored 1. A good spread but far too few goals, there is a big difference between the top 3 and the rest of the league in goal difference and that puts PNE into a seconday group. A gate of 10,332 against Brentford is pretty good in League 1.
End of year PNE are 4th in the table and 5 points above the next club, 5 points off automatic promotion as PNE's goal difference is poor. In December 2 away wins plus an away draw. Also trounced at home by in-form Brentford who made it their 9th win in 10 games and PNE missing a penalty at 0-2. December goals: 4 for, 5 against – not good. Although 7 away points is a great achievement. Crawley equalising after PNE were 2 up is another lost position and 2 points dropped.
January brings on Wolves and Coventry, February Rotherham and Leyton. As things stand PNE could be in for a strong run in with only Brentford and Peterborough in the last 13 games who are in the top 7. Although with 7 home games in the last 13 what should be an advantage is perhaps a disadvantage.
Here at year end PNE look set for a play-off place but they are still inconsistent and not scoring a lot so promotion seems unlikely. It's all there to play for.
December 1st: Pos 3rd, W10, D7, L2, G28/17 37pts
A good month with 2 aways wins, a home win, a draw and an FA Cup 1st round win. Away from home there have been 4 successive wins and at home 3 successive draws which is strange form. Garner is top scorer with 8 goals but was suspended at the end of November.
November 1st: Pos 4th, W7, D5, L2, G22/15 26pts
After a hiccup in early October two away wins helped steady the ship although performance against top clubs is unpromising.
North End were put in their place at Peterborough with a bit of a sting from Darren Ferguson after his brief time at Deepdale. Then losing at home to Crewe didn't look good with Crewe near the bottom. A win at Gillingham and Notts County both near the bottom made up for points dropped at home including a draw with top six club Bradford.
Gates between 9 and 11,000 are good in League One. If PNE can keep in the top six gates around this upper figure should become the norm.
Team against Notts County: Rudd, Clarke, Huntington, Wright, Humphrey, Keane, Welsh, Brownhill, Laird, Beavon, Davies. Subs: Stuckmann, Holmes, Buchanan, Mousinho, Garner, Hume, Byrom.
Top of the table is Leyton Orient, then Wolves and Peterborough. Coventry were docked 10 points and would be above PNE if they had their full tally - so watch that space. Hard to believe that Sheffield United will remain in the bottom 5 and they're only 10 points from a play off position as yet.
In football pride and bragging rights are a big thing and if PNE have one thing that makes them stand out in league one it's their great ground. Now the team is beginning to look better as well.
Looking at the Championship Burnley are having a great time at the top and Blackpool are up there. Wigan and Blackburn are middling but Bolton aren't having a good time.
Fleetwood, managed by Graham Alexandre, are 3rd in League 2 with Morecambe 10th and Accrington a very sorry 24th, let's hope they can pull out of it.
October 1st: Pos 4th, W5, D4, L0, G17/8 19pts
A red hot September, winning all four games, scoring 8 with only 2 against.. Simon Grayson manager of the month. Eleven players have been on the score sheet with the highest scorer only scoring 2 goals, quite a spread. That could be good but on the other hand no one player is standing out which might not be good. PNE have lived by selling on players, without that they are dependent on the goodwill of investors.
September 1st, mid-table and undefeated
0-0, 0-0, 2-2, 4-4. Will they ever win? Yes 0-3 on the last day of August.
After a stuttering but hopeful start PNE had a good away win to end the month. Scoring 9 goals in the last 3 games but conceding 6, four in one game. Coventry 4-4 is quite a score, they had a 5-4 game the week before.
After knocking out Blackpool 1-0 at Deepdale, Preston were defeated by Burnley in the Capital One, League Cup 2-0 at Turf Moor.
New signing Kevin Davies is yet to score.
August 6th, the new season 3 days old
The friendlies, PNE 0 Liverpool 4, Chorley 0 PNE 2, Bamber Bridge 0 PNE 6. Then losing 4-0 at Fleetwood, and having a player sent off, drawing 1-1 at Rochdale. Not the greatest of pre-season results although the signing of Kevin Davies from Bolton gives optimism.
The season kicked off with a game against Wolves and then an old favourite Blackpool visited for a Capital League Cup Match.
August 5th 2013. Capital One Cup Round 1, PNE 1 Blackpool 0.
Preston drawn against their rivals in this cup match. Ending in a winning header in the 87th minute, a good result. After the match youths came onto the pitch looking boisterous in reality but no doubt looking threatening to some. Peace was restored by mounted police.
PNE: Rudd, Clarke, Huntington, Wright, Buchanan, Holmes, Keane, Welsh, Hayhurst (Davies 90), Garner (King 66), Hume (Humphrey 80). Subs: Stuckmann, Laird, Wroe, Mousinho.
Blackpool: Gilks, Broadfoot, Cathcart, Robinson, Basham, Ferguson, Martinez (Grant 74), Ince, Davies, Chopra. Subs: Bishop, Osbourne, Halstead, Eccleston, Barkhuizen, Harris.
Referee: Andy Madley (West Yorkshire)
Attendance: 17,470 (ref Lancashire Evening Post)
August 3rd 2013. League 1, PNE 0 Wolves 0
The first league game of the season marked as a special celebratory match. One of several for the 125th anniversary of the Football League and played between the founding teams of the football league.
Wolves heavily tipped to return to the Championship this season after 2 successive relegations. Perhaps it could be seen as a good result for PNE. One fo the biggest features being Kevin Davies signed from Bolton making his PNE debut.
PNE: Rudd, Clarke, Huntington, Wright, Buchanan, Humphrey (Hayhurst 77), Keane, Welsh, Wroe (Hume 88), Holmes, Davies. Unused subs: Stuckmann, Laird, Garner, King, Mousinho.
Wolves: Ikeme, Doherty, Batth, Stearman (Elokobi 31, Foley 70)), Ricketts, Sigurdarson, Davis, Evans, Sako, Edwards (Cassidy 64), Griffiths. Unused subs: Hennessey, Price, McAliden, Ismail.
Referee: Andy Haines (Tyne and Wear)
Attedance: 16,583 (ref Lancashire Evening Post)
August 1st Played 0 Position 16th.
June 20th 2013 Fixtures announced for 2013/4 Season.
Five Saturdays in August and a game on each. Plus a League Cup fixture against Blackpool on Monday 5th August only 2 days after the season starts.
The Football League is celebrating its 125th season and two games in each league have been specially arranged to open the season.
Preston and Wolves are founding clubs and have been paired against each other in League 1. PNE are at home because Deepdale has hosted the most games; 2,342. It is a great honour for PNE and to host another great club like Wolves makes it very special.
The special games are: Burnley v Bolton and Derby v Blackburn in the Championship, PNE v Wolves and Sheffield United v Notts County in League One, Newport v Accrington and Rochdale v Hartlepool in League Two.
In the 2013/14 season League One clubs are limited to spending 60% of their turnover on player wages down from 65% last season.
June 17th 2013 Capital One Cup Draw, PNE v Blackpool.
The first fixture of the Capital One (League Cup), a day before the others, is a local derby against Blackpool who are currently struggling in the Championship. Unless Blackpool are ramping up to better things the game should be well matched based on PNE's improvement late in the last season.
.....................................................................