Preston North End Football Club
Notes of a distant follower 2014/15 season
in the Sky Bet League One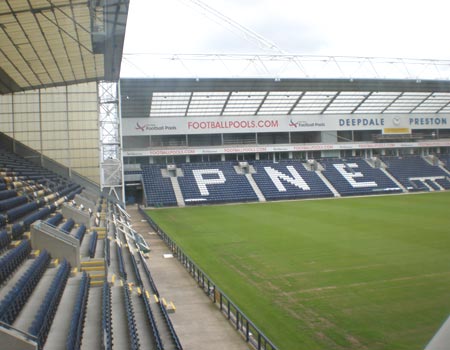 PNE's ground Deepdale, Bill Shankly Kop and Invincibles Stand from the ex-National Football Museum viewing point.
25th May 2015 - Play Off Final PNE 4 Swindon 0 - PNE promoted.

After beating Chesterfield 1-0 away and 3-0 at home the final was against Swindon at Wembley. Swindon had been saving their players for the play-offs and had fielded a weakened team that lost 3-0 against PNE late in the season. That PNE had been unsuccessful in 9 previous play-offs was weighing on everyone's mind. On the day PNE went ahead quickly and then it was 3-0 by half time. Swindon looked like they could be dangerous in attack but their defence lost the ball too easily. Beckford scored a hat-trick and could have had more. Some great goals with well placed shots. Championship football for Preston North End 2015/16.
Blackpool and Wigan are both relegated to League One, PNE have derbies with Blackburn, Burnley and Bolton to face next year.
3rd May 2015 - P46 W25 D14 L7 G79/40 89pts. 3rd

PNE were 2nd until the final day when losing 1-0 at Colchester they were overtaken by Milton Keynes. Colchester also kept their league one position by winning.
April saw PNE drop points with 3 draws but remaining undefeated for 19 games up to the last match.
PNE now face Chesterfield in the play offs.
Garner, Beckford and Gallagher being the season's top PNE scorers.
The last day of season took Bristol City and Milton Keynes up and Notts C, Crawley, Leyton O and Yeovil down.
31st March 2015 - P38 W21 D11 G64/33 74pts. 2nd

Another month and up a place to the automatic promotion spot with a 4 point lead on Swindon who have a game in hand. 3 wins and 3 draws in March isn't quite good enough. Although PNE beat MK Dons away and Peterborough both promotion contenders. Drawing with Barnsley and Doncaster who are also potential play-off teams.
Easter often sorts out the true contenders and PNE start at home against Rochdale on Friday which could put them 7 points ahead of Swindon for 24hrs. PNE then travel to Bradford on Monday before playing top of the league Bristol at home on Saturday.
PNE also have to play Swindon at Deepdale, a win will be big. Notts County could be desparate for points in a relegation struggle at season end. Automatic promotion looks to be between Bristol City and three other clubs who are PNE, Swindon and MK Dons. The positions keep changing so it's watch this space.
Garner is still leading scorer with 20 goals. Robinson on loan from Aston Villa got a good write up in the LEP.
28th February 2015 - P32 W18 D8 G51/28 62pts. 3rd

Cap that! Fabulous February 15pts out of 15 and no goals against. Although losing to Man Utd in the cup 1-3 might be expected, PNE were 1 goal ahead and there were some controversial goals from Man U.
PNE have a game in hand and play MK Dons in March which could be worth 6pts putting them 2nd. With 14 games to go there is strong potential for automatic promotion and the 7th club are 17pts behind. Bristol City are 8 points ahead and Sheffield United while 9pts behind are on a good run.
Fleetwood have 44pts are possible play off contenders.
In the Championship Blackpool and Wigan are putting in spectacularly poor form and look like moving down to League 1. While in the Premier League Burnley are spluttering after a decent run.
31st January 2015 - P27 W13 D8 G41/28 47pts. 4th

Miserable January with only 2 points gained out of 12. A cup run into the 5th round winning the away replay at Sheffield United to get a home game against Manchester United.
31st December 2014 - P23 W13 D6 G36/21 45pts. 3rd

Ending the year 2 points from automatic promotion and 13 points into the play off zone is a good performance. Bristol City, Swindon, MK Dons are giving a good fight and Bradford and Sheffield United are on good runs. In the last few weeks, PNE have beaten Bristol away, drawn with MK Dons at home, and lost to Bradford at home so nothing can be assumed.
In December Preston had 2 away wins against decent opposition and are unbeaten for 6 games. Since Joe Garner was injured they've struggled to score more than 1 goal a game although the defence has held off the opposition. From the reports PNE should have won their last game at lowly Crewe but went a goal behind before equalising quickly, PNE had 15 shots with 6 on target far more than Crewe's 2 shots.
With Joe Garner likely to be out for some time thoughts are looking towards whether anyone will be bought in the January Transfer Window. Although PNE are always cash conscious and a loan could be enough.
January is a cup month and PNE play Norwich in the FA Cup and Walsall twice in the FL Trophy.
To date PNE have the 4th highest gate in Sky Bet League One this season with an average of 10646. Sheffield United have an average of 19,488 and Crawley have 2,372. Fleetwood have 3,544. The median gate is about 5,320.
Local Championship clubs, Blackpool 11,153, Blackburn 15,106, Bolton 14,804, Wigan 12,505. The median gate in the Championship being around 17,000.
(Median being the club in the middle, a number halfway between the 11th and 12th in the Championship or 12th and 13th in League 1, not the average)
30th November 2014 - P19 W11 D4 G32/19 37pts. 3rd

After a great October a poor start to November with 3 defeats followed by 2 wins away from home. Scoring 4 goals and conceding 6.
Games against their closest rivals in the league, at Swindon lost, at Bristol won, at Rochdale a resounding defeat. Plus Bradford at home lost and lowly Yeovil away win.
The season is halfway with 3 teams well ahead for the top 2 automatic promotion places, PNE are well into the play-off places.
31st October 2014 - P14 W9 D4 G28/13 31pts. 2nd
Preston had a great October. Scoring 12 goals and conceding 4 and winning 5 games, 2 away. Garner remaining leading scorer with 10 goals.
Even so it never looked over comfortable with Fleetwood scoring twice at Deepdale to lead 2-0 at one point.
Last time PNE were top of the league they ended up in a relegation tussle in 2006.
At the end of October they're 5 points clear of Swindon who they play in November and only 2 points behind Bristol City with a game in hand.
30th September 2014 - P9 W4 D4 G16/9 16pts. 6th
Seven points out of 12 isn't too great although winning the last 2 games 2-0 is decent. Three more points would see them 2nd. Garner is still leading scorer with 7 goals, the next highest having scored 2. Next month 4 league games against teams nearer the bottom including Fleetwood who are slipping after a great start.
31st August 2014 - P5 W2 D3 G8/3 9pts. 7th
Unbeaten in the league. A good 4-0 victory at Scunthorpe improved the goal average although 2 home draws weakens their position. Losing the lead away at Doncaster in injury time cost another 2 points.
Once more Garner is lead scorer with 3, Humphrey and Little have 2 each.
League One newcomers Fleetwood had a great start going to top of the league but now 2nd with 11pts.
2nd August 2014 - Pre-season Friendlies
Friendlies: W4 D1 L0 G9/4 0pts
PNE won 4 of their pre-season friendlies against Bamber Bridge, Halifax Town, Morecambe and Burnley and drew at home against Leicester City. With Burnley and Leicester newly promoted to the Premier League it wasn't a bad start.
Against Leicester on 2nd August the starting team was Jones, Laird, Clarke, Wright, Humphrey, K Davies, Woods, Buchanan,Welsh, King, Brownhill.
During the game the players were cycled Stuckmann, Keane, B Davies, Hugill, Little, Hayhurst, Wiseman, Garner, Browne, Byrom. Only King and Wright played the full 90 minutes.
During the pre-season North End signed: Jamie Jones from Leyton Orient, goalkeeper as Declan Rudd is returning to Norwich. Calum Woods, defender from Huddersfield. Jamie Hugill, a striker, from Port Vale, Andy Little, striker, Glasgow Rangers. Kyel Reid from Bradford City, a winger. Paul Gallagher, forward, signed from Leicester after a loan at Deepdale.
......................................................................