Bridges Transport Ltd
Harold Bridges Ltd 1921-1950.
Bridges Transport Ltd, 1950 to 1968.
Then under Tayford till 1988.
Harold Bridges 1900-1990.
Harold Bridges, a man who started as a farmhand and brickie's labourer near Lytham and became Harold Bridges OBE and Knight of St John, operator of over 100 vehicles and several businesses. Through hard work and skilful planning and operation it seems, although he claims by luck.
Signs of the past - motifs of Bridges Transport Ltd.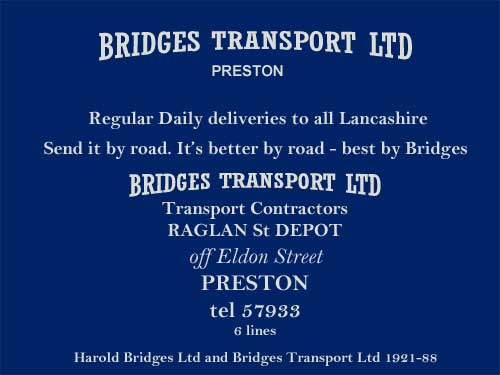 Send it by Road - It's Better by Road, And Best by Bridges.
Bridges Transport vehicles, royal blue with white lettering, were a familiar sight round Preston. Their depot in Raglan Street, just off Eldon Street, was built in the 50s on the site of an old mill. Living round the corner I recall their vehicles. He looked after his staff giving them a profit sharing scheme and non-contributary pension.
Harold was born in the Fylde, his father had moved from the royal estate at Sandringham and was the gamekeeper at Warton Hall. He was promoted to head gamekeeper at Lytham Hall and then moved to Clifton as gamekeeper of Salwick Hall before retiring at Lytham.
So he looked destined for an agricultural life and left school at 13 to work on a farm before joining up in the latter part of WW1. On leaving he became a brickie's labourer before applying for a job as a driver in the army. He failed due to a speech impediment but the Sergeant Major said he had a relative with a similar impediment and he was doing well in the new trade of parcel carriage by road.
Harold Bridges Ltd
By then they'd moved to Lytham with his parents and he bought a 1 ton Model T Ford lorry in 1921 carrying anything from Lytham to Preston and Blackburn using pick up points - the Preston pick up was the Derby Arms in Lord Street. People would put a sign at the door saying 'HB stop here'. Within a year he needed a bigger truck and bought a 2 ton Vulcan truck and within another year a second truck. Carrying cheese, ice, delivering the luggage of the students at Lark Hill were the type of load. Carrying wood patterns for the mouldings to Dewhursts Iron Foundry and then taking the propellors back to Lytham Shipyards. His depot was in a hangar at the old Dick Kerrs airfield on Dock Road, Lytham until 1927 when he moved to Victoria Street, Lytham.
Photo of a Ford Model T lorry as stated above in the livery of H.Bridges. This lorry is at the British Commercial Vehicle Museum, Leyland as photographed in November 2022. Another great addition to their collection.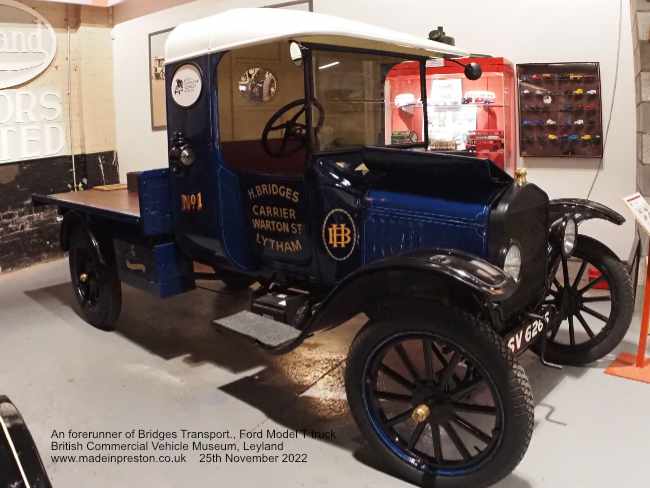 Another little Preston business was Mayor Sheets of Wharf Street. Harold Bridges always bought their load covering sheets there.
Throughout his story he puts his success down to Bridges luck but there is obviously a lot more than that.
He was loyal to his staff, by 1950 he had a profit sharing scheme and non-contributionary pension scheme. He was wily in dealing and working with regulations and always looking at the big picture, adapting to conditions. He worked 7 days, long hours, making his own luck you might say.
Harold Bridges Ltd, Lytham, was the name of the business and he bought a house at 137 Warton Street, which is right at the end next to Lytham hospital. Sadly his daughter was killed in a car accident outside the house.
1933 Road Traffic Act
Several laws governing haulage came into being. In 1928 a Royal Commission made recommendations and in 1933 The Road and Rail Traffic Act was passed that made a license necessary to work for hire or reward. The act was also designed to protect rail transport, all new vehicles had to be justified and could be contested by the railway companies.
By 1936 he had over 12 lorries and 18 employees at premises in Victoria Street, Lytham.
Move from Lytham to Walton Le Dale
He'd outgrown Lytham and Preston seemed to be the best place being a route centre. They moved to Walton Le Dale to Flatts Mill in what is now Winery Lane and he rented a large house, Walton House, at 84 Victoria Road. Most of his staff came as well and bought houses in the area especially Windsor Road which was just being built. By accident his stammer was overcome in 1938 apparently by a surprise blow.
The business carried on growing right through the war with some diversions involving buying a brick works in Blackburn and moving house, renting, Salwick Hall, a place where he had lived in the gamekeeper's cottage in Clifton.
They also acquired a couple of small hauliers and a new despatch point at Stone Mill in Bamber Bridge.
Nationalisation: 1947 Transport Act
After the war the Labour government decided to nationalise road haulage over 25 miles and restrict the carriage of certain items.
In 1950 Harold Bridges Ltd was acquired and compensation agreed. 29yrs of hard work was taken although Harold Bridges continued for 6 months as temporary supervisor.
He resolved to carry on working within the regulations and created a new company.
In 1953 a new government introduced the 1953 Transport Act that ended the 25 miles restriction and retained the old licensing system.
Bridges Transport Ltd
Within months of nationalisation Harold Bridges started again in 1950 as 'C.H. Bridges Transport Contractor' with 3 vehicles in Farington and could carry within a radius of 25 miles. He then bought small hauliers in Chorley, Blackpool and Morecambe. All within 25 miles of Bamber Bridge where he loaded and unloaded for overnight transfer in some farm buildings near Stone Mill.
Meanwhile Harold Bridges Ltd was now part of the Lancaster Parcels Group a nationalised business of some 100 vehicles operating similarly to his new business.
The new business rapidly expanded and became a limited company Bridges Transport Ltd in 1950.
Soon he moved the new business to Miller Street in Preston and recruited some of his old drivers including a manager.
New Depot in Raglan Street
Bridges Transport built a new depot in Raglan Street with the co-operation of the council and expanded it including using the Empress Cinema car park. A plan to use the Empress as a warehouse was rejected. They also bought Merigold Ltd and Embee Motors for maintenance. An average of 80 start - stops a day per vehicle meant maintenance was important. They also bought Whitesides haulage of St Annes. Their slogan 'It's better by road, best by Bridges' was on every lorry.
In 1964 part of the fleet were 40 Albion Claymore vehicles. Still using Mayor sheets. Below is a drawing of one (drawing done by the writer unfortunately).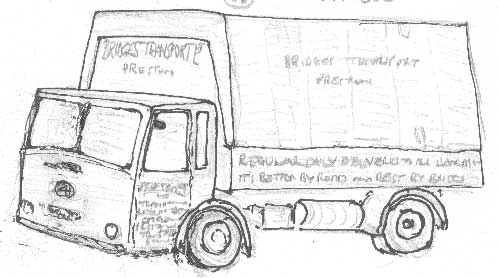 Sale to Tayford of Scotland
In 1968 they had over 100 vehicles when he sold the business to Tayford of Scotland. They kept the name and moved to Leyland but in 1988 it became insolvent.
Harold Bridges also took over Kirkhams and Dixons building businesses in Preston.
He moved from Salwick to Fulwood to be closer to the business and in retirement lived near Kirkby Lonsdale.
Harold Bridges Foundation
The Harold Bridges Foundation was set up in 1963 with £100,000 and exists to this day and has dispensed millions of pounds for small organisations.
http://www.haroldandalicebridgescharity.co.uk/
Reference:
As I Remember. The life story of a Lancashire lad, 1900-1190, 47 years in road transport, 1921-1968. By Harold Bridges, all net proceeds to charity. A very interesting book with good detail of the business and life.
For me, many minor personal connections:I worked at Warton, lived near Walton Le Dale and knew someone who lived in Walton House. As a boy lived round the corner from the depot that was in Raglan Street.
www.madeinpreston.co.uk - 2013