East Lancs Coach Builders (Optare) - Blackburn
In 2008 the business became subject of a re-alignment and was re-named Optare after the company that took over ELC also bought Optare of Leeds.
ELCB have built bus and coach bodies in Blackburn since 1934 and are one of Britains best known public service vehicle body builders.
Stagecoach announced their first ELCB order on 19th May 2006.
ELCB have supplied buses to most of Britains public transport services and many overseas. Locally Preston Corporation and Fishwick use ELCB bodied buses.

The website is linked here;
Optare Website (a dizzying website)
East Lancs has been around a long time. Here is a 1974 East Lancs - Leyland Atlantean photographed at the Leyland Society Event in 2006. Steel frame, aluminium panelling. Fishwick buses of Leyland livery. Nice windscreen.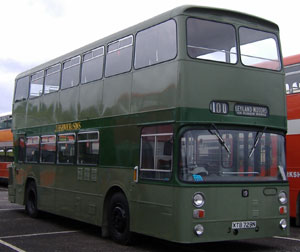 Optare was formed by a rescue group in 1985 when Leyland said they were closing the Charles.H.Roe bodyworks in Leeds.