Kirkby Stephen Vehicle Rally and Farfield Mill - March 2013
Starring: ex-Preston Corporation 1946 bus and ex-BBMS bus, operated by Cumbria Classic Coaches.
Sunny, cold day, a very nice drive up the M6 to J36 and Sedbergh, Farfield Mill and then to Kirkby Stephen via Garsdale.
The event is large and well attended with a free, voluntary contribution, bus service on the old buses operated by Cumbria Classic Coaches. These take you between Kirkby Stephen Railway Station, Kirkby Stephen East Railway Heritage Centre, Kirkby Stephen Centre and Car Parks and it is said on to Brough. Well done to Cumbria Classic Coaches.
.
Along the route are old buses, cars, lorries. There is a an old military vehicle display, old tractors, Kirkby Stephen Mountain Rescue Display, food and fairground.
Enroute we had visited Farfield Mill, Sedbergh which is an art and craft centre based on an old 4 storey mill. A warm and modern adaptation of a classic mill. There was a contemporary quilting exhibition for its special event and there are artists and craft workers making jewellery, quilts, pots, art, textile work. As well as a woollen mill weaving area where wool from patterns is loaded onto beams for putting into the weaving machinery to create blankets and carpets, very interesting. Nice cafe as well. The road between Sedburgh and Kirkby Stephen via Garsdale is very scenic.
ex-BBMS, Bamber Bridge Motor Services, great colour scheme. Used to operate between Bamber Bridge and Preston via Baxi and Duddle Lane. Their buses were always clean and they didn't use Leyland buses despite it being only a couple of miles away. Maybe they got a good deal on the AEC or it differentiated them.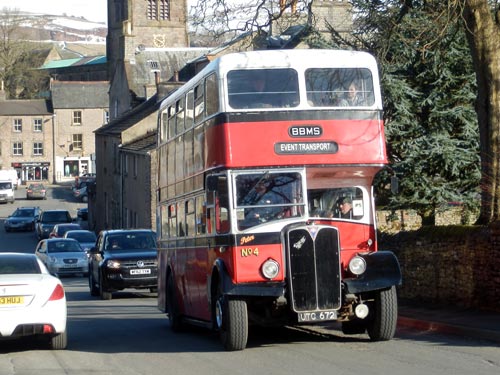 Smart ex-Barrow Corporation Atlantean.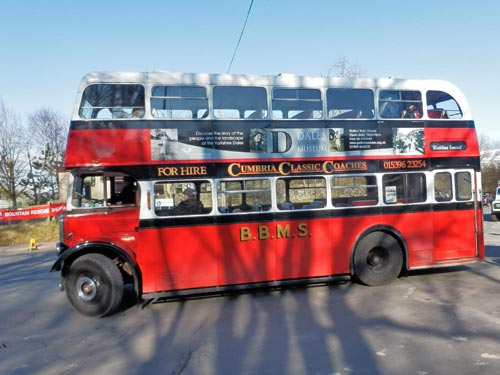 Star of the show, ex-Preston Corporation Leyland Tiger PS1, 1946, in Preston maroon livery. Not sure about the rose tinted roof but the bus is called Rosie. CRN80 - RN being the old Preston registration, along with CK. Here it comes.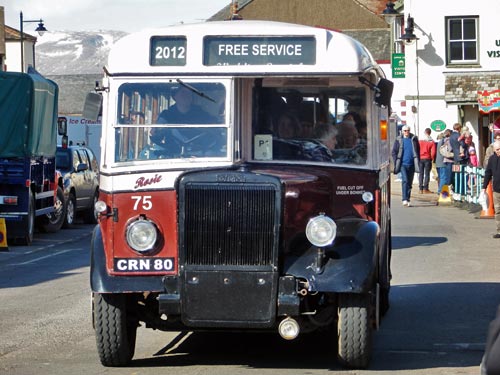 Bus was full but still pulled well. Here at the Kirkby Stephen East Railway Heritage Centre most were getting off.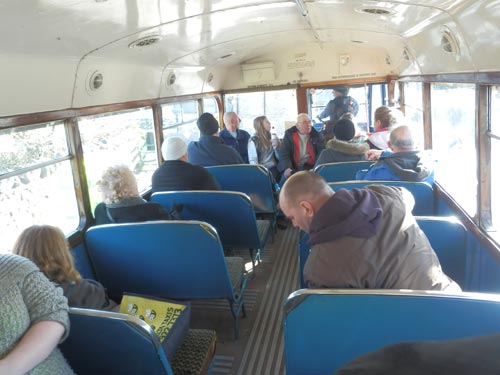 Thar she blows, Cumbria Classic Coaches operating ex-Preston 1946 single decker. There used to be a single decker like this that was the travelling library - used to go in there at Eldon Street.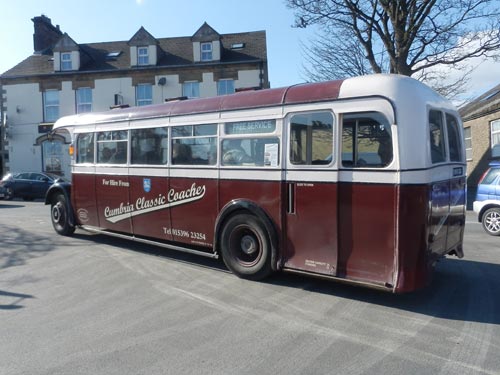 Very tidy looking Leyland bus from Dewsbury.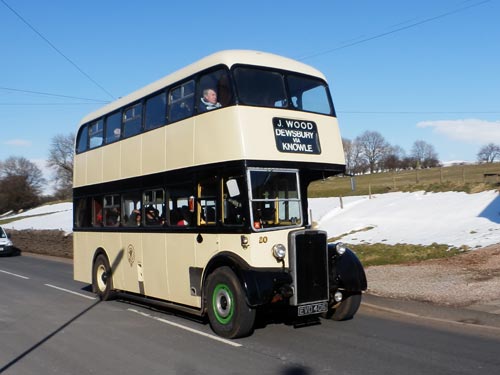 Another Cumbria Classic Coach - ex-Crossville. Leyland.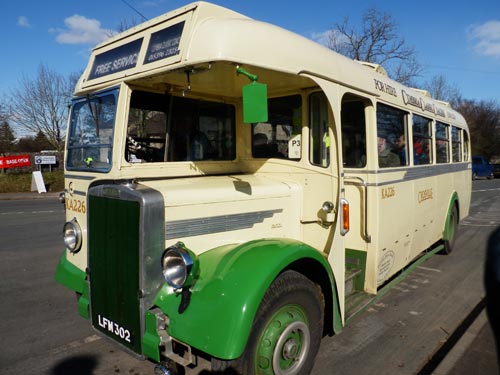 Kirkby Stephen East station. Now a heritage centre with a few locos and a short run. Very interesting history of the now closed Stainmore Line to Bishop Auckland.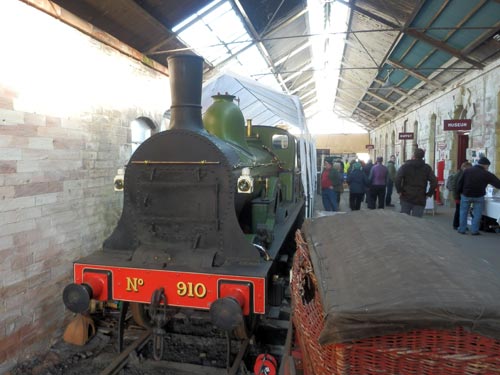 Farfield Mill weaving. Loading the wool onto the beams. Pennine Weavers.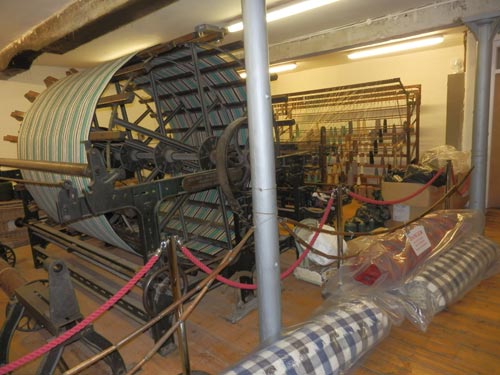 1930s electric weaving machine still weaving. Pennine Weaving.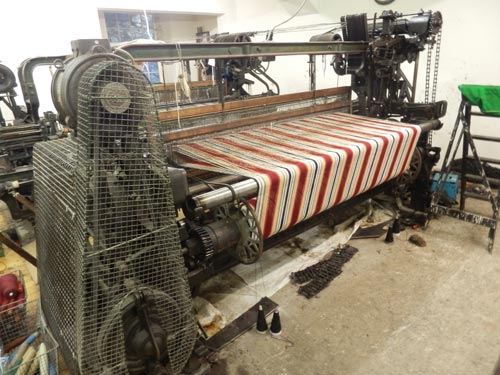 Contemporary Quilt Exhibition. Some nice stuff, not your normal traditional style patchwork.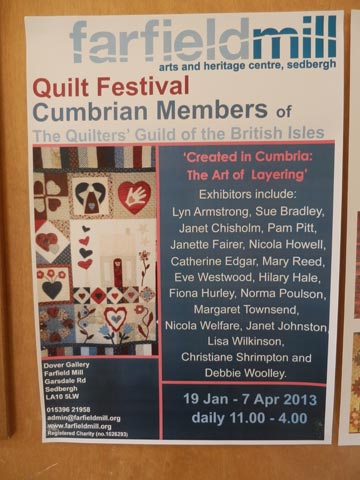 Route from Garsdale to Kirkby Stephen. Settle to Carlisle railway line.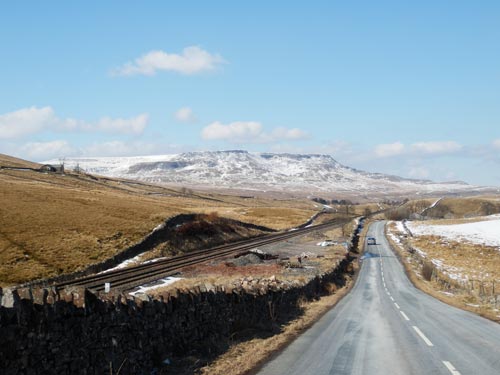 Read about Cumbria Classic Coaches buses and vehicle hire for weddings etc:
http://www.cumbriaclassiccoaches.co.uk/
Read about Farfield Mill, Sedbergh and their exhibitions: