History of Leyland Motors Limited
Leyland, Lancashire

Part 2 from 1960
Change in the 1960's and effects of financial grants
During the 1960's there were some significant changes in the British market, especially that for double-deckers. At the start of the decade the majority of operators preferred the traditional front-engined double-decker operated by a two-man crew. With the advent of 36ft long vehicles, several moved towards high-capacity single-deckers which could be operated by one person, although the public did not favour the standee type vehicles, but preferred instead to go upstairs for a seat. When one-man operation of double-deck vehicles was allowed many of the major operators moved over to the front-entrance rear-engined vehicle, effectively sounding the death knell for the traditional bus.
Another nail in the coffin of the front-engined vehicle was the 1967 Ministry of Transport plan to give operatorsfinancial grantstowards the cost of new stage vehicles, provided they conformed with certain requirements, one of which was that they must have an extreme front entrance under the supervision of the driver.
Associated Commercial Vehicles (ACV inc AEC) - 1962
In 1962 Leyland took over ACV which had previously taken over names such as Crossley, Maudslay, Park Royal and Thorneycroft.
Panther - 1964
A new rear-engined single-deck chassis was introduced in 1964. Called the 'Panther', there were two models available, the PSUR1.1 bus and the PSUR1.2 coach, both with 18ft 6in wheelbase for 36ft long bodywork. Although the bus variant sold reasonably well with sales of 623 on the home market before production ceased in 1972, the coach variant did less well, many operators preferring the 'Leopard'.
An amendment to the Construction and Use Regulations in 1967, permitted single-deck buses up to a maximum length of 39ft 4in (12 metres), although this was primarily of benefit only to coach operators, since this proved a little too long for stage carriage services.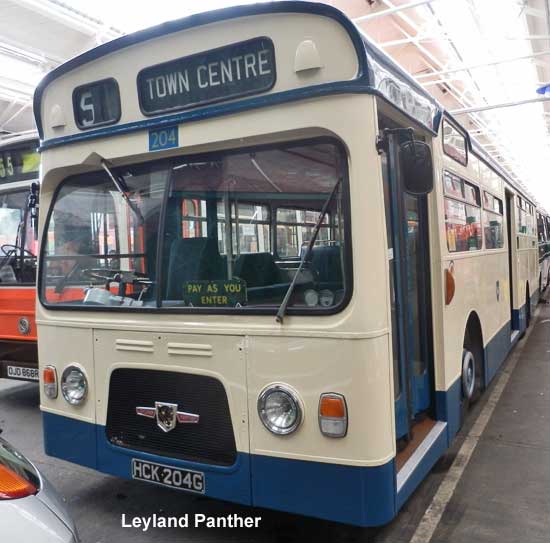 Bristol Commercial Vehicles, EasternCoach Works - 1965
In 1965 Leyland took over the above.
Rover Cars - 1967
Leyland takes over Rover Cars.
BLMC - 1968
The following year Leyland Motor Corporation and British Motor Holdings merged to form the British Leyland Motor Corporation and in July 1969 announced a joint venture with the newly formed National Bus Company. It was to be called the Leyland National Company and was to build a new single-deck bus at Workington in Cumbria.
Leyland National - 1970
The new bus was unveiled at the 1970 Commercial Motor Show, appropriately named the 'Leyland National'. An extensive proving programme was undertaken before the first production vehicles were made available, the first regular production National going to SELNEC PTE in 1972, although Cumberland Motor Services had placed a pre-production model in service earlier in the year. The phase II model, incorporating a number of developments was announced in April 1976, by which time some 3500 Nationals had been sold, and in 1978 Leyland introduced the B-series, aimed at the lighter end of the market.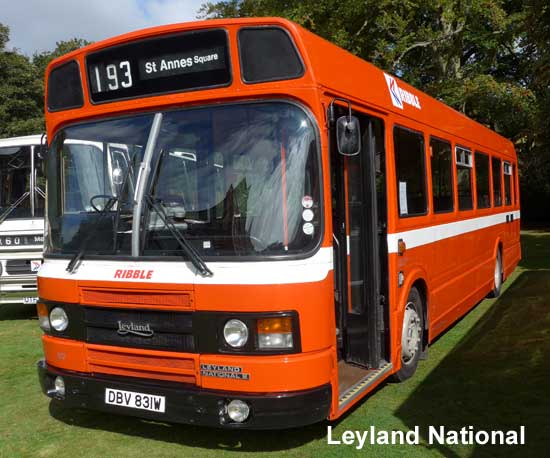 Atlantean AN68 - 1972
Meanwhile, in 1972, Leyland had announced the Atlantean AN68 series. It was available in two models, the AN68.1R, with 16ft 3in wheelbase, suitable for bodywork up to 30ft 10in long, and the AN68.2R, with 18ft 6in wheelbase, suitable for 33ft 3in long bodywork. Wigan Corporation No.1 (NEK1K) was the first AN68 Atlantean delivered.
Bankrupcy and Effective Nationalisation - 1975
In December 1974 the company needed a government guarantee to keep afloat. The Ryder Report was published in 1975 and created 4 divisions one of which was; Leyland Bus and Truck Division.
Michael Edwards - 1977
Appointed Chairman by the Government.
Titan, Olympian - 1977, 1980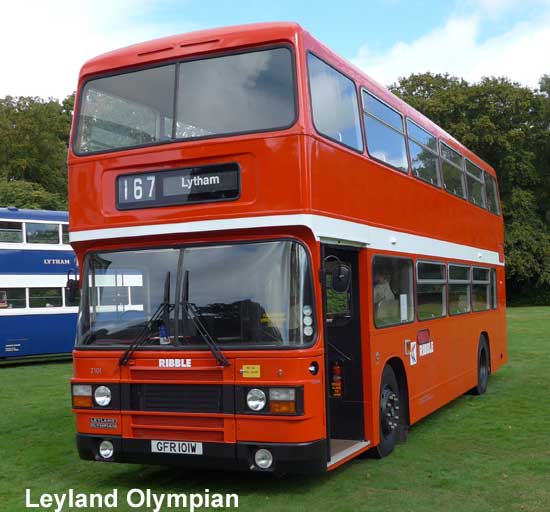 The British Leyland Motor Corporation however was not only manufacturing buses and coaches. The production of motor cars formed an important part of the business although there was insufficient profit from this side of the business to support investment in new models and the bus and truck side was called upon to maximise profits to support the car factories. This resulted in a lack of investment in new buses for a period of nearly ten years after the formation of British Leyland.
Finally, a team headed by Lord Ryder recommended that the bus and truck division should receive a greater degree of autonomy and in addition a greater share of the new investment programme. Studies of likely future vehicle requirements both at home and overseas showed that the previous large numbers of models and types would have to be rationalised.
A new project was already under way, codenamed 'B15' . Leyland decided to offer the B15 in just a single version. The famous old name of 'Titan' was given to the B15 and it was launched in 1977. Leyland recognised that, for the fully integral Titan would not suit every one of their customers, so a new double-deck chassis was developed. Codenamed the B45 it was unveiled at the 1980 Commercial Motor Show as the 'Olympian'. Intended to take over from the Fleetline and Bristol VRT initial orders were encouraging, although the Atlantean continued to be available in the AN68B series.
Transport Act 1980
The environment was changing. The government introduced an act in 1980 that allowed journeys over 30 miles to be open to competition. As is often the case new companies with new ideas, simple procedures and little 'baggage' started services at low cost and the face of the bus industry began to change.
Another factor was that in the 70's the market was boosted by the government paying a 50% subsidy for 'one man operated' bus purchase and from 1980 this was reduced by 10% each year till it was gone.
Leyland Truck and Bus split - 1981
In March 1981 the Passenger Vehicle Division was re-named 'Leyland Bus' and was given a greater degree of autonomy, although still under the auspices of Leyland Vehicles Ltd. At the same time it launched the 'B43' and re-used another famous old name 'Tiger'. By the end of 1981 over 100 Tigers were in service, with more on order for 1982 as traditional 'Leopard' users switched over. During 1984 the Olympian continued to strengthen its grip on the dwindling British double-deck bus market and by the end of the year was Leyland's only double-deck chassis.
With the depression of the home market Leyland's losses were around ?80 million in the three years between 1982 and 1984. By the end of 1985 jobs were being shed in an effort to reduce the losses. The Olympian was largely responsible for keeping Leyland going with over 500 units produced in each of 1984 and 1985. The collapse of the domestic bus market after the 1985 Transport Act had forced Leyland Bus to diversify. Two large orders from British Rail for 'Sprinter' units kept the Workington factory in full employment until 1988. Registrations of double-deck buses in Britain fell to only 177 in 1987. Ironically the new Sprinters are considered as a factor increasing competition on bus services.
Transport Act 1985
The Transport Act of 1985 further deregulated the bus services outside London enabling existing and new companies to operate in others regions without lengthy debate at the Commissioners Office.
The bill also proposed that the government owned National Bus Company would be split and sold as private companies with limits on how many could be bought by one group. In the transition period new bus sales slumped. The registration of new Leyland Nationals in 1984 and 85 being only 44 and 57. It is said that the slump was caused by the in-house management teams who hoped to buy the company cheaper with old buses. It could also be said that they would not want to invest in new buses and then sell them on at a loss not knowing how the new operators think and value the buses. Some of the new operators were buying old buses and re-introducing conductors to speed up services. Also mini-buses were being introduced. So new thinking was around.
Leyland Trucks to DAF - 1986
Leyland DAFformed following purchase of truck business by DAF. The name Leyland being retained while customers became familiar with DAF.
Management Buy-out - 1987
On the 13th January 1987, Leyland Bus was sold to a consortium of management and banks. Some customers almost immediately supported the arrangement, with Ulsterbus placing an order for 195 Tigers just one month later. Other customers, notably ex-NBC Badgerline ordered 36 buses from rivals Volvo.
Sale to Volvo - 1988
By the end of 1987, however, the directors were having doubts about the future of Leyland Bus and it came as no surprise when it was announced, in March 1988, that it had been sold to Volvo of Sweden. Although, initially, Leyland Bus was operated as a separate division of Volvo Bus, in September 1988 the company was re-named VL Bus and Coach (UK) Ltd., effectively ending over 90 years of the Leyland name.
The End of Leyland Bus - 1991
In 1991 the factory at Leyland ceased production of chassis and the 'Leyland' bus passed into history.
Leyland Trucks formed - 1993
DAFwent bankrupt in 1993 and a management buy-out created Leyland Trucks.
PACCARtakeover of Leyland Trucks - 1998
PACCARstarted in 1905 making items for the logging trade in Seattle. It moved into truck manufacture after the Second World War through acquisition and in 1972 changed its name from Pacific Car and Foundry to PACCAR. In 1981 it bought Foden and in 1996 it bought DAF, in 1998 it purchased Leyland Trucks.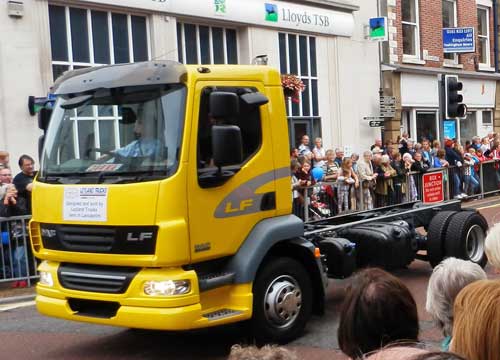 October 2009 Gordon Brown, the Prime Minister at the time, visits the plant at Leyland Trucks
Video below on YouTube showing some manufacturing.
Extracts from the video.
The Line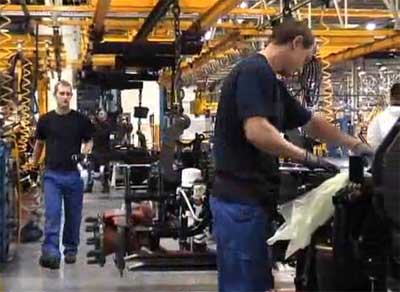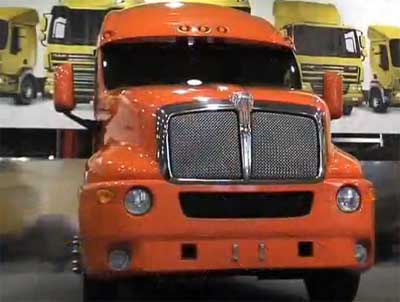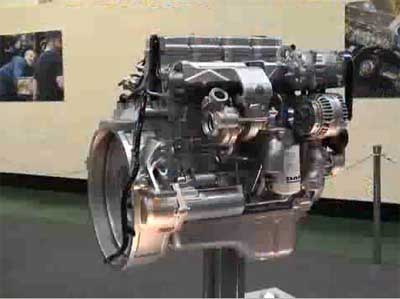 Manufacturing Excellence Awards 2010 - Overall Winner: Leyland Trucks
The Institute of Mechanical Engineers announced on their website:
News Release

North West Firm Wins Best British Business Award
Truck Firm Makes History at Manufacturing Excellence Awards 2010
24 June 2010
Leyland Trucks in Preston is celebrating today after winning Best Overall Business at the 2010 Manufacturing Excellence (MX) Awards in London last night (23rd June). It has also become the first firm in the events 28-year-history to win the top award two years in a row.
The Award is sponsored by the Department for Business Innovation and Skills Manufacturing Advisory Service (MAS) and Business and Enterprise Minister, Mark Prisk, was on hand last night to congratulate them.
Run by the Institution of Mechanical Engineers (IMechE), MX is the most prestigious manufacturing awards scheme in the UK. Congratulating Leyland, Mr Prisk, said: Manufacturing and engineering are vital to the economy. The UK is renowned for its high-value, advanced manufacturing products and solutions and we must ensure that companies, like those recognised by the MX Awards, are given the support they require to exploit their competitive advantage and thrive in an increasingly competitive world.
One way we are helping companies to achieve this is through MAS which is working with thousands of manufacturers to streamline their processes and reduce waste," he said. MAS has helped 14 out of the 18 companies in MX this year, Leyland being one.
Andrea Paver, Managing Director of Leyland Trucks, said it was the efforts of the whole company that meant they kept their crown this year. They also won the IMechEs Award for Business Development and Change Management.
She said: Everybody at Leyland Trucks is once again delighted to be amongst the winners of the MX Awards. There is no doubt that as Britains premier awards scheme for the manufacturing sector they bring with them considerable prestige and they serve as a hallmark for the levels of excellence that we strive constantly to achieve in our company.
There were 12 awards up for grabs last night at the event including Overall Winner and Best Small to Medium Enterprise which went to Leyland and Pipex Ltd in Plymouth respectively. Leyland was a finalist in eight out of 12 awards.
Click here to read the original on the Institute of Mechanical Engineers website
Extract from the Leyland Website, June 2010:
Leyland Trucks, one of Britain's leading manufacturing companies, is a wholly-owned subsidiary of PACCAR Inc - PACCAR is a global technology leader in design, manufacture and customer support of high-quality light, medium and heavy-duty trucks under the Kenworth, Peterbilt and DAF nameplates. Since Leyland Trucks was acquired by PACCAR in 1998, it has become the group's established centre for light and medium truck design, development and manufacture.
At Leyland Trucks our employees are encouraged to realize their full potential as valued members of our Company. We are committed to providing the learning and development opportunities to ensure that all employees have the professional and personal skills to achieve this. From early career opportunities for people leaving schools and colleges, through to advanced management programmes for our most senior leaders, every part of our business is committed to achieving continuous improvement and high standards through investment in the capabilities of our employees.
Extract from the Leyland Website, Jan 2015:
Leyland Trucks has produced the 125,000thDAF LF at its state-of-the-art factory in Leyland, Lancashire.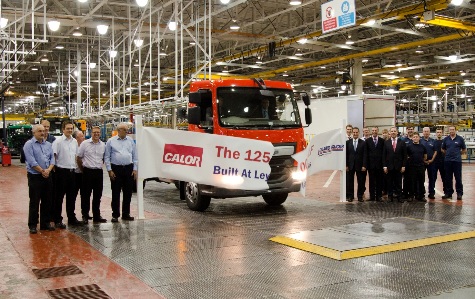 New LF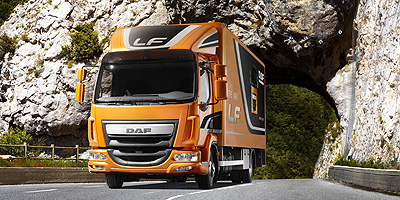 Link to Leyland Trucks website
Donald Stokes, Baron Stokes, Lord Stokes of Leyland
22nd March 1914 to 21st July 2008.
Donald Stokes was born in Plymouth but moved north to work for Leyland Motors in 1930 and attended the Harris Institute of Technology in Preston. He reached the rank of Lieutenant-Colonel in the war. He was a highly regarded export salesman of buses and trucks and rose through the ranks at Leyland. He was regarded as a go-ahead, buccaneering, modern era manager and was knighted. Leyland expanded into cars in a smallish way but the government kept pressuring for full integration of Leyland and mass manufacturer BMH. When this occurred he became Chairman and Managing Director of Britains largest vehicle manufacturer, BLMC which included all the famous names such as Austin, Morris, MG. Unfortunately it was the 1970's and industrial relations were poor and the flagship cars such as the Marina and Allegro didn't have the success needed, to put it mildly. In 1975 the government restructured the company and Lord Stokes was asked to step down and became President and later a consultant in the company. General opinion now is that he was given an impossible task to manage the inter-divisional rivalries, political involvement, poor products and labour disputes. He became a peer in 1969 and was the second oldest member of the House of Lords. His name is synonymous with Leyland Motors. A search on Google brings up obituaries from all the major newspapers.The Times obituary is linked here.