Blackpool Air Show
Sunday August 8th 2016 report. A 2 day event
The Blackpool Air Show 2016. A two day show including Sunday 8th and Monday 9th August. A sunny and breezy day made things more difficult for the aerobatics. The veteran Battle of Britain Memorial Flight didn't show and one or two others.. As always the RAF gave wonderful displays of the Typhoon and the Red Arrows. The Breitling Wing Walkers, Pitt Special and more gave great displays. See the list below.
A big crowd were on the promenade, also the tide was in which prevented closer viewing. A number of other attractions were positioned including two simulators, Red Arrows and BBMF souvenir stalls. Also a Spam promotion.
The Red Arrows always come in over the Tower. Never fails to impress.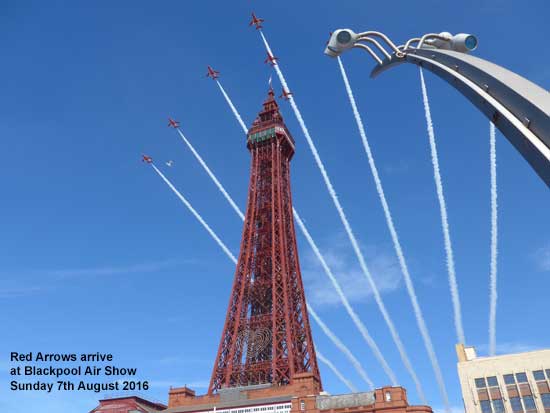 Lauren Richardson aerobatic display in the Pitt Special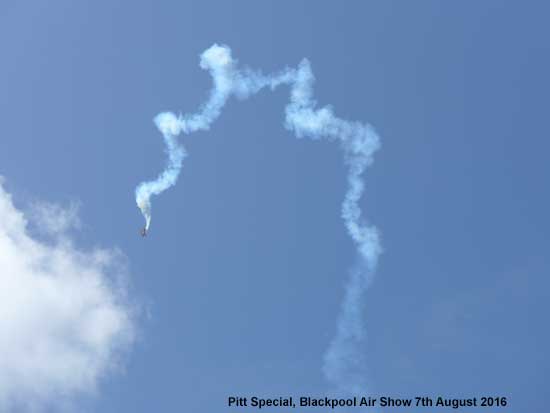 Typhoon, totally terrific. Early in the show, hard to follow with my camera.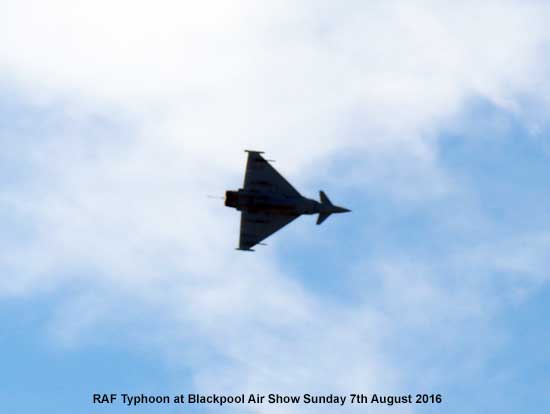 Breitling Wing Walkers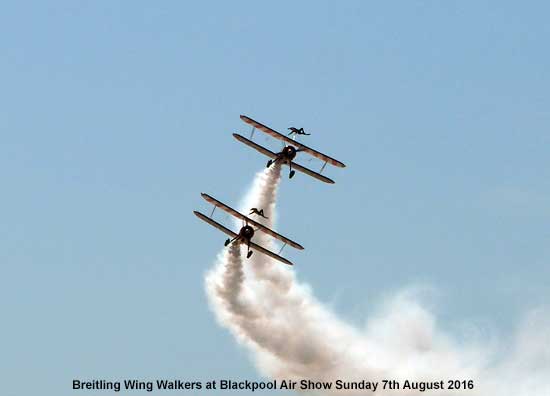 Team Raven with their 5 home made aircraft put on a propellor driven display similar to the Red Arrows.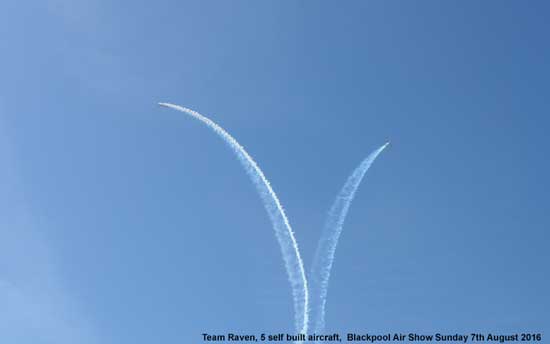 The full line-up including some who didn't show due to wind conditions.:
Sunday 8th August 2016
Chipmunk
Twisters
Typhoon
Wing Walkers
Strikemaster
Autogyro
BBMF
Gazelles
Team Raven
Pitts
Red Arrows
Finish
Monday 9th August 2016
Chipmunk
Twisters
Wing Walkers
Team Raven
Gazelles
Autogyro
BBMF
Trig Team
Strikemaster
The Global Stars
Finish
The Autogyro: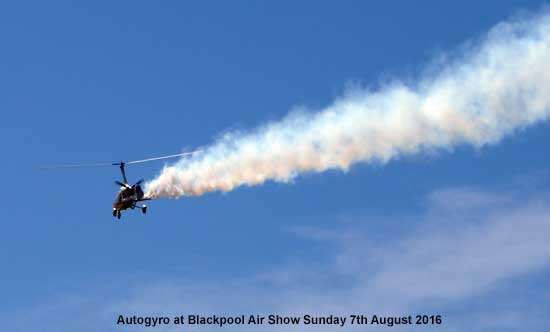 Helicopter, Schweizer 300C: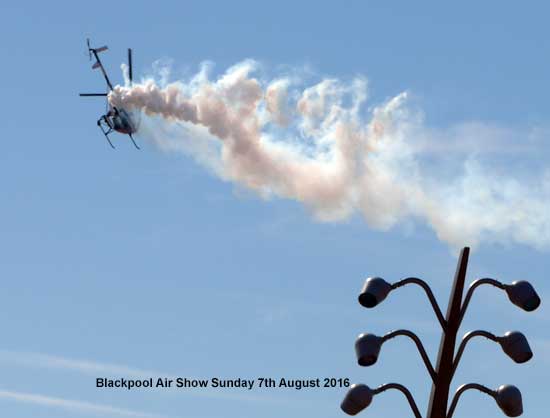 The Red Arrows, what a display!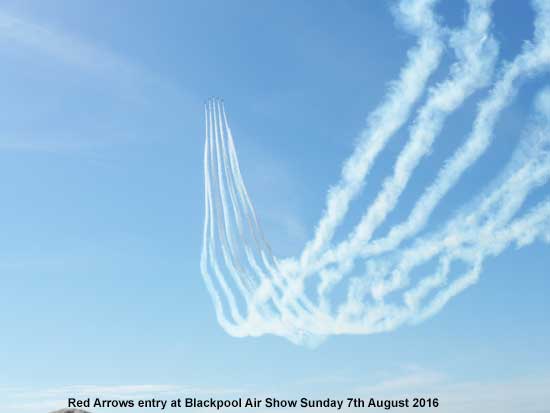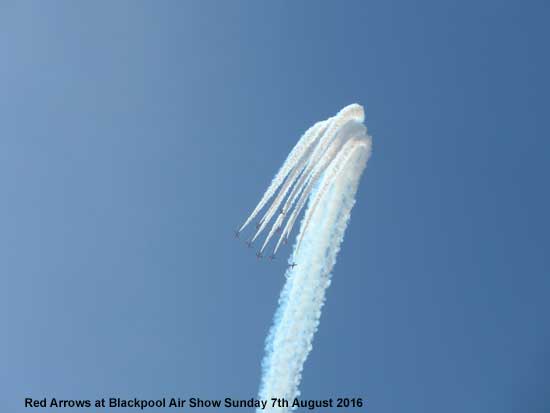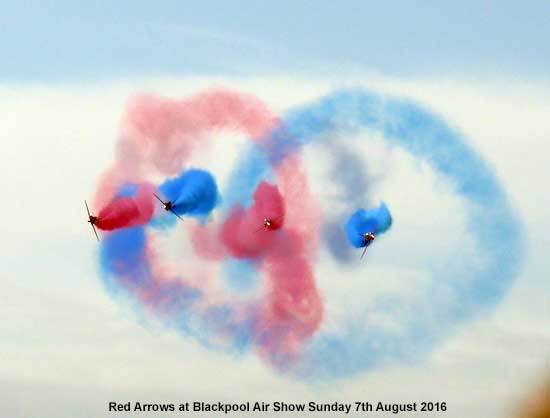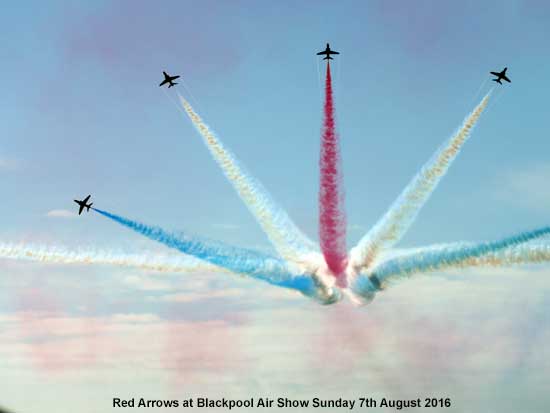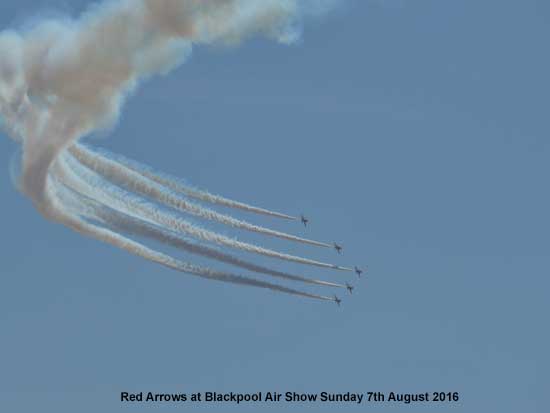 The crowds were spilling from the prom, across the road and on either side of the tram tracks.