Nimrod MRA4 Aircraft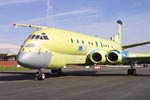 The Nimrod MRA4 is an upgrade of the Nimrod fleet involving major change to the structure, systems and engines. The work is shared primarily between BAE SYSTEMS, Boeing and Rolls Royce. At BAE SYSTEMS the aircraft are being re-worked at Woodford with the management and flight testing being performed at Warton.
The quantity of aircraft originally planned was 21 but was reduced to 9.
In 2010 the project was cancelled after the Strategic Defence Review. At that time 5 aircraft had been built and were subsequently scrapped.
The Maritime Reconnaissence and Attack aircraft supports the UK submarine fleet and the UK by detecting threats and is able to attack them. No replacement is planned and the role is now shared by helicopters and ships.