Aviation Home Page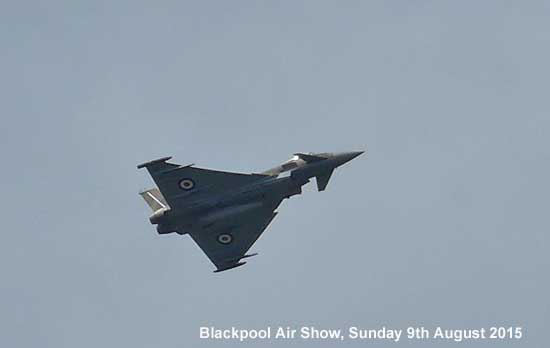 The History of Aviation in the Preston Area
Dick Kerr > English Electric > British Aircraft Corporation > British Aerospace > BAE Systems
Links to our Pages about Aircraft
Links to our Pages about Airfields and Surrounding Area
History
The major projects undertaken by the factories in and around Preston are shown in the photos above and include: Manufacture of Halifax, Vampire, Provost. The design, development and manufacture of Canberra, Lightning, TSR2, Jaguar, Tornado, Typhoon, Nimrod, Lockheed F35 rear fuselage, UCAV. Manufacture of Concorde rear fuselage, Airbus wing components, Phantom rear fuselage. Support to customers and prime contracting are also major activities.
Photograph from the mid-60's at BAC Warton. Canberra, Lightning, TSR2. Three fine aircraft of English Electric and BAC.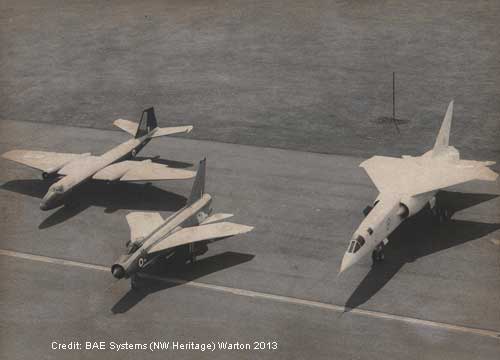 The Company has evolved from Dick Kerr, English Electric, British Aircraft Corporation, British Aerospace and BAE Systems. It has been a major contributor to the region providing a large number of highly skilled, well paid jobs, good working conditions and support and custom to many regional organisations. Although there have been regular significant redundancies often followed by significant recruitment almost on a 10 year cycle. It has also provided a boost to the national economy with major export contracts often related to alliances and common interests.
Acknowledgements to;
1. Stephen Ransom and Robert Fairclough and their book English Electric Aircraft and their Predecessors.

2. Charles Gardner for his book British Aircraft Corporation.

1917 - 1926
Aviation in Preston has an early stuttering phase from 1917 to 1925 then a major growth phase from 1938 which has continued cyclically through to the current day.
It started through the aspirations of a Scottish manufacturing company. It was in 1897 that Dick, Kerr & Co.Ltd bought a disused factory on Strand Road in Preston to make electric tramcars. This became the largest tram factory in Britain over the next 40 years.
In 1917 the first aircraft fuselages were made by Dick, Kerr in Preston. These were for the Felixstowe F.3 flying boat which was to be flown from South Shields. 50 F.3 were ordered and 82 F.5 but the order was cancelled at the end of the war with only 11 and 3 respectively completed.
Separately the government built hangars next to the River Ribble in Lytham. One Fairey Atalanta was built in the hangars by Dick, Kerr in 1919 to 1921.
In 1919 Dick, Kerr became part of English Electric which was formed from the amalgamation of 4 companies (Coventry Ordnance, Phoenix Dynamo Manufacturing of Bradford, Dick Kerr inc United Electric Car Co of Preston, Willans & Robinson of Rugby).

Aircraft manufacture began in 1922 on the Wren, designed at Bradford. The aircraft first flew on 5th April 1923 from Ashton Park, Preston. The Wren was a light 3hp powered glider.

In 1923 the hangars next to the River Ribble found use with final assembly of the Kingston flying boat. The first aircraft hit flotsam and was irrepairably damaged. A total of 6 flew from the River Ribble in 1925/6.

In 1926 the English Electric aircraft contracts were complete and the aircraft manufacturing business was closed.

1930 - 1959
In 1930 there was partial closure of the Preston site as English Electric contracted. However in 1936 English Electric was booming and the factory at Preston re-opened to build diesel locomotives.

In 1938 English Electric became a 'shadow' aircraft manufacturer, able to build other companies designs for the war effort. Preston was chosen as the aircraft factory and an airfield at Samlesbury was built. 80 aircraft a month were built at the peak during 1944.

In 1944 English Electric decided that after the war it would break into the aircraft market and formed a design team located in Corporation Street, Preston. In 1946 a contract was received for 4 prototype Canberra high altitude jet bombers then known as the A1.

In 1940 a new airfield at Warton was built which would be used by the US Air Force. In 1947 English Electric took over the site for use as an Experimental Flying facility as the runway at Samlesbury was not long enough.

During the war production was spread across other sites in Preston to protect it in case of attack. It appears the Germans wern't aware of what the factory built.

A successful run of 5000 Hampden, Halifax and Vampires led to the design of the Canberra and Lightning.

1960 - now
In 1960 English Electric merged with Vickers and Bristol Aircraft to form the British Aircraft Corporation. In 1965 its main contract the TSR2 was cancelled causing significant redundancy.

The three factories; Preston, Warton and Samlesbury continued with work on Canberra and Lightning and Strikemaster with rear fuselage manufacture of Concorde and Phantom aircraft.
The Anglo-French Jaguar became the next major project. This was followed by the Tornado.

In 1977 British Aerospace was formed from the major aircraft companies in the UK; BAC, Hawker Siddeley and Bristol Aircraft.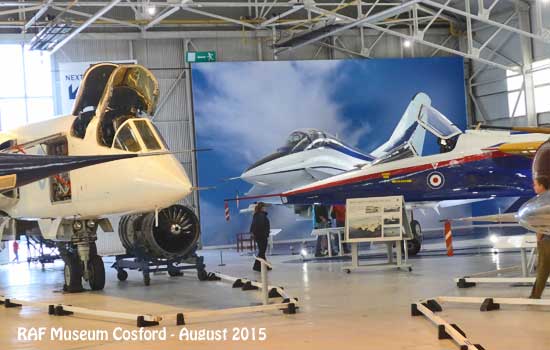 In the mid 1980's the EAP (Experimental Aircraft Programme) was built as a single technology demonstrator aircraft for the Typhoon. Also at that time a major contract with Saudi Arabia through the UK Government enabled a large expansion and included sale of 72 Tornado aircraft and support.

In 1990 the East Works factory on Strand Road was closed and knocked down and there was significant redundancy. The old English Electric factory, West Works, had previously become part of GEC and is now Alstom.

The Tornado and Typhoon was joined by the Nimrod and JSF. The Hawk and Harrier Final Assembly was moved to Warton after Kingston and Dunsfold closed.

In 1999 British Aerospace merged with GEC Marconi to form BAE SYSTEMS. The sites at Warton and Samlesbury have been updated and expanded and are now some of the most advanced facilities in Europe.
The first design success from the garage in Preston, the Canberra, is still in service and was made in large quantities for the RAF, USAF and RAAF.
The Eurofighter Typhoon has entered service, Nimrod will follow and then the JSF.
2000
In December 2006 agreements on unmanned projects are hardening with BAE SYSTEMS becoming prime contractor on a UK unmanned aircraft demonstrator about the size of a Hawk aircraft. It is UK industry with some BAE SYSTEMS(Australia) involvement.
Spring 2007, a new facility at Samlesbury for manufacture of Typhoon and JSF is being considered by local authorities. It is proposed to increase the Samlesbury workforce by over 2,000 and build a manufacturing area and four story office.
January 2008 - a sod cutting ceremony was reported in the Lancashire Evening Post. The mayoress of Balderstone cut the first sod in the expansion project at Samlesbury that will take 10 years to complete, including improving site access. Bringing suppliers onto the site is another area being considered.
January 2008 - BAE SYSTEMS news, award of an initial production contract on the F35 Lightning 2 for aft fuselage and empennage. In the US the defence budget is allocated annually so the value appears small but gets topped up each year.
February 2008 - work on the Taranis unmanned combat air vehicle is underway at Warton that will lead to ground testing 2009.
July 2010 - BAE SYSTEMS announces Harrier upgrade. Also BAE SYSTEMS announces learning academy at Samlesbury for regional partner business.
October 2010 - the governments Strategic Defence Review is announced. The UK requirements for Nimrod MRA4, vertical take-off F35, Harrier are ended. BAE SYSTEMS announces new F35 machining facility at Samlesbury. Statement in the MoD news about FT comment on the sale of Typhoon to Oman.
September 2011 - a 1500 reduction in jobs was announced for Warton (843) and Samlesbury (565) after slow downs in Typhoon and F35 production which will extend the programmes. Whether this results in that number of people losing their jobs will be seen.
March 2012 - Samlesbury, a new manufacturing facility for the F35 was opened to enable production at 1 per day.
December 2012 - Oman orders 12 Typhoon Tranche 3 fighters and eight Hawk aircraft, with deliveries to start in 2017.
April 2013 - Jetstream flown 500 miles from Warton to Inverness using ground based spilot as part of the ASTRAEA programme.
April 2013 Taranis ground trials at Warton.
August 2013 Taranis makes first flight after being shipped from Warton to the test facility.
December 2013 Typhoon Tranche 3 flights begin.
October 2014 potential of almost 300 managerial job losses announced for Warton and Samlesbury.
November 2014 a 2yr contract to continue Future Combat Air Studies with partners.
November 2014 contract for Captor E-scan radar on Typhoon.
February 2015 contract for integrating Brimstone 2 onto Typhoon.
March 2015 a ?15m apprentice training facility is to be opened at Samlesbury.
April 2015 a 9,000 panel solar farm was completed at Samlesbury.
BAE Systems Heritage Group were at Lytham 40's Weekend on 17th August 2013. Interesting display of photos going back to early 20th Century, Dick Kerrs Lytham aircraft factory and wartime production at Preston and Samlesbury.
July 2018 the future combat aircraft, Tempest, was unveiled at Farnborough.
March 2019 Tornado fly-over as the RAF retires their squadrons.
September 2020 Tempest system suppliers named.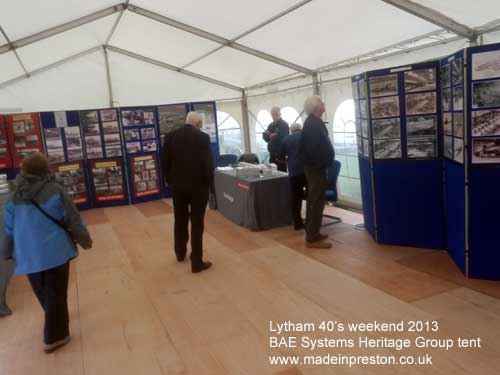 Photo: The RAF Typhoon and Red Arrows were based at Blackpool Airport during the 2 day Blackpool Air Show 11th/12th August 2013, the prom and the piers were packed with spectators as the tide was in this year, great displays: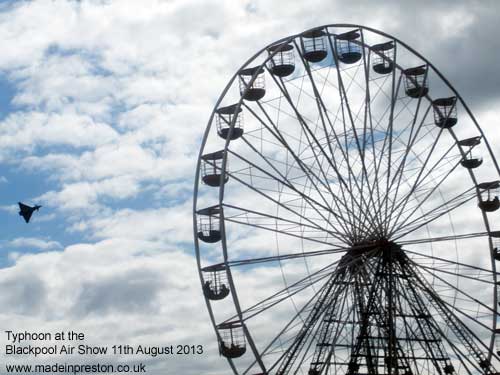 Battle of Britain Memorial Flight Spitfire PS915 was restored at BAE Systems, Warton when it was British Aerospace. Photo taken Monday 12th August 2013 at the Blackpool Air Show.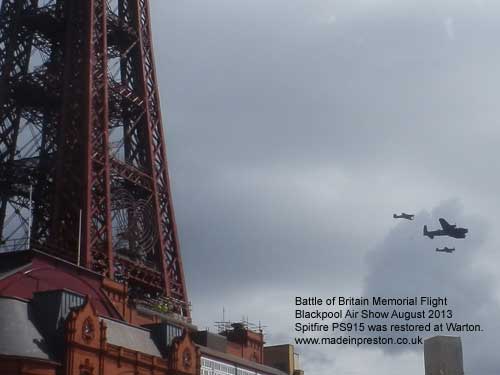 BAE SYSTEMS North West Heritage Group - based at Warton Aerodrome
Aero-engines and Preston region.