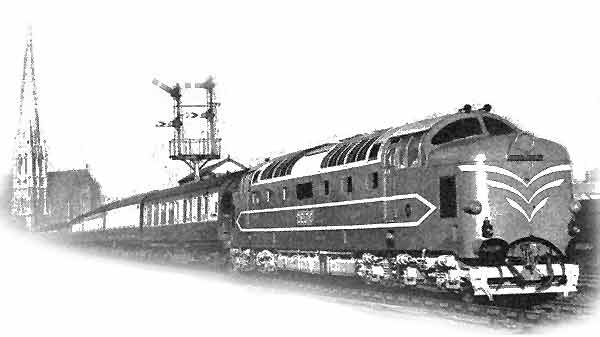 DELTIC PROTOTYPE LOCO - ENGLISH ELECTRIC LTD, PRESTON
Photograph above of Deltic Prototype entering Preston. Classic photo location showing St Walburgs spire in the background - photo adapted from one in the book titled Locomotives by Brian Reed published in 1958.
Deltic prototype diesel loco, built in 1955 at English Electric, Preston, Lancashire.
The production Deltics were not built at Preston. Only 22 were built for use on the East Coast main line from 1961. They were the highest powered diesel locomotive engines in the UK with a total of 3300bhp from their 2 Napier 'Deltic' 18 cylinder engines. The diesel engines powered 6 axle-hung nose suspended traction motors.
They weighed 99 tons and had a maximum tractive effort of 50,000lbs. This was not the highest tractive effort as several types, including earlier ones such as the English Electric Class 40 and Sulzer Peak Class 45 had higher.
The diesel electric locomotives have a diesel engine that powers an electrical generator that provides the power for the electrical motors. The electrical motor effectively takes the place of a clutch and enables the diesel engine to run at almost constant speed. The Deltics are classed in railway terms as Co-Co . This means there are 3 powered axles(C is the third letter of the alphabet). The 'o' means individually powered axles. The second Co means there are two set of 3 individually powered axles.
The light was on the front for use in the US. When it was put into production for the UK it didn't have the light and lack of it gives them a more bulky appearance.
Deltic Prototype at the Ribble Steam Railway for Preston Guild 2012
The loco was transported by lorry from Locomotion at Shildon which is part of the National Railway Museum and will be on display at the Ribble Steam Railway during Preston Guild 2012.