Railways
About the Railways Around Preston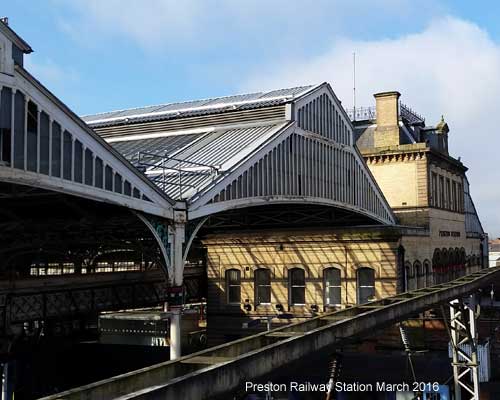 Index to pages in our rail section:
This page includes Preston Station and the History of Railways around Preston. Plus Trams of which plenty were made in Preston.
History of the Railways around Preston
1887 Preston to Kirkby Lonsdale
---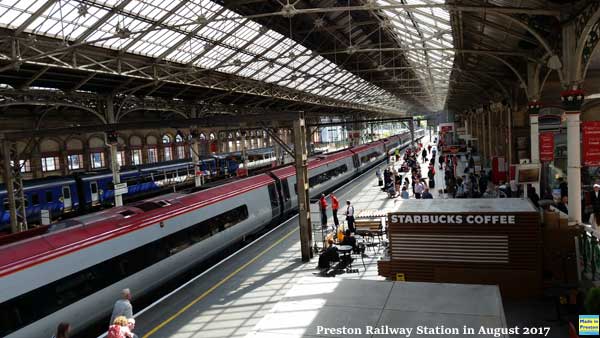 Blackpool Trams made in Preston Easter 2013
Fleetwood Tram Sunday 2012 and 2013
Railway Books about the Preston area
---
Preston Station
Preston station is about 100yds back from the main shopping street, Fishergate, which crosses over the track.
Located on the West Coast Main Line about halfway between London and Glasgow and on the routes to Manchester, Liverpool, Blackpool and Blackburn, Leeds.
Platforms 1 and 2 are mainly trains between Manchester and Blackpool or York via Blackburn and Blackpool. Platforms 3,4,5,6 are mainly trains on the West Coast Main Line between London, Birmingham, or Exeter and Glasgow or Edinburgh, Windermere or Barrow.
Between platforms 3 and 4 are the main services; cafe, papers etc. Platform 1/2 has refreshments at certain times. It's a fairly old station completely covered by traditional arches, but facilities are modernised.
The ticket office is on the central entrance that leads to platforms 3/4.
An alternative entrance is over the bridge that crosses platforms 4/5 etc and leads to the Fishergate Centre.
There is a bridge to all platforms near the entrance or a subway at the opposite end.
Taxis are mainly at the central entrance and buses on Fishergate railway bridge. The bus station is a 20 minute walk.
There is a large new railway multi-storey car park on the Fishergate Centre side.
First Trans-Pennine Class 350 and Northern Class 195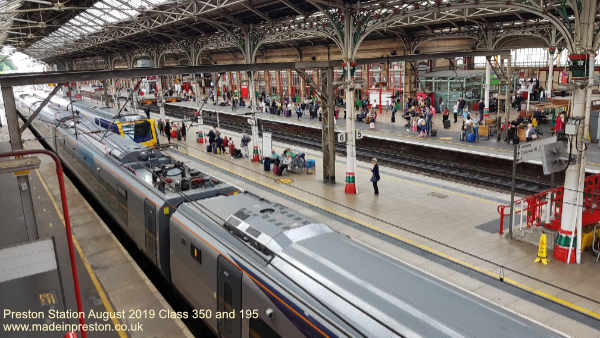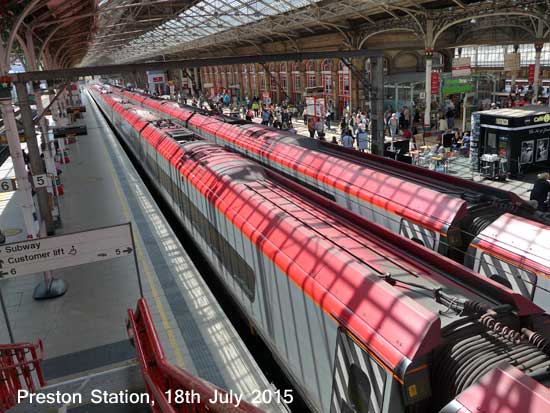 Electrification of the line between Manchester, Bolton, Preston, Blackpool
Work to electrify the line between Preston, Blackpool, Manchester via Bolton started in 2017. The electrified line between Preston and Blackpool North opened after 6 months closure in April 2018 which enabled trains between Blackpool and Liverpool, Manchester via Wigan, and London to be electric. During closure and at regular weekends there have been replacement buses mainly supplied by Blackpool Transport.
The line from Preston to Bolton and Manchester was meant to be electrified at the same time but due to ground problems it was delayed to February 2019. . This meant that diesel trains were unexpectedly needed to operate Blackpool to Manchester via Bolton.
Throughout 2018 work has continued on the Preston to Bolton line which needed tunnels rebuilt and suffered subsidence, as well as soft ground meaning the electrical pylons needed re-building.
An ongoing industrial dispute about guards on trains as well as the delays to track and train deliveries coupled with an ambitious timetable update that needed redrafting due to delays has meant a poor service on that route in 2018. Since then things are improving.
New Trains in Service and Franchise Changes October 2019
Upgraded electric trains, Class 319, came into service in 2018 through Preston. Brand new trains, Class 195 diesels and 331 electric, came into service in September 2019. Running between Blackpool and Manchester and Blackpool and Liverpool. Also Manchester to Barrow for Northern Rail.
Class 142 Pacers still operate on the Blackpool South to Colne and Preston to Ormskirk lines
On the 8th December 2019 Virgin/Stagecoach will give up its franchise to First, Avanti West Coast, as the government decided the Virgin/Stagecoach bid wasn't valid due to pension provisions.
First Trans Pennine Express are testing prior to introducing brand new electiric 5 car Class 397 Civity trains to replace Class 350 on the Liverpool and Manchester to Scotland services through Preston.
Northern Rail taken over by the Government 1st March 2020
On the 1st March 2020 the government took over operation of the Northern Rail franchise from Arriva. The service had been struggling with track bottlenecks in Manchester and that Network Rail half electrified the Blackpool to Manchester line in 2018 requiring diesels to continued to be used long after their scheduled handover to electrics. The track delay led to a late timetable agreement and an inability to maintain the timetable with the wrong trains and crew training difficulties. This was coupled with an industrial dispute about who operates the doors on trains and whether the guard would then become classed as a ticket inspector. The company was unable to maintain an adequate service and the government took over the service.
Covid-19 Restrictions and Government Operation of Trains 23rd March 2020
On 24th March 2020 the government announced that only essential workers and journeys could be undertaken for 3 weeks. This was further expanded. During this time the government announced a big package of support to employees, self employed and employers. The Train Operating Companies would operate a skeleton service but the government would pay for operation.
Official Announcement by the Government, Minister for Transport, Grant Shapps:
' ...train operators on franchises let by my department the opportunity to temporarily transition onto Emergency Measures Agreements.
These agreements will suspend the normal financial mechanisms of franchise agreements, transferring all revenue and cost risk to the government. Operators will continue to run day-to-day services for a small, pre-determined management fee. Companies entering into these agreements will see a temporary suspension of their existing franchise agreement's financial mechanisms for an initial period of 6 months, with options for further extension or earlier cancellation as agreed...'
Quiet and with fast acceleration the new Class 331: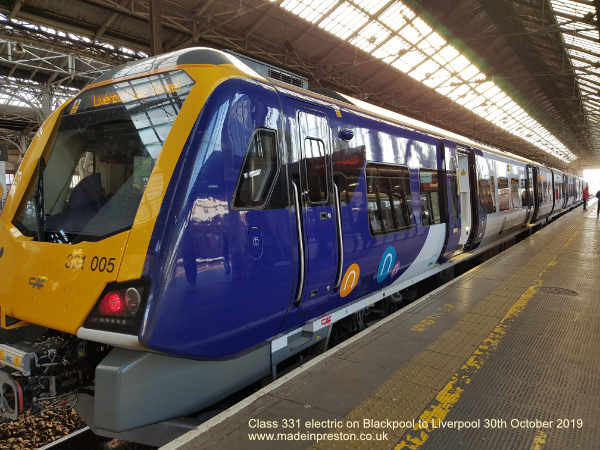 First Trans Pennine Express, Class 397 and Northern, Class 195 at Preston August 2019: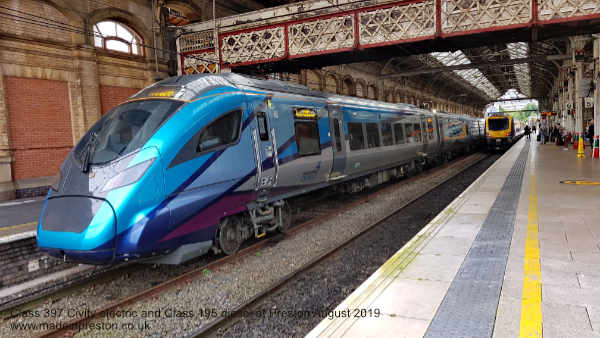 The Last Steam Loco Plaque at Preston
Bob Gregson author of interesting books on Preston and Lostock Hall railways arranged for a plaque to be placed on Preston Station to mark the last steam train 3rd August 1968.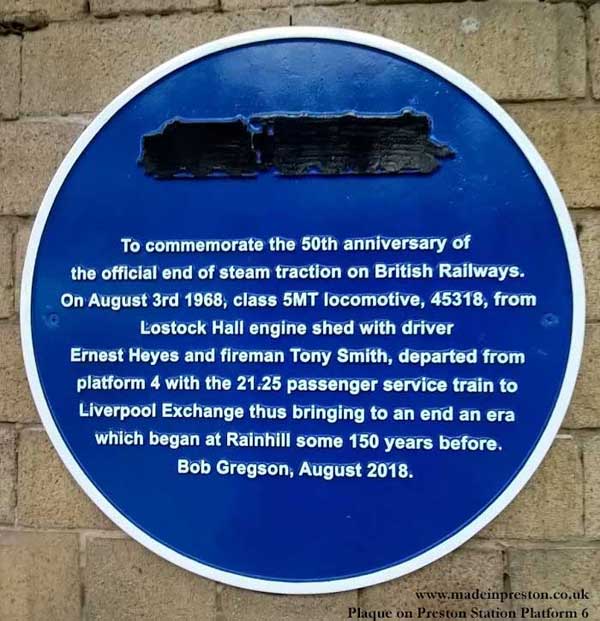 The line to Blackpool below: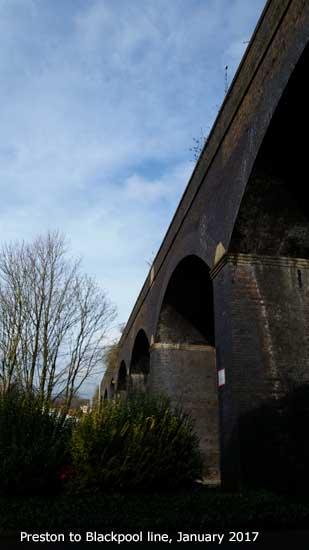 The West Coast Main Line between Preston and Lancaster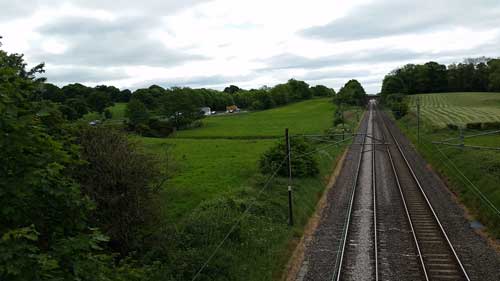 History and map of the railways around Preston.
1803
A horsedrawn railway was built in 1803 to take goods and return coal from the Lancaster Canal terminal in Preston to the Preston to Wigan.....click here to read more.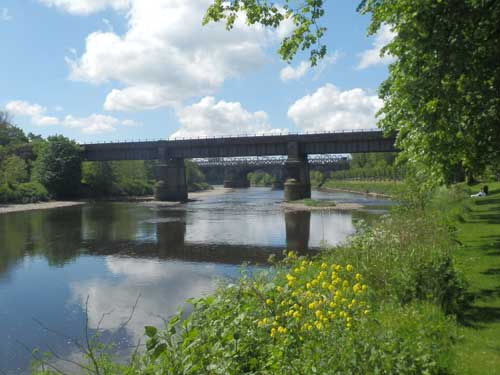 Photo of the L&YR Bridge now disused and the Grand Union Bridge carrying the West Coast Main Line over the River Ribble entering Preston at Avenham Park.
Made in Preston - Deltic Prototype Locomotive - English Electric.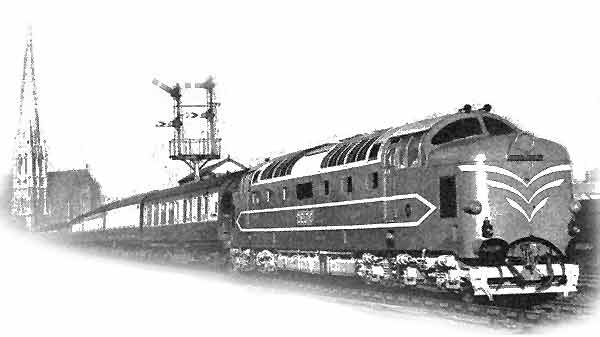 Photograph above of Deltic Prototype entering Preston. Classic photo location showing St Walburge's spire in the background - photo adapted from one in the book titled Locomotives by Brian Reed published in 1958.
History and map of Railways in the area around Preston
Locomotives built in the area.
Trams built in Preston (should this be in road)
Ribble Steam Railway - Preston Docks - Track, Museum and Works
Ribble Steam Railway is running specials on its 1? mile dock and riverside line at Preston Dock. There is also a newly built museum and workshop.
The line crosses the Preston Marina entrance via a swing bridge, and runs alongside the diverted River Ribble on the site of the former sprawling docklands. This track once took goods from the dock to Preston Station, crossing Strand Road.
Following a visit in August 2012 we now have a full page of photos and information. Click here to view it.
Crossing the swing bridge at Riversway Festival 2012: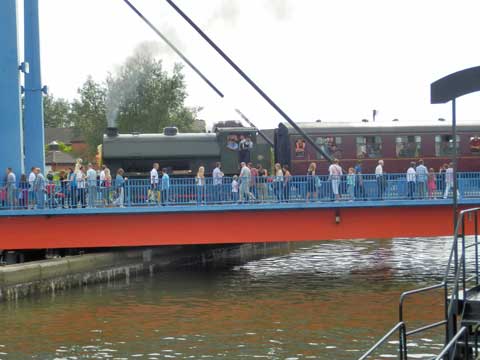 Inside the Ribble Steam Railway museum: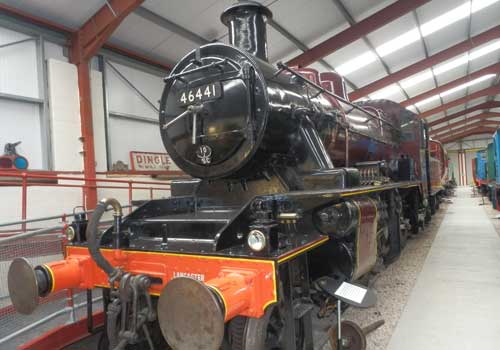 Passing Through Preston in 1930's but now at York Railway Museum
46229, LMS Pacific 'Coronation Class' Duchess of Hamilton in Streamline at York - November 2009.
The work was done in Birmingham at Tyesley Works. I bet they're proud of that job.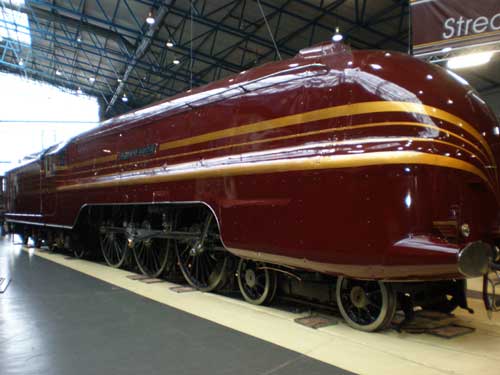 Deltic at York 2002. It's now at Locomotion, Shildon. See the Ribble Steam Railway page as it is now on loan there during the Preston Guild 2012 and for 2013, at least (thumbs up, fingers crossed).

Deltic at Locomotion at Shildon in 2011 with Mallard.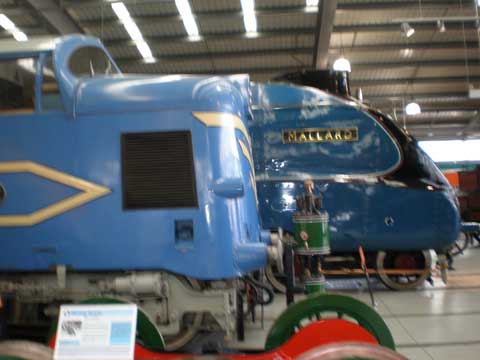 Photo below. DP2 Deltic Prototype 2 (some say Diesel Prototype 2), made at Newton-le-Willows in the production batch, entering Preston pulling the Blackpool to London express. DP2 was an engine test bed, it had a later version of engine as used on the Class 50 diesels which were more numerous than the Deltics. It was used on the West Coast Main Line until moving to the East Coast Main Line where it was destroyed in an accident in 1967.
Note the 4 tracks at Ashton, a northwest suburb of Preston. These divided at Kirkham into the 3 routes to Blackpool which were: 1) from Kirkham to Blackpool South and the now demolished Blackpool Central via Lytham St Annes, 2) from Kirkham direct to Blackpool Central which is now partly the M55 and Yeadon Way, 3) north via Poulton Le Fylde to Blackpool North.
There are currently 2 tracks and they are being electrified in 2012. The route via Lytham St Annes is single track going as far as Blackpool South. The route via Poulton Le Fylde takes the main traffic which goes into Blackpool North. An enthusiasts group is hoping to re-open the line from Poulton Le Fylde to Fleetwood.
The rail traffic to Blackpool on a summer weekend was phenomenal up to the mid 1960s with 'specials' from all over Britain queueing along the line. You could count them all in and then count them all back, on a good Saturday over 200 trains through Preston in the first half of the day. Foreign holidays, the car and then the M55 reduced rail traffic to Blackpool significantly.
The photo below was given to me in exchange for another over 40 years ago. There was a good trade, by us train-spotters, in train photos.