Railways
Preston Railway Station
or is it Preston Train Station
The main entrance to the station from Fishergate taken from near the side entrance on Butler Street..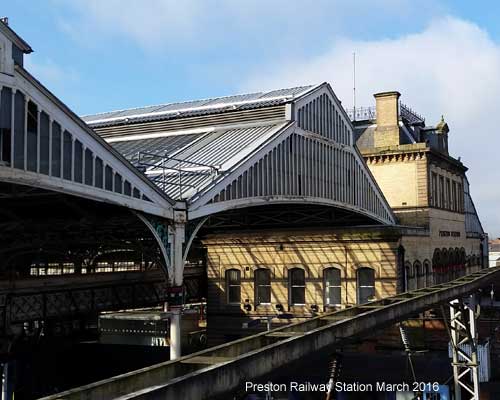 Platform 2 for local trains between Blackpool and Colne. Platform 3 generally for long distance trains.
Trans Pennine Express as used between Manchester or Liverpool to Edinburgh or Glasgow.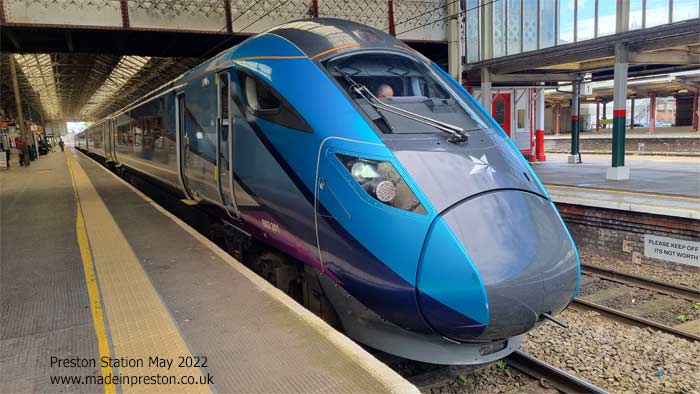 Preston Station Fishergate Entrance between the two bridges, August 2022:

Preston station platform 4 from the main entrance: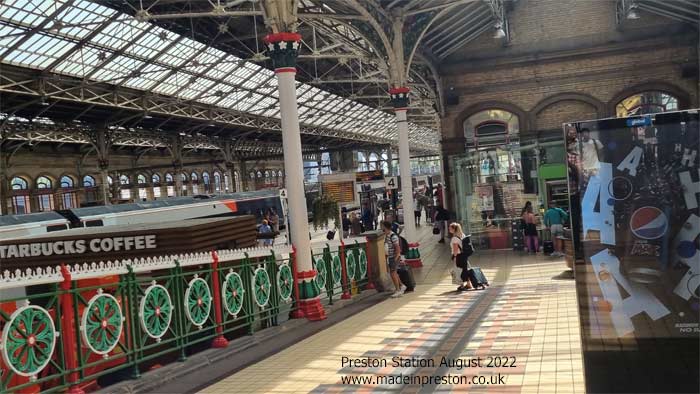 The southerly approach to Preston station with a Pendolino crossing to Platform 1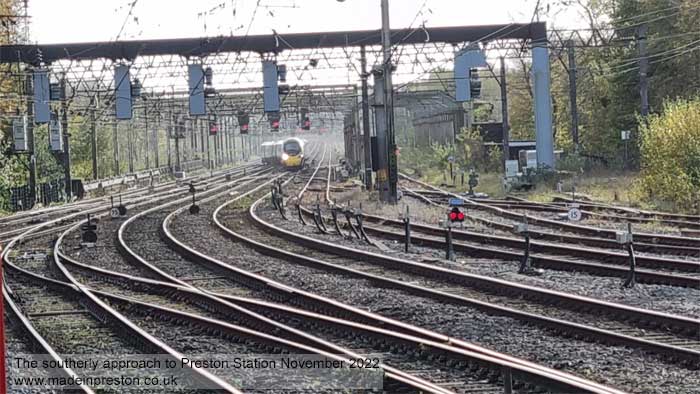 Index to pages in our rail section:
This page includes Preston Station and the History of Railways around Preston. Plus Trams of which plenty were made in Preston.
History of the Railways around Preston
1887 Preston to Kirkby Lonsdale
---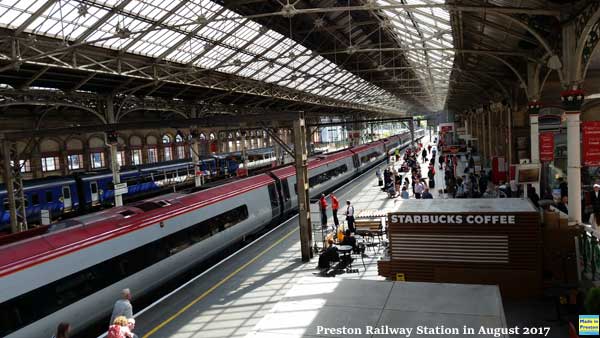 ---
Preston Railway Station
Preston station is about 100yds back from the main shopping street, Fishergate, which crosses over the track.
Located on the West Coast Main Line about halfway between London and Glasgow and on the routes to Manchester, Liverpool, Blackpool and Blackburn, Leeds.
Platforms 1 and 2 are mainly trains between Manchester and Blackpool or York via Blackburn and Blackpool. Platforms 3,4,5,6 are mainly trains on the West Coast Main Line between London, Birmingham, or Exeter and Glasgow or Edinburgh, Windermere or Barrow.
Between platforms 3 and 4 are the main services; cafe, papers etc. Platform 1/2 has refreshments at certain times. It's a fairly old station completely covered by traditional arches, but facilities are modernised.
The ticket office is on the central entrance that leads to platforms 3/4.
An alternative entrance is over the bridge that crosses platforms 4/5 etc and leads to the Fishergate Centre.
There is a bridge to all platforms near the entrance or a subway at the opposite end.
Taxis are mainly at the central entrance and buses on Fishergate railway bridge. The bus station is a 20 minute walk.
There is a large new railway multi-storey car park on the Fishergate Centre side.
First Trans-Pennine Class 350 and Northern Class 195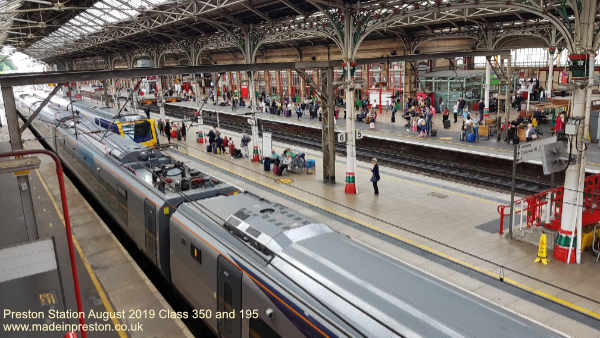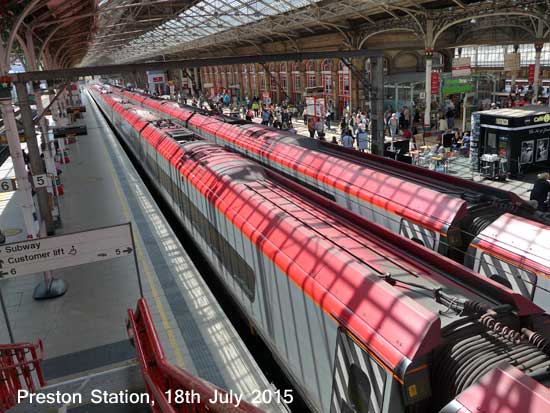 The new entrance from the Car Park - to Platform 7 taken in May 2019: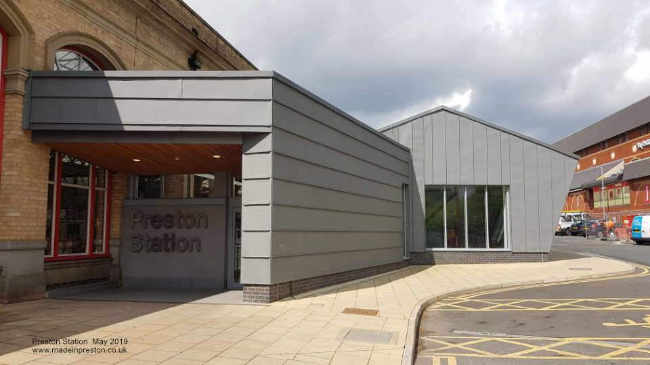 Preston Station Car Park taken from the entrance above: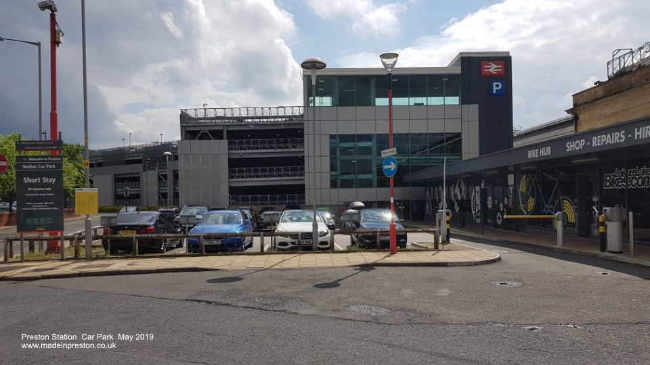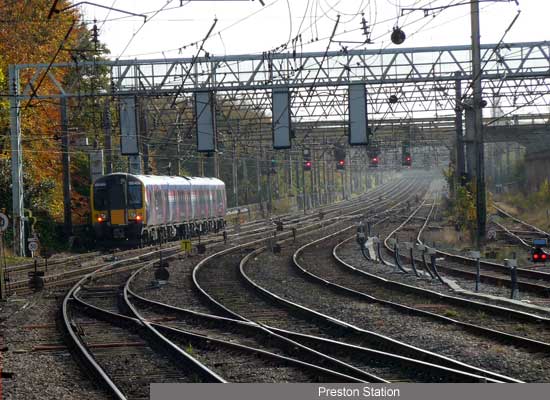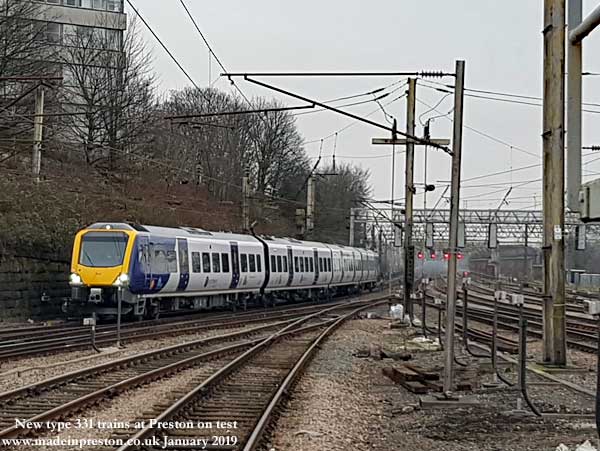 Quiet and with fast acceleration the new Class 331: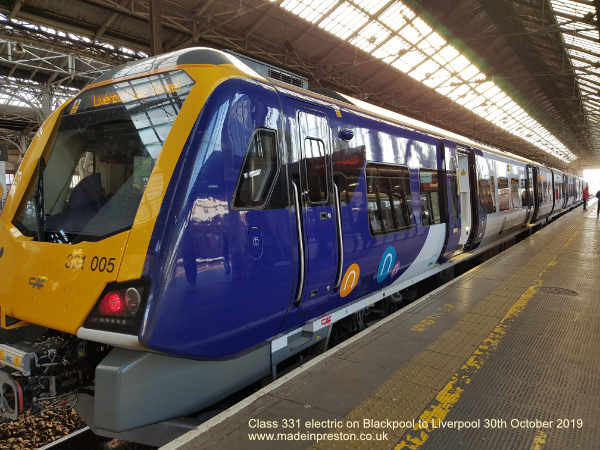 First Trans Pennine Express, Class 397 and Northern, Class 195 at Preston August 2019: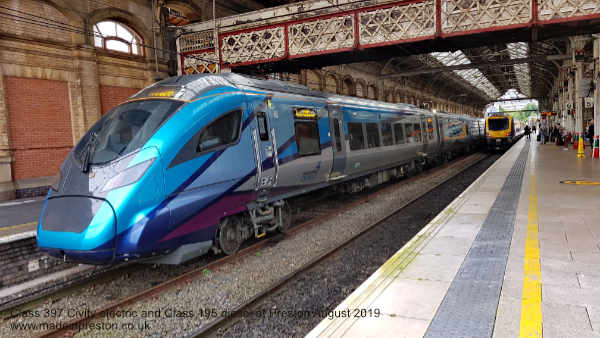 The Last Steam Loco Plaque at Preston
Bob Gregson author of interesting books on Preston and Lostock Hall railways arranged for a plaque to be placed on Preston Station to mark the last steam train 3rd August 1968.