History of the Railways around Preston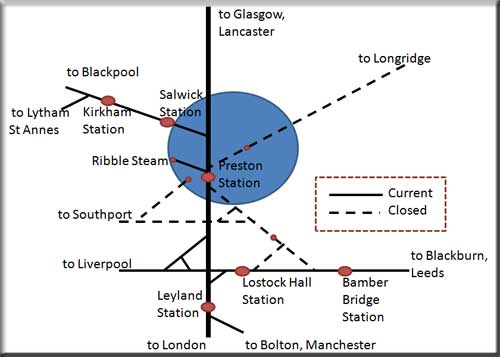 Page 1
1803
A horsedrawn railway was built in 1803 to take goods and return coal from the Lancaster Canal terminal in Preston to the Preston to Wigan canal quays at Walton Summit some 6 miles away. This was called the Tram Road and is today called the Old Tram Road with only a couple of gravelly miles remaining between the River Ribble Tram Bridge and Lostock Hall. This railway had a steam powered cable pulley to raise and lower the cars up the River Ribble valley side. The building for the pulley remained until recently. The last tram was hauled in 1863. The bridge was rebuilt from a ramshackled wooden one: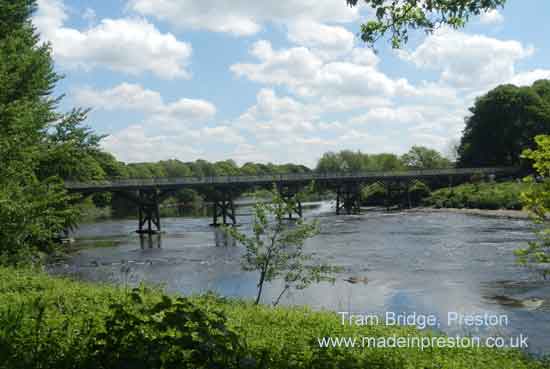 1838
Preston to Wigan, North Union Railway. A good fairly straight and level run for the 12 miles to Wigan. Bridging the River Ribble was an achievement. Since then the bridge has been widened twice to make 6 tracks.
1840's
A rush of railway building made Preston a major junction for connections to big cities. Liverpool, Manchester, London, Glasgow. Lines also to Blackburn, Longridge, Preston Quays, Fleetwood, Lytham, with branches to Blackpool and Southport. The line to Glasgow had interesting events between Preston and Lancaster with disputes over ownership resulting in trains eventually colliding. All these tracks were laid by small local companies formed specifically for the purpose. These were eventually merged or bought out. Forming the London and North-Western Railway and the Lancashire & Yorkshire Railway by the middle period of the 19th Century. Preston had several railway stations where passengers had to risk walking along the track to get between them and rivalry between the companies causing trains to leave before the passengers had changed.
The Preston & Wyre Railway was formed in response to a need for a port for the town of Preston. It was proposed that the port be based at the mouth of the River Wyre and a town to be called Fleetwood, after the main sponsor Sir Peter Hesketh-Fleetwood, would be built. After much unexpected difficulty, particularly around the marshy area of the Wyre, the first train travelled from Fleetwood using North Union loco's in 1840. The railway was also a gateway to Scotland as no trains crossed Shap until 1847. A book on the PWR is reviewed click here.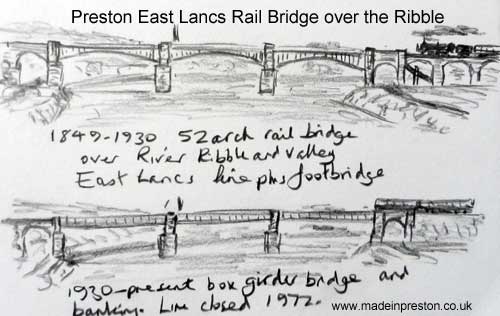 1880's
Preston main railway station opened in 1880. In 1882 the Preston to Southport line opened with a new station at the bottom of Fishergate Hill which closed to passenger use in 1900. Also in 1882 the Park Hotel opened which was a magnificent Gothic style building overlooking the ornamental Miller Park and the Ribble Valley and with close access to the station. This became a Local Government building, in the 1960's a 'modern' box mini tower type building was built next to it to accommodate the administrators. The expresses between London and Glasgow stop in Preston and the passengers can use the fine restaurant facility.
Photo of the bridge supports in the River Ribble that once was the Preston to Southport line with a station at the bottom of Fishergate Hill.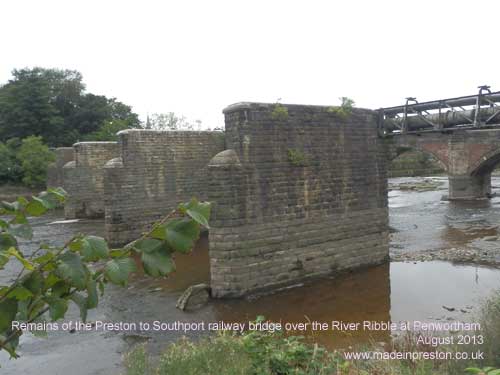 1900's
The railways were largely built by the end of the 19th Century. In the first half of the century traffic through Preston increased especially in summer. Blackpool attracted specials from all over the country. Locomotives from all the regions, except the Southern, ventured North to Blackpool. The Glasgow trains had a special link that took them through Preston, south for 3 miles to Farington then round through Lostock Hall and Preston Junction (Todd Lane Junction) before passing through Preston again and straight through to Blackpool, without reversing.
Whole families and whole streets worked in the railways. Looking up my own family they once lived in Moss Street in Lostock Hall, around 1900, and looking at an old census page the occupation of almost everyone in that street was on the railways. The railways brought in people from all over the country, the places of birth of many in Moss Street was in other places on the line, such as Leeds and Liverpool. My great grandfather had 4 sons and everyone of them was a railway worker including many of their sons and daughters. My own grandfather was a driver at Lostock Hall sheds and used to go to Leeds, Liverpool and Blackpool, sometimes staying overnight, driving a 'black 5' or a tanker. He'd tell me he could recognise a loco by its sound which was impressive and if he was wrong it seemed to me that the loco was off-sound that day, he could recognise 'flats' in the wheels and track abnormalities.
A photo of my grandfather on the footplate at Lostock Hall shed.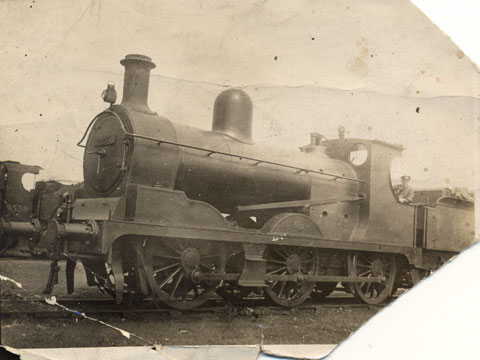 Amalgamations
There had been constant amalgamation and take over of railway companies. In 1922 the Lancashire and Yorkshire and the London & North Western Regions were the largest in the area and they merged. This was only 12 months before the restructuring that was to form the London Midland Scottish Region (LMS). The LMS was the biggest of the amalgamated companies, the others being the LNER, Southern, Great Western. Each claiming to be the best with the fastest most powerful locomotives. From a Preston viewpoint the Stanier Pacifics were the best pulling the Royal Scot, Mid-day Scot and Caledonian titled expresses passing through north and south bound each day. There was also the Royal Mail Train which had a film made which started with a well known poem by W.H.Auden, Night Mail. Read it here.
Nationalisation
In 1949 the private rail companies were nationalised to form British Rail although they kept their distinction largely due to the locomotives. Although the standard BR built steam loco's and diesels began to bring greater commonality.
Photograph of my mother, next to the window, working at the railway offices in Christian Road Preston, assumed 1946 as the photo beneath it has that date on it.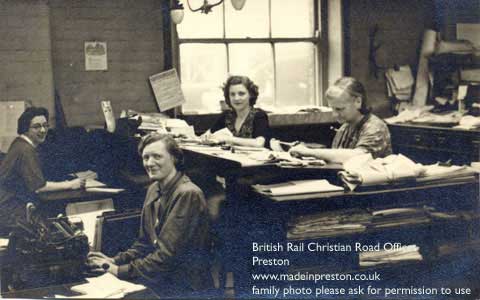 Another photo of Christian Road which says on the back 'a/c 1946', short for Accounts. Don't know who they are.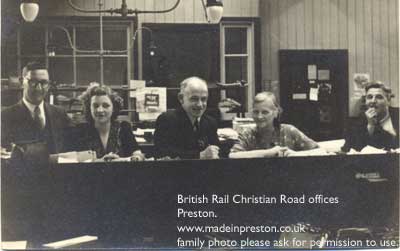 Although in 1946 these would be LMS railway offices, prior to nationalisation.
Closures
The lines to Knott End, Longridge, Southport, Fleetwood closed. As did the direct route to Blackpool along with Blackpool Central Station, leaving North as the main station. Preston locomotive shed burnt down and Lostock Hall shed closed.
Electrification and Last Steam Train
In the 1960/70's the main line to London and Glasgow was electrified in stages. Preston was electrified in the early 1970's. The local lines between Preston, Manchester, East Lancashire and Blackpool remain non-electrified.
In 1968 two trains left Preston on the last standard steam hauled services in the UK. The Lancashire Evening Post of 2nd August 2008 has an article about a book called 'Steam - The Last Finale' by Alan Castle. The article relates to the 8.50pm Preston to Blackpool hauled by 45212, and the 9.25pm Preston to Liverpool Exchange hauled by 45318. The latter gaining 80mph across the flat terrain of West Lancashire. Drivers of both trains came from Lostock Hall shed - Bob Barker and fireman Roy Duckworth on 45212 and Ernie Heyes and fireman Tony Smith on 45318. The following day August 4th plenty of special steam hauled trains were run on farewell trips.
The following weekend on August 11th 1968 45110 ran from Liverpool to Manchester and was then replaced by 70013 Oliver Cromwell from Manchester to Carlisle via Bolton, Blackburn and the Settle to Carlisle route. This was the last BR passenger train called the 'fifteen guinea special'. The return journey was double headed by 44781 and 44871, with 45110 hauling from Manchester back to Liverpool according to Wikipedia. 70013 is said to have returned to its base in Norwich under its own steam.
Preston to Longridge
Preston to Longridge was an interesting line with a tunnel from Maudland towards Deepdale and 3 stations inside the boundary of Preston, Maudland Bridge, Deepdale and Ribbleton. There was also a small branch to Whittingham Mental Hospital. The stations were closed in 1930 including Grimsargh and Longridge stations and the line continued for goods, which included stone from Longridge quarry until 1950's and to Courtaulds textile factory until the 1980's. More recently the track from near Courtaulds to Preston has been proposed as a test bed for a Preston Light Rail system. (some info from Lancashire's Lost Railways by David James).
Lostock Hall Shed
Three miles south of Preston, Lostock Hall locomotive shed was opened in 1881 and lasted almost 100 years. Lostock Hall is on the Liverpool to Yorkshire line with links onto the main London to Glasgow and Blackpool to Manchester line. The shed serviced theses lines.
There is a website called Lostock Hall MPD which contains a great selection of photographs, history and reminiscences.
May 2012: boarding the 13.02 to London Euston.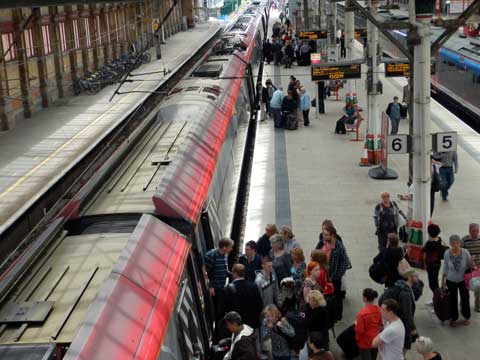 Garstang to Knott End Railway
A track running through the north Fylde from Garstang to Knott End. The map below shows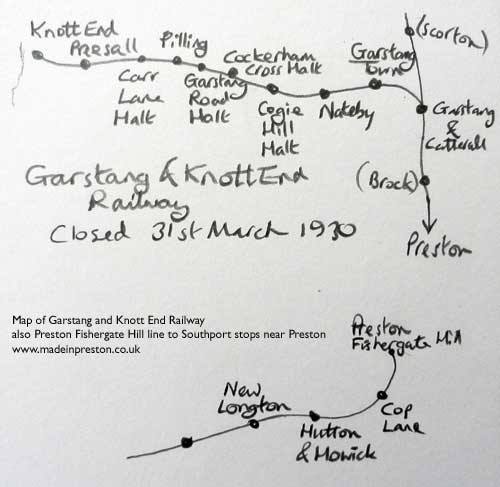 The Garstang and Knott End Railway locomotive was affectionately known as the Pilling Pig. Here it stands outside a holiday home site at Pilling.
2000's
Electric trains travel approximately hourly from Preston to London, Glasgow and Edinburgh. Direct diesel trains to Blackpool, York, Exeter, Manchester, Liverpool, Barrow are available with all stops between. Plans to improve the main line are put back but improvements to enable consistent 125 mph running on the winding west coast main line are being put into place. Virgin have bought 140mph trains that run at 125mph and have brought service on board to a good standard. In 2010 there is a lot of commentary that the trains are very full and some fares are very expensive. New longer trains, with 11 coaches, entered service in 2012.
Virgin Trains and West Coast Main Line Upgrade from 1997
The West Coast franchise was awarded to Virgin Trains in February 1997 becoming effective in March 97 for 15 years. Virgin's objective being to have 11 departures an hour from Euston at 140mph. This would be achieved by an upgrade of the track and the purchase of 53 Italian Fiat Ferroviaria Pendolino tilting trains already in service in many European countries. They would be assembled for Virgin at Washington Heath in Birmingham by Alstom of France. In 2001 Alstom purchased the Fiat train organisation.
The Pendolino timetable was introduced in September 2004 at 125mph as the signalling for 140mph was unaffordable.
On 22nd September 2006 a Pendolino left Glasgow at 12.37 and arrived at Euston at 16.32, taking 3hrs 55mins 27secs, averaging 102.4mph, a record run topping 100mph average and gaining £36,000 for the charity Heaven's Angels. The driver was Preston based Russell Southworth.
Virgin also purchased Voyager and Super Voyager diesel trains which are similar to the Pendolino although only the Super Voyager is tilting. These were to operate the Cross Country franchise that they won in 1996 and operates long distance trains that travel from the North East to Manchester and Birmingham and to the South West plus through Preston between Manchester and Edinburgh.
Ref Virgin Trains by
2010-2018
In early 2010 Lord Adonis said the lines between Manchester and Blackpool will be electrified and this was confirmed by the Coalition Government in 2012. It was planned that by December 2015 the line from Manchester via Bolton to Preston and to Blackpool will be electrified but due to problems this has slipped to 2017 and now 2018 in a programme that has had several delays.
Electrification of the local line to Liverpool will allow electric services from Blackpool, Preston to Liverpool. Electrification in 2014 between Wigan and Manchester is allowing electric trains to run from Manchester to Scotland via Preston using commuter style electric trains. Also Manchester to Stalybridge is being electrified and will be extended to Leeds.
A very large upgrade of rail in the northwest is occuring in 2017/8 with Liverpool Lime Street and several other stations being upgraded in a £340m project, a new line in Manchester called the Ordsall Chord to link Victoria and Piccadilly as well as electrification of routes.
In April 2018 electric trains began to operate between Preston and Blackpool North. The line via Chorley and Bolton to Manchester was not opened to electric trains due to several civil engineering problems including landslides and soft ground. It is said the line will open in December 2018.
The late opening of the Blackpool line and the need to use diesels on the Preston to Manchester via Bolton line created a lot of difficulties for the train operating companies, who are also suffering from industrial disputes about the use of guards, and it took several weeks for normal services to resume.
Franchise Tendering 2012
The West Coast Main Line franchise was tendered in 2012 and this includes Preston station. Bids were due in on 1st May. It was decided to give First Group the contract and Virgin protested. It was agreed there were technical problems and Virgin were given an extension until it could be re-tendered.
Virgin saidd they would invest £35m to update trains and an extra 5,500 standard-class seats each day. Plus more than £20m on stations. Services between Blackpool and London were offered.
It is thought the West Coast re-tendering could be in 2017. Virgin have recently also won the East Coast Main Line tender using their name in a mainly Stagecoach company. New trains on the East Coast built by Hitachi in Durham will be used.
Northern Rail Tender 2015/6
From April 2016 Arriva will operate the Northern Trains Franchise covering most stopping routes in a region that stretches from Newcastle to Liverpool. This will replace Northern Rail. The biggest offering is the old Pacer trains that were a stop gap in the 1980s and have 'bus' seating and 4 wheels will be replaced with brand new Spanish CAF trains, 43 Electric and 55, diesel comprising 281 vehicles, that will be wholly introduced by 2019. At the same time First will continue the Trans-Pennine franchise which operates.. As part of devolution both franchises are jointly managed by a panel including representation by local authorities.
High Speed Rail to Preston
In 2009 it was believed the HSR would reach Preston on its way to Glasgow although it would perhaps be in more than 20 years time. A re-alignment of a traditional route. On its announcement in early 2010 it seemed the the line was most probable only as far as Manchester and Preston would retain a 'classic' service.
High Speed 2 (HS2) was announced in 2011 as a Y shaped line. Phase 1; services from London Euston to Birmingham to start in 2026 and Phase 2; to Manchester and Leeds by 2032. In 2015 the line is expected to get full approval in late 2016.
Read our page on High Speed Rail, HS2.
Railway Locomotives built around Preston
Other websites, not associated with this one:
http://www.prestonstation.org.uk/ A website about Preston Station.
London & North Western Railway
Lancashire & Yorkshire Railway
1887 Preston to Kirkby Lonsdale
Reference 1: Scenes from the Past 6, The Railways Around Preston by Gordon Biddle, Foxline Publishing, Stockport, 1989. Link to book review.