Trams made in Preston
Two trams, made in Preston in the 1930s, running in Blackpool Heritage Tram fleet Easter 2013.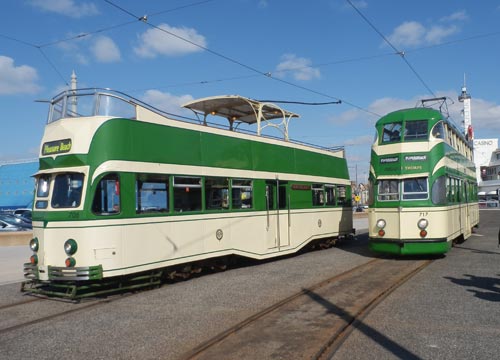 Blackpool Heritage Tram Tours are part of Blackpool Transport and operate several Made in Preston trams. Heritage Tram services will operate from 29th March 2015 and will be celebrating Blackpool's 130th year of tram services.
Click here for images from Blackpool Tram 130th Weekend 26th/27th September 2015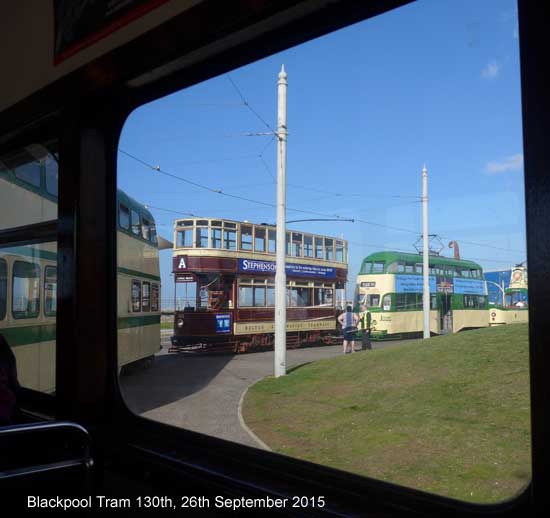 2015 sees the Blackpool & Fleetwood tramway achieve 130 years of operation and the weekend of 26th & 27th September will be the big celebration to mark this remarkable milestone in history. Definitely a weekend date for your diary with some unique and very special plans being hatched! 
English Electric 'boat' tram at 2015 Blackpool Illuminations: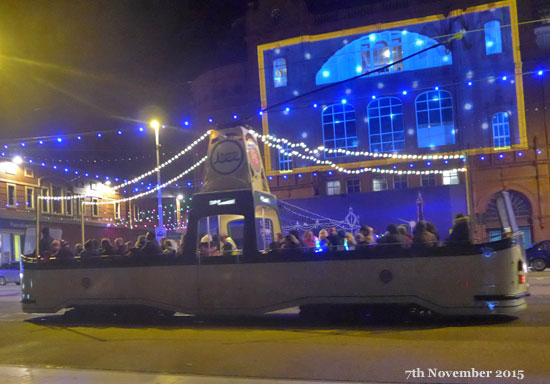 English Electric 'Princess Alice' tram at Blackpool Illuminations 2015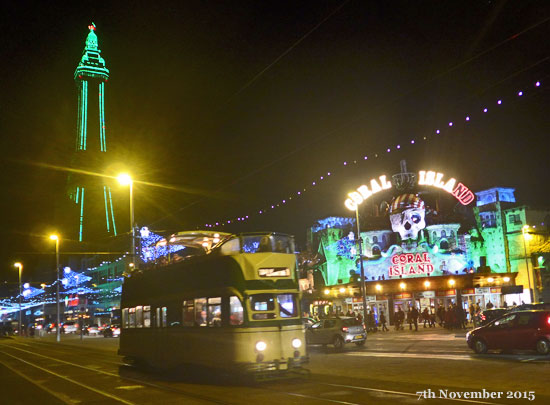 The unmodified Heritage Trams operate from special stops. Click here for Blackpool Transport website details of Heritage Tram tickets and stop locations.
Photo of Blackpool 'Balloon' Tram made in Preston and with modified doors for the stops on the new light rail tracks - these modified trams are known as the B Fleet. Photo taken 2011.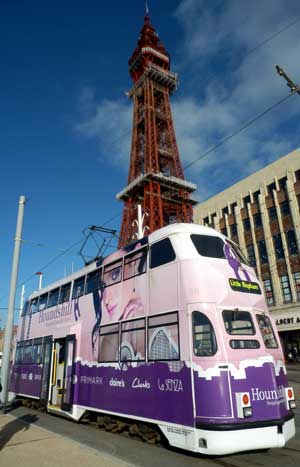 Preston Tram Manufacture
The factory in Strand Road produced more trams than any other factory in Britain. Trams were built in Dick, Kerr Works on Strand Road in Preston.
Dick, Kerr were a Scottish electrical engineering company who moved to exploit the rapidly growing tram industry in the late 19th Century. At that time many trams were imported from America. The success of Dick, Kerrs led to them taking over several other UK tram builders leaving only Brush and Hurst, Nelson as competitors.
The tramcar business became part of English Electric and continued until 1935* when most towns started moving to motor buses. These old trams can still be seen on Blackpool promenade doing fine service. (Although in 2011 their use will be phased out on scheduled runs due to disability regulations and a new 'light rail' with new trams was being built for £100m and running from April 2012).
*Needs confirming, it might be later.
In the London's Transport Museum, Covent Garden, is an old tram with a control handle that says Dick Kerrs, Preston. Photo below.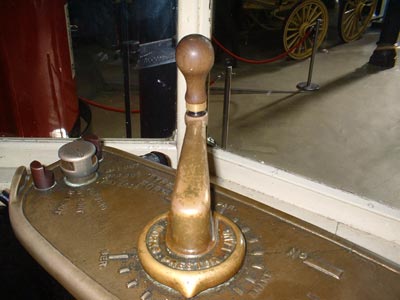 Preston had over 14 miles of tram track and it was proposed to extend the track to Lytham, which would have joined it to Blackpool. Also to Blackburn and Horwich. These proposals didn't happen. Preston was fortunate having a large tramcar manufacturer in the town as well as a large bus manufacturer only a few miles away in Leyland.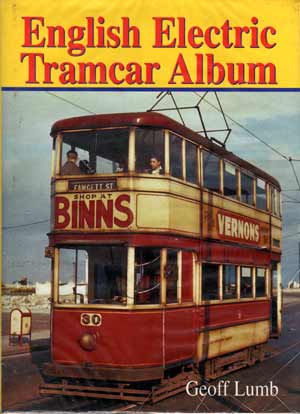 Author Geoff Lumb, Ian Allan Publishing, ISBN 0 7110 2613 0
The above book is a well researched account of the Dick, Kerr / English Electric tram business. There are a lot of photographs of trams all over the UK in the first half of the 20th century. There are accounts of the operating managers in the municipal tram services and their influence on the design as well as technical information on the development of structure, seating, power. An interesting section on the influence of Blackpool Transport Department in collaborating with English Electric to produce a more streamlined tram in 1932. These are still in service.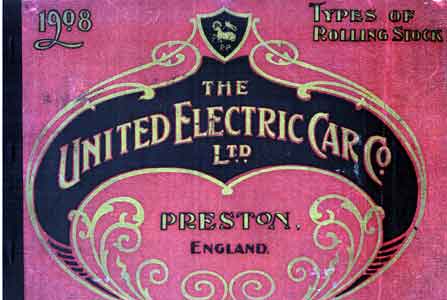 Tram catalogue from 1908. United Electric Car Co, Preston, England. A full list of the trams and rail coaches available with drawings and details.
Easter 2013 Blackpool Heritage Trams operating report
Read our report of riding on a Made in Preston tram at Blackpool Easter 2013.
Here is open top tram 'Princess Alice and Balloon tram number 717 operating on the Blackpool Heritage Tram Service Easter 2013. Both trams made in Preston in the 1930s.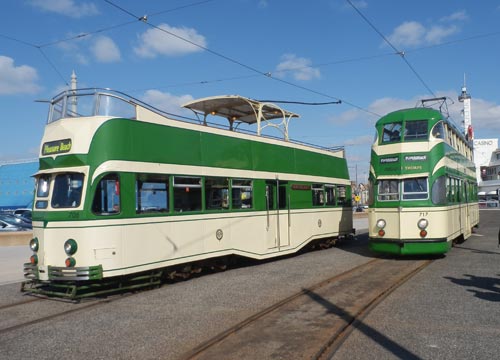 'Balloon' Trams, made in Preston, used in Blackpool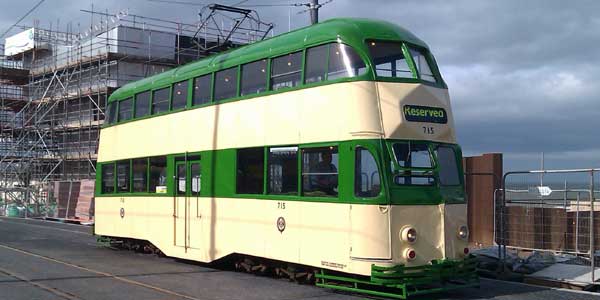 These are my favourite trams. Blackpool Balloon tram from the Lancastrian Transport Trust fleet. This tram, number 715, is owned through a 'share' agreement. On the day of the photo I was allowed to ride upstairs to Bispham and on to the Pleasure Beach and back to North Pier. Behind the tram is the new Festival House on the prom. This tram was evicted from Blackpool Corporation storage and now sits somewhere unknown.
These trams operated for nearly 80 years and are now held as 'preserved' or modified for service use on the new tram system. Here is a good article, I always wondered what happened to those roof windows:
A piece from 'Trams Today' on Facebook, that I've edited a bit:
'Balloon 715 was withdrawn after use on an enthusiasts tour on the final evening of the 2011 season, bringing the curtain down on an illustrious career spanning over 77 years.
The tram was originally part of the 14 strong Balloon class, purchased from English Electric to replace the youthful but old fashioned looking Standard cars on the Lytham Road service. Touching down on Blackpool tracks in January 1935 and bearing the fleet number 252. For the first few months it was housed in Blundell Street depot before migrating to Rigby Road when it was built later in 1935.
Apart from routine maintenance and repaints the tram was altered very little in the intervening years as the Balloon Cars were increasingly secondary to the single deck fleet.
A new manager in 1954 led to the first significant alteration to the tram when the twin destination indicators were replaced by a single screen; 252 becoming the third of the class to be treated in 1955. As part of the general fleet renumbering, 252 became 715 in 1968 and then, during the 1970s, it lost its enclosed lighting, sliding sunshine roof and roof windows.
With the closure of Lytham Road in 1961, the Balloon cars were used to supply extra capacity on the promenade during the busy summer months and bench seats were fitted upstairs to increase their capacity from 84 to 94. A pantograph replaced the original trolley pole in 1990.
From 2003 concern was being expressed about the condition of the underframes on several Balloons, which were becoming increasingly weak after seventy years of intensive service and 715 was listed for withdrawal in 2004 but it managed to survive and, the following year, shed its fleet colours for the first time when it gained an all over advert for the Pleasure Beach Mystique show. However, this was only a temporary reprieve and in 2009 it was finally withdrawn and purchased for preservation by the Lancastrian transport Trust.
However, this was not the end of its career in Blackpool as its new owners arranged for it to continue in service and, in 2011, it was treated to a heritage repaint, gaining the 1970s style green and cream fleet livery and fitted with transponders. As the last traditional Balloon in operation, it gained a cult following during its last year of service but, with the upgrade on the horizon, it was finally withdrawn for good at the end of the 2011 season. Its final duty was to help tow Brush Car 625 around the depot and assist with its loading for off site transport to Merseyside before it retired to the depths of the depot where it currently remains, awaiting its own move off site.'
Another excellent piece from Trams Today on Facebook (12.7.12)
Apart from in the first year of operation in 1900, all electric trams in Sunderland had been fitted with four wheel trucks and even the solitary exception to this, cars 13-18, had their bogies removed by 1901 and became four wheelers.
However, this consistent approach to trucks ended in 1935 when the first bogie car for 35 years was ordered from English Electric in Preston.
At this time the firm were busily constructing the iconic streamlined trams for Blackpool and there is a suggestion that the new Sunderland tram was actually built as a speculative project in the hope that it would be purchased by Blackpool. In the event it was destined to become Sunderland 99, although it bore more than a passing resemblance to the Blackpool Balloons, although shorter and with a more upright frontal appearance.
In other respects, such as the twin destination indicators, roof windows and centre entrance, it was virtually a facsimile of the trams which provided over 70 years of service in Blackpool.
Number 99 had the distinction of being the highest capacity tram ever to run in Sunderland, with a combined seating capacity of 76. Sunderland 99 was not destined to have as long a career as its Blackpool cousins; it operated only briefly in Sunderland before being withdrawn for the duration of the Second World War, when only four wheel trams were used and then, following the end of hostilities, its reactivation lasted only five years.
In 1951 it became one of the earliest casualties of the rundown of the Sunderland system, being withdrawn and stored. Hopes of a sale to Blackpool to join the similar streamlined double deckers proved optimistic and it was eventually dismantled for scrap in 1953. The photo shows the tram in 1950, nearing the end of its active life and wearing the red and cream livery applied for its final few years of service. The tram is passing the Wheat Sheaf on its way to Southwick. Photo courtesy of Malcolm Fraser.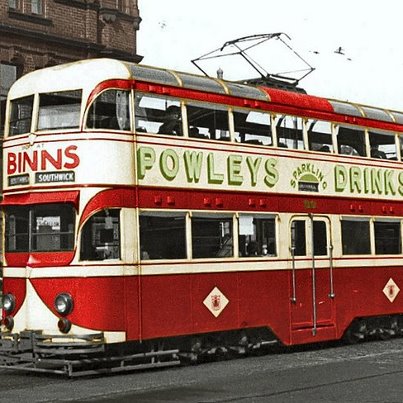 The last Preston Trams, courtesy of Trams Today on Facebook (21.7.12):
In 1940 Sunderland again turned to English Electric to supply them with a new tram, which turned out to be very much the end of the line in several respects. For its builders, it was amongst the last tram ever constructed, bringing to an end a tradition of tramcar manufacture in Preston that stretched back to the previous century.
Following an order for similar streamliners from Aberdeen, the English Electric works then turned more to aircraft manufacture as the tramcar building industry began to wind down.
For Sunderland, the new tram, which became number 52, was also significant as it was the very last new tram ever introduced to the town. Since the first year of electric operation, a total of 108 brand new trams had been purchased or built in the undertaking's own workshops but, after forty years and following the arrival of number 52, no further brand new trams would be introduced. Therefore in many ways, 52 was to be the zenith of the Sunderland tram. Appropriately, therefore it was designed as a modern streamlined tram, similar in many respects to those introduced in the proceeding few years. Due to the premature abandonment of the Sunderland system, it was to have a relatively short working life but it did survive in service until the final year of operation in 1954 when, at the age of only fourteen, it was withdrawn and dispatched to the scrap man. The tram is pictured in Hylton Road, only months before it was disposed of. With only the front profile visible, the resemblance to a Blackpool Balloon is even more marked.
Blackpool 125 years of trams
Many of Blackpool's best trams were built in Preston. 2010 marked the 125year of Blackpool Tram operation and special events were run to mark it. These will took place in many places in the UK but the main one was in Blackpool between 23rd and 29th September 2010. Including tram driving courses and tour of the depot.
(need to add earlier Preston made Blackpool trams to the following)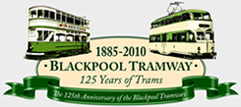 An extract from the website Blackpool Tram Events which is no longer running:
45 Railcoaches were built at the Preston workshops of English Electric whilst other designs included an Open top single decker, and both enclosed and open-top double deck designs of similar streamlined appearance.

The 45 Railcoaches were delivered in two batches, 25 in 1933/4 (Nos.200-224) and 20 more in 1935 (264-283). Our example, No.279, formed part of the second batch and was largely confined to the main Starr Gate to Fleetwood service, though in later years the Railcoaches were used on the Marton, Squires Gate and North Station routes which were closed in the early 1960s.
22 Railcoaches were scrapped in the 1960s (or converted for other uses), 10 had become trailer towing cars and the remaining 13 were converted into one man trams in the 1970s, resulting in the original Railcoach design disappearing from the tramway. 678-680 were fitted with heaters for winter use and have outlived their trailers which were scrapped. From the late 1980s, advertising liveries began appearing on the trio and in early 1990s, 679 was overhauled with rebuilt underframe and, later still, bus seating and flush mounted glazing.

In 2004, 679 reverted to its 1980s style green and cream livery. However, despite this, the tram operated infrequently in 2004 and as part of a general reduction in the size of the operational tram fleet, 679 was withdrawn at the end of the year. In November 2008 it was acquired by the LTT for preservation.

679 is being rebuilt by the Trust's volunteers and its "BusWorks" company, based in Blackpool, to its original cab-end design as a streamlined Railcoach and half drop windows and swing-over seating will be restored. The plan is to have the completed tramcar, no.279, ready to operate during the 125th anniversary year of the tramway to represent the design that revolutionised the Blackpool tramway and contributed to its survival to this day.
Photo: advised it's an original concept drawing of English Electric Tram for Blackpool, courtesy Brooks Collectables Exhibition on the Promenade, Blackpool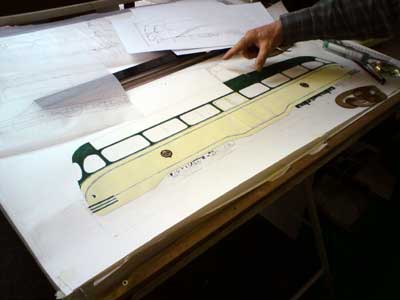 In 2011 the use of old trams in Blackpool was ended and are now only used for special trips due to disability regulations. A new 'light rail' with new trams has been built for £100m and was operational on April 4th 2012.
Blackpool Tram Fleet summary – May 2012
thanks to Trams Today on Facebook
A Fleet:
Flexities 001 – 013 (All based at Starr Gate)
- 001 undergoing maintenance
- 002 reserved for driver training
- 003 – 012 in service
- 013 being commissioned

B Fleet:
Widened Balloons 700, 707, 709, 711, 713, 718, 719, 720 and 724 (All based at Rigby Road)
- 700, 707, 709, 713, 718, 720 and 724 available for service and may be used at some point in 2012
- 711 and 719 undergoing workshop attention and should be completed in 2012

C Fleet:
Heritage trams (All based at Rigby Road)
In service : Box 40, Bolton 66, Standard 147, Boats 600, Princess Alice 706, Balloon 717, Illuminated Trams 733+734, 736 and 737
Undergoing workshop attention for use in 2012: Boat 604, Twin Set 672+682
Out of service but expected to be returned to use in the future : Boat 602, Brush Car 631, Centenary Car 648, Coronation Car 660, Twin Set 675+685
Reserve fleet – may see use in the future : Twin Set 676+686, Balloons 701 and 723

Other trams (All based at Rigby Road)
Sold and awaiting removal : Centenary Car 647, Ex Towing Car 680, Twin Set 674+684
LTT fleet – none expected to run again in Blackpool : OMO 8, Permanent Way Car 259, Coronation 304, Brush Car 632, Balloons 704 and 715, Illuminated Car 732
Future unknown – may still be for sale : Centenary Car 642 
Works Cars : Reel Wagon 750, Railcrane 260, Engineering Car 754

Total : Starr Gate = 13 trams
Rigby Road = 40 trams +7 Trailers
Links to other tram sites;
Dick, Kerrs was also famous for its ladies football team.