Road ›
Northern Counties Bus Builders - Wigan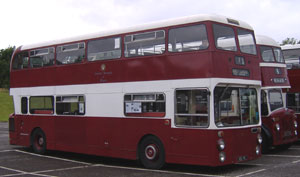 2 buses from Northern Counties as shown at the Leyland Society Event 2006. Both in Wigan Corporation colours which was their local town. These were built in 1972 and 1958 respectively.
The company is no longer with us. Northern Counties Motor and Engineering Company Limited was founded in Wigan in 1919 by Henry Lewis. The Lewis family remained owners of the company until it was bought out over seventy years later.
In 1967 another bus body builder, Massey Brothers Ltd, located in nearby Pemberton, was acquired and became a part of the Northern Counties operations. The Massey factory was retained and used as a paint-shop and for final completion of bodywork assembled at Wigan Lane.
In May 1995, it was purchased for £10 million by the Henlys group, owner of Plaxton. The Northern Counties name was dropped in 1999 and vehicles were badged as Plaxton.
In 2001 Henlys became part of a joint venture with the Mayflower group, owner of body-builder Alexander and chassis manufacturer Dennis. The joint venture was known as TransBus, and vehicles were badged using the TransBus name.
After the failure of the Mayflower Group in 2004, TransBus was sold to a private group of investors and became Alexander Dennis. The former Northern Counties facility was closed by Alexander Dennis in January 2005.
Read the full story on Wikipedia