Made in Preston and the surrounding area
www.madeinpreston.co.uk - website established 2002
Read about Preston and its surrounding area on this website. Things to do, things to see and things to note:
Great things have been made in the area and some still are: most of the RAF's current fighter aircraft, such as Eurofighter Typhoon. Also at Leyland Trucks they still produce thousands of trucks.

More pages:
Preston, Lancashire
Granted city status in 2002 and home to UCLan, The University of Central Lancashire. At its heart is the Harris Museum, Art Gallery and Library, a Grade I listed building containing wonderful collections and the Discover Preston Gallery.
Preston contains the administrative centre of Lancashire, at County Hall next to the railway station, and has done since County Councils were formed in 1888, although Lancashire included the great cities of Manchester and Liverpool at that time.
Preston's fortune is built on the cotton industry which supported a large engineering and building industry. Diversity was achieved by developing a port, now partly a marina, along with a large aircraft and tram/electric motor factory and printing press factory. In Leyland, 5 miles away, a huge truck and bus plant supported tyre and paint factories. Of these the aircraft factories are now located outside Preston and Leyland Trucks is part of DAF.
The surrounding area also has several Lancashire Cheese producers.
Preston's businesses are celebrated every 20 years by the famous Preston Guild celebration, which has taken place since 1179.
Preston has a fortunate position with attractive countryside close by and the seaside to the west. It's also on the main road and rail routes to Scotland, The Lake District, Manchester, Liverpool, Birmingham and London as well as direct trains to Leeds, York and Blackpool.
Due to the Pandemic visits to the main spots in Preston and everywhere have been severely limited in 2020 and 2021. So there isn't much new on here unfortunately. Although we are planning a few visits since the 17th May re-opening of venues.
The latest and very popular feature in Preston. Wallace and Gromit. A celebration of Nick Park, born in Preston.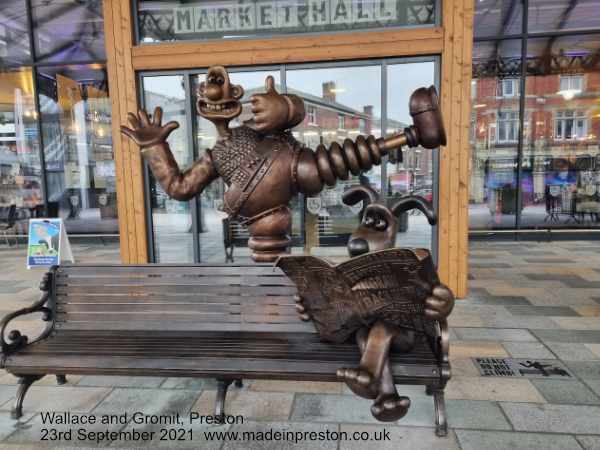 Another new feature is the Student Centre at the University of Central Lancashire (UCLan).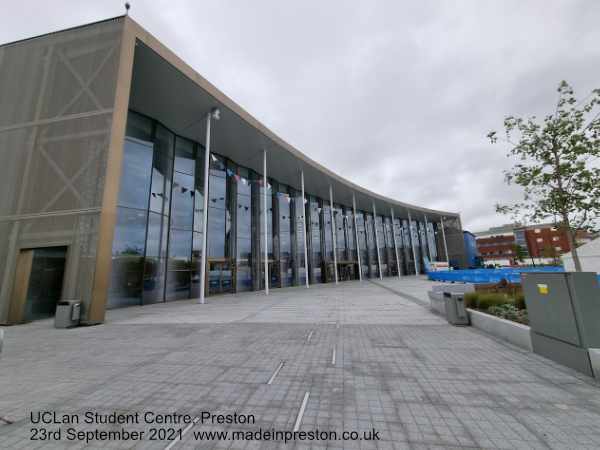 The Harris
The Harris Museum, Art Gallery & Library is a Grade 1 listed building containing magnificent collections.
Closed for refurbishment until 2024
Visit our reports on our Harris webpage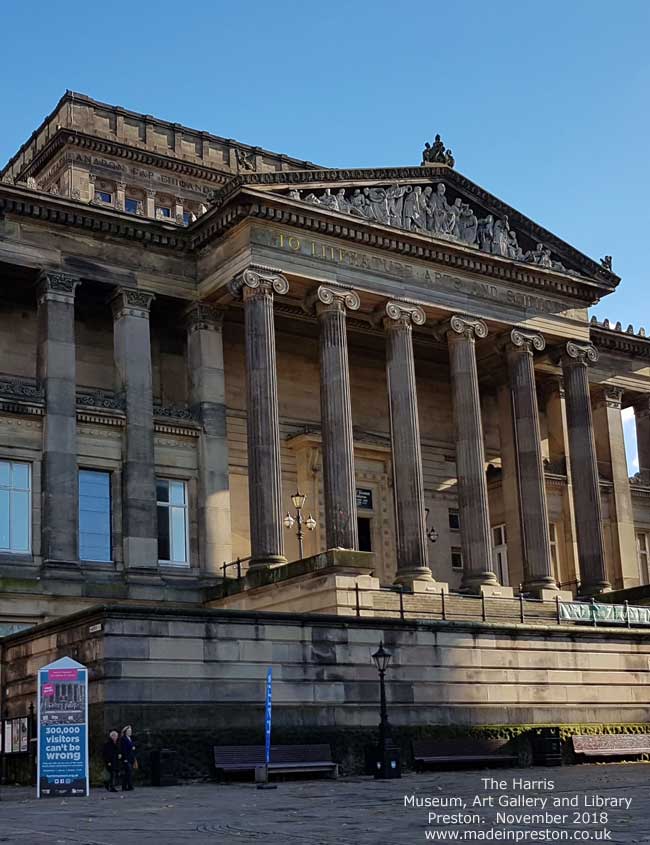 Made in Preston - The Blog - occasional ramblings about Preston
The North Westerly Blog - infrequent ramblings about things in the North West and places.
Due to the Pandemic visits to the main spots in Preston and everywhere have been severely limited in 2020. So there isn't much new unfortunately.
Covid-19 Preston
In the week ending 15th May Preston had 19th highest case rate in England with 40.5 cases per hundred thousand or 58 cases according to Government figures.
17th April - 29.3
24th April - 30.0
1st May - 47.5
8th May - 32.1
15th May - 40.5
22nd May - 44.7
Compare that to Bolton 384.6. Blackburn 187, Burnley 58, Blackpool 22.2 for the week ending 22nd May.
Bolton and Blackburn topping England's chart for the most cases at the 15th May. Bolton's cases doubling every week since mid April.
Preston and Chorley hospital at Lancashire Teaching Hospitals NHS Trust
Admissions: 3 patients in the 7 days up to 15th May.
Patients in hospital: 1 at 18th May.
Patients on ventilators: 0 at 18th May, as it has been since 5th May.
Preston's Main Scenes
Fishergate August 2018
Fishergate looking well with its trees and the restricted vehicle access. Preston's main shopping street with the Fishergate Centre and station at one end and the ornate Miller Arcade and the excellent Harris at the other. The charms of Georgian Winckley Street and Square to the south and St George's Centre to the north.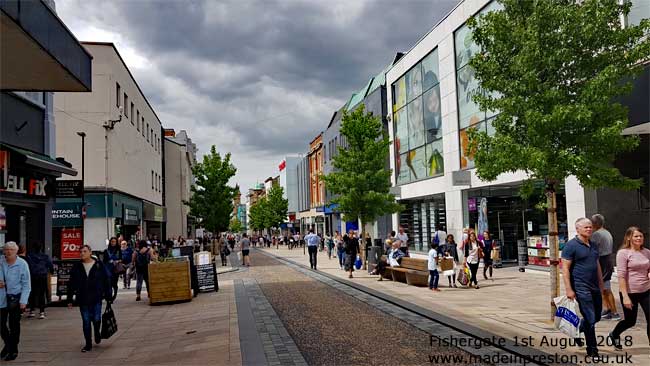 Friargate May 2019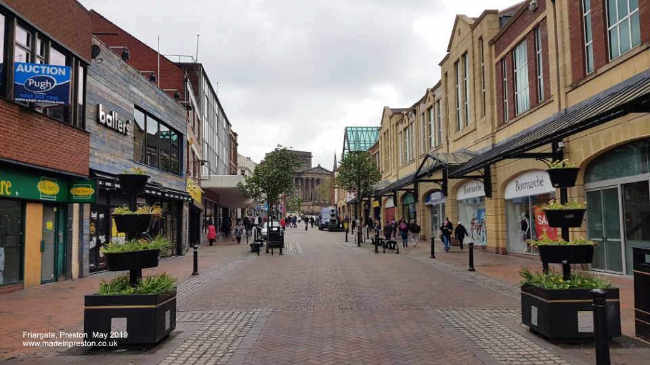 The new Engineering Block at UCLan, Preston, May 2019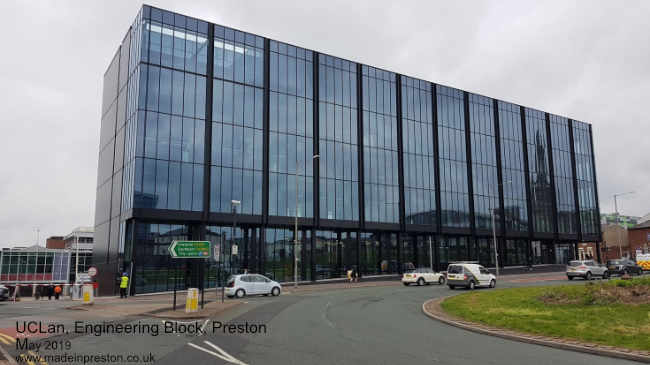 Avenham Park riverside walk September 2018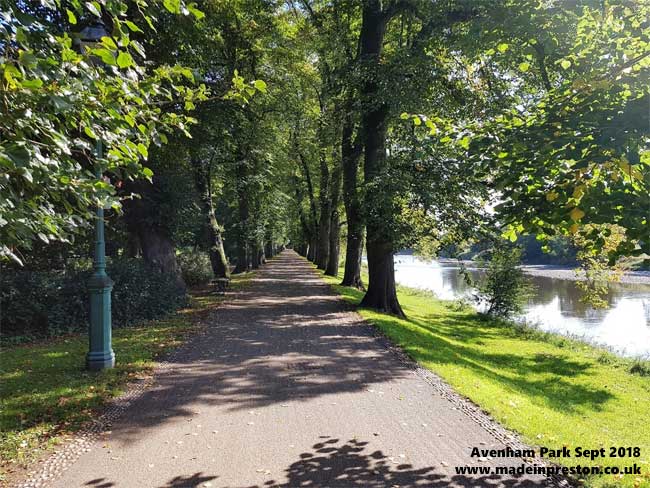 The newest pages: The blogs are updated every few weeks.
Monthly PNE status since 2005, click here.
---
www.madeinpreston.co.uk - website since 2002.
Disclaimer and Acknowledgements
We also have Facebook, Twitter and Flickr accounts. . We're not to be associated with anything else calling itself Made in Preston. This is 2002 vintage.
If only there was time to do all planned for this website. But we plod on multi-tasking with other websites and social media by the same author. Hope you like it.